Brace for earthquake safety, donate a warm coat, and bag some free compost.
Brace + Bolt for earthquake safety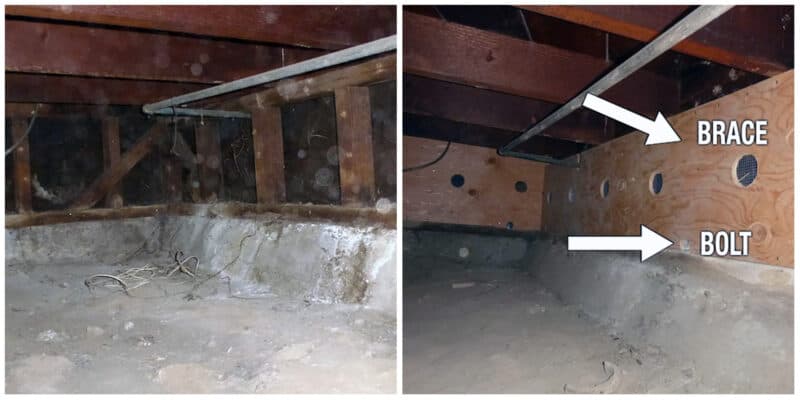 The magnitude 5.1 earthquake that shook most of the Bay Area on Tuesday, October 15, was a reminder that even bigger temblor is in our future. It also raised memories of the magnitude 6.9 Loma Prieta earthquake in 1989 that killed 57 people, including 42 in Oakland when the Nimitz Freeway collapsed.
Is your home ready for a major shock? The Earthquake Brace + Bolt (EBB) program, jointly administered by the California Earthquake Authority (CEA) and the California Governor's Office of Emergency Services, is offering California homeowners money to bolt and brace your home's foundation in order to limit earthquake damage.
Apply now through November 29 at the EBB website for a grant of up to $3,000 to help cover the cost of this project. If your household income is $72,080 or under, you may also qualify for a supplemental grant that could help pay the entire cost to seismically upgrade your home. To date, the EBB program has funded more than 17,000 home foundation retrofits statewide.
The EBB website has had unusually high traffic since the registration period opened on October 18, but don't be discouraged if it's slow. "Registration is not first come, first served," the website announced on its home page, "so you will have an equal chance to participate in EBB whether you sign up today or on November 29,"
Houses that qualify for EBB grants typically:
Were built before 1980
Have a raised continuous perimeter concrete foundation
Sit on level ground or a low slope
May have wood-framed walls (called cripple walls) in the crawl space under the first floor
This year the EBB program added 126 new eligible ZIP codes to the area it serves. All of Alameda—94501 and 94502—is eligible for the program. If you have any questions about the program, call California State Assemblymember Mia Bonta's office at 510-286-1670.
Paulino family's 17th annual coat drive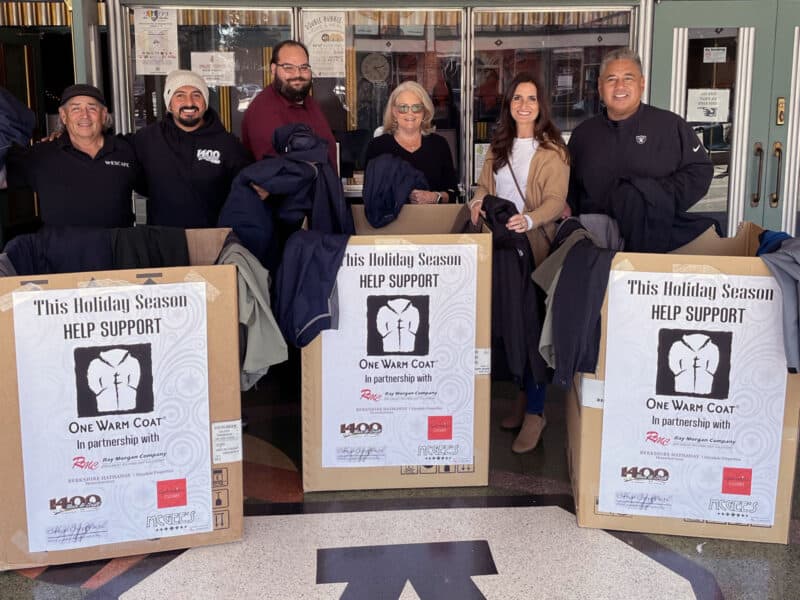 After a two-year hiatus due to the pandemic, Antoinette and Mike Paulino are again preparing for their family's annual Alameda coat drive to support the national organization, One Warm Coat. "We welcome your donations of new or gently used coats," Antoinette Paulino said.
Coats will be collected from November 7 through January 6, 2023, at the following Alameda locations:
Alameda Theatre and Cineplex, 2317 Central Ave.
The Park Street Tavern, 1901 Park St.
1400 Bar & Grill, 1400 Webster St.
McGee's Bar and Grill, 1645 Park St.
Clinton Chiropractic, 2059 Clinton Ave.
Big Discount Tire Pros, 1835 Oak St.
Wescafe, 1518 Webster St.
KW Advisors/Keller Williams, 2437 Santa Clara Ave.
Over the years, the Paulinos have collected thousands of coats for the One Warm Coat organization. "It's a simple yet greatly appreciated way to help others," Antoinette said. "Each donated coat makes a difference. The more we collect, the more lives we'll touch."
One Warm Coat is a national nonprofit that assists in the donation of coats, by helping individuals, groups, companies, and organizations across the country collect coats and deliver them to local agencies that distribute them free, to people in need.
If you have coats to donate, please place them in the collection boxes listed above.
Free compost and resources available
Alameda residents can get free compost for landscaping and gardening at the local Compost Hub, located at Main Street and Singleton Avenue near Ploughshares Nursery. Enter through Farm2Market on Barbers Point Road or Makerfarm on Main Street.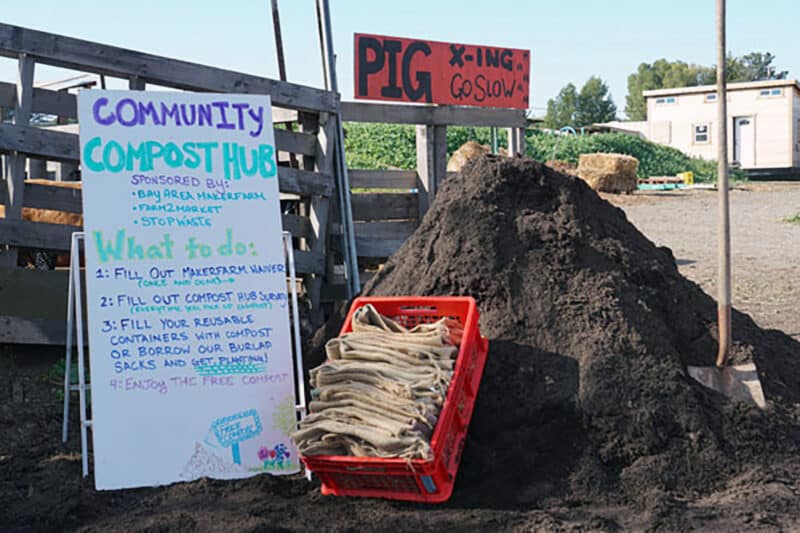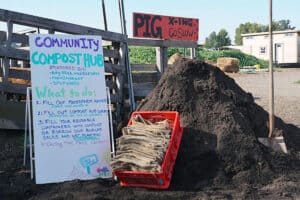 A collaboration between Makerfarm, Farm2Market, and StopWaste, the Hub offers compost for residents to take for free, and provides educational resources on making and using compost. This service is free to all residents and is not restricted to those living in Alameda. It is open Wednesdays and Saturdays 10 a.m. to 5 p.m.
Please note the following instructions provided by Makerfarm:
No cars can pull inside either site. Car parking is best outside of Makerfarm on Main St.
If you arrive by bike, feel free to bring your bike and trailer onto the farms.
Please keep all gates securely closed to prevent Makerfarm animals from leaving the farm.
Bring your own buckets, bags, tarps, and whatever tools you'll use to transport compost.
There are reusable burlap bags at the Hub if you forget containers or need more, but please return bags so they can be reused by other gardeners.
Visitors are responsible for loading their own compost and are welcome to take as much as they can safely transport.
Upon arrival, visitors need to complete these items on their phone via QR code or URL: a Makerfarm waiver form the first time you visit, and a short online survey every time you take from the compost hub.
The Alameda Compost Hub is open Wednesdays and Saturdays 10 a.m. to 5 p.m.