Junior Warriors basketball begins, APD urges headlight use, and Clement/Tilden project enters Phase 1.
Join Junior Warriors Youth Basketball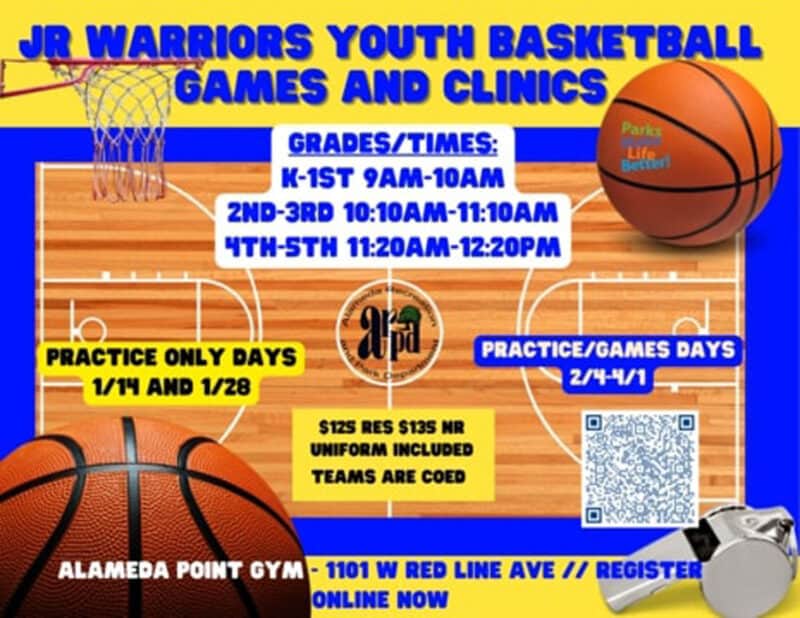 Get ready to play! Junior Warriors Youth Basketball is a fun, exciting, and innovative program specifically designed to give youngsters in kindergarten to 5th grade an opportunity to participate in an organized program of balanced competition and skill development.
The program stresses a positive attitude, teamwork, good sportsmanship, and self-confidence. The participants will get to learn, practice, and play in games. Each participant will also receive a Junior Warriors Jersey and Shooting Sleeve.
The weekly program will be held on Saturdays at Alameda Point Gym, 1101 West Red Line Ave., starting January 14 and ending April 1. No activities are scheduled on Saturday, January 21. Initial practice dates are January 14 and 28, with practices and games on February 4 through April 1. Session times are set up by grade level, as follows: Kindergarten and 1st graders 9 to 10 a.m., 2nd and 3rd graders 10:10 to 11:10 a.m., 4th and 5th graders 11:20 a.m. to 12:20 p.m.
The cost for the season is $125 for Alameda residents ($135 non-residents), including uniforms. Register online.
Wipers on means headlights on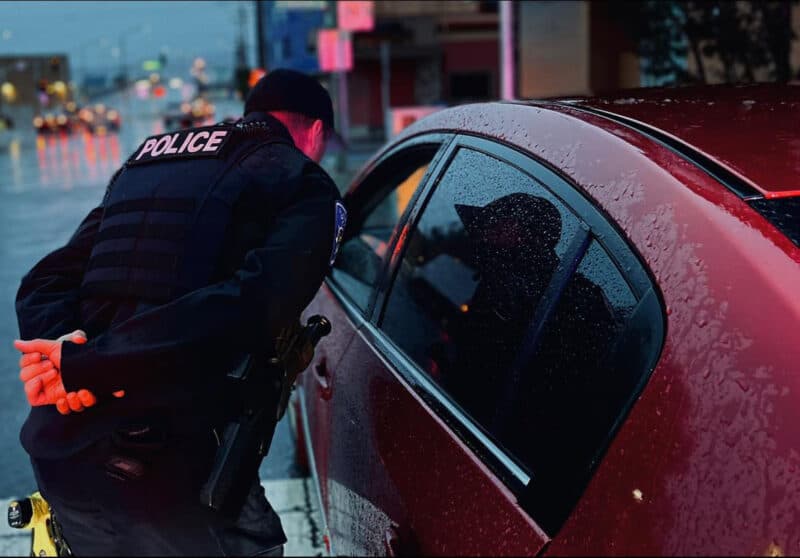 If you're out driving in the rain, turn on your headlights or you may be stopped by police. "Even though it is storming, we're still out on patrol," Alameda Police Department (APD) posted on Facebook.
Lack of visibility in stormy conditions can be a recipe for a collision, the APD warned. It's also a recipe for a traffic ticket, even during the daytime in bad weather. California law requires headlights to be turned on whenever there is inclement weather.
According to California Vehicle Code Section 24400, "A motor vehicle, other than a motorcycle, shall be operated during darkness, or inclement weather, or both, with at least two lighted headlamps." Under this law, inclement weather includes "a condition requiring the windshield wipers to be in continuous use due to rain, mist, snow, fog, or other precipitation or atmospheric moisture."
It's not just a suggestion. It's the law. If your windshield wipers are on, turn on your headlights.
Clement Avenue/Tilden Way Phase 1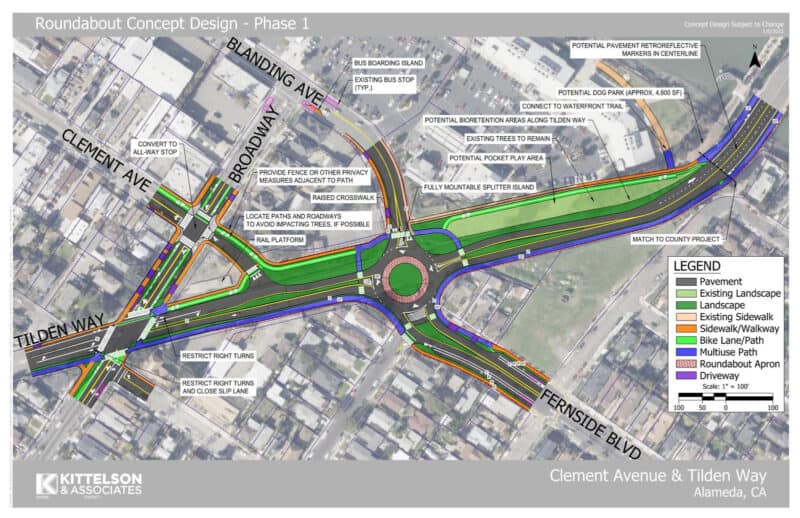 City of Alameda staff and consultant team will present Phase 1 of the Clement Avenue/Tilden Way Improvement Project concept to the Transportation Commission for approval on January 25 at 6:30 p.m., and then will request approval from City Council on March 7.
The project will use the abandoned railroad right-of-way at Clement Avenue and Tilden Way to extend the Cross Alameda Trail between Broadway and the Miller-Sweeney/Fruitvale Bridge and to improve the truck and bus routes. The concept includes bikeways and walkways with wayfinding signs, a road diet, a westbound Clement Avenue extension, open space, stormwater gardens, bus stop and lighting improvements, a dog park, and a roundabout at the Blanding/Tilden/Fernside intersection.
Road diets reportedly reduce crashes up to 47%. Research shows that roundabouts reduce fatal and severe injury crashes up to 90% compared to traffic signals or all-way stops. This project has had two rounds of public outreach so far. The development is connected to the City's Clement Avenue project and the City of Oakland's Fruitvale Avenue project, as well.
In 2017, the Alameda County Transportation Commission awarded a Measure BB grant to the City of Alameda totaling $8.4 million for this project, which totals $10 million with the local match. Construction is expected to begin in mid-2024.
For more information visit the City's Clement/Tilden project web page. If you have questions, comments, or concerns, call Senior Transportation Coordinator Gail Payne at 510-747-6892 or email [email protected].