All Council, board, and commission members required to be physically present starting Feb. 27.
At the end of January, Alameda City Clerk Lara Weisiger issued a statement that all boards and commissions, including City Council, would return to meeting in person. Starting March 1, Governor Gavin Newsom is ending the statewide emergency order put in place during the COVID pandemic, including provisions that had set aside parts of California's Brown Act.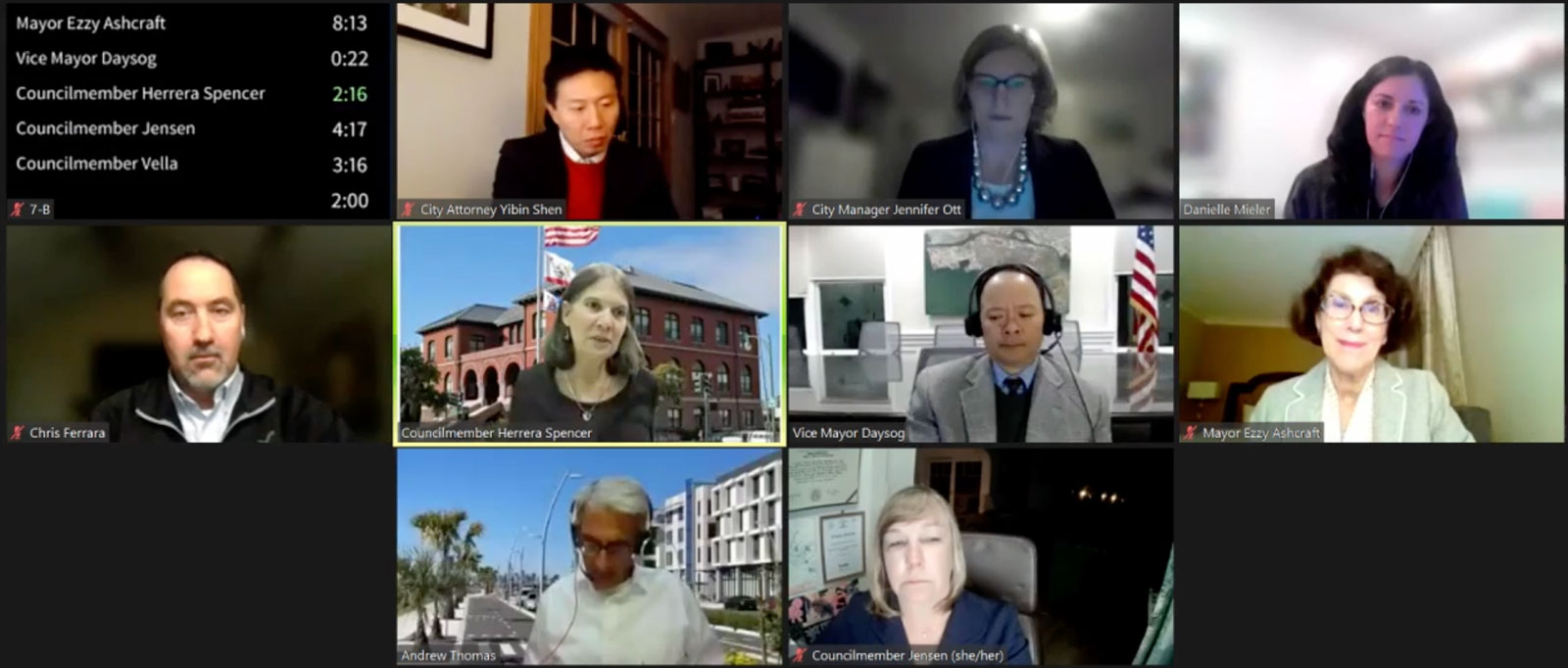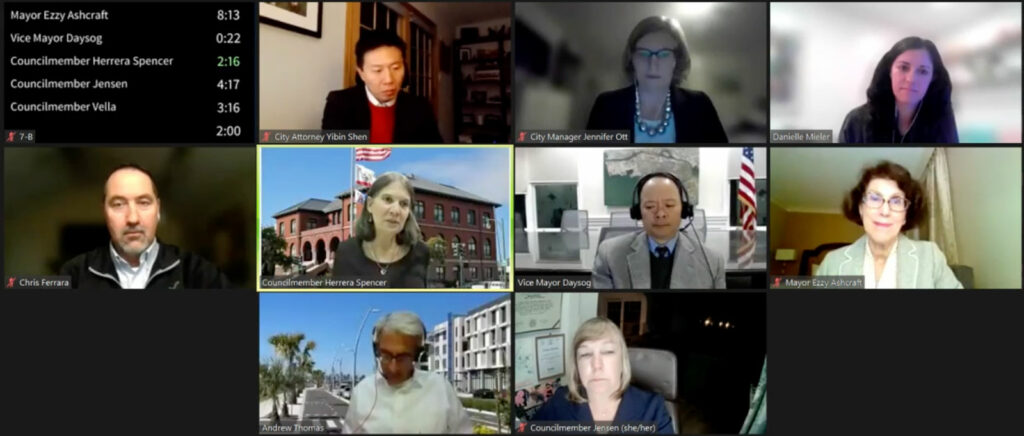 The Ralph M. Brown Act is state law that dictates how public meetings must be conducted and guarantees the public's right to attend and participate in meetings. This includes allowing public comment during the meeting and providing notice sufficiently in advance of any public meeting. With the transition to remote meetings during the pandemic, some of the requirements of the Act now appear restrictive and outdated.
Additional state legislation has been passed to allow cities to continue to conduct remote meetings, but not all cities meet the requirements to do so. Starting with the February 27 City Council meeting, Alameda will begin meeting again in person with hybrid meetings. In this style of meeting, members of the public can participate in person or via Zoom, while Council, board, and commission members are expected to be physically present. Meetings will also be livestreamed on Facebook.
The City is reassuring all those who attend meetings at City Hall with the following safety measures:
Wearing masks is strongly encouraged.
City Hall's HVAC system ionization devices reduce the rate of COVID by 98%.
Guards are installed between the dais seats.
Two air purifiers will be running and will scrub the air in Council Chambers approximately every 30 minutes.
City officials respond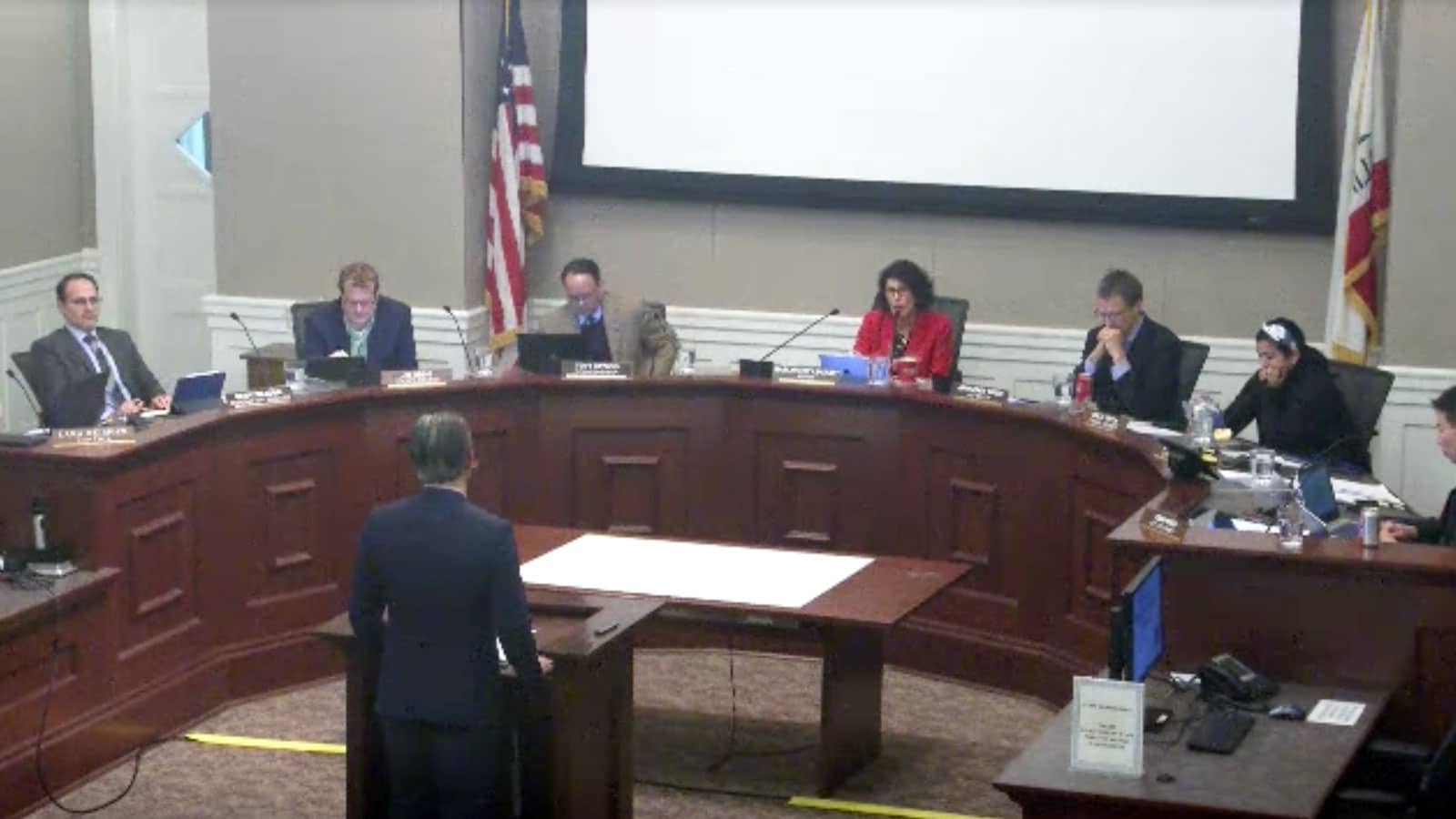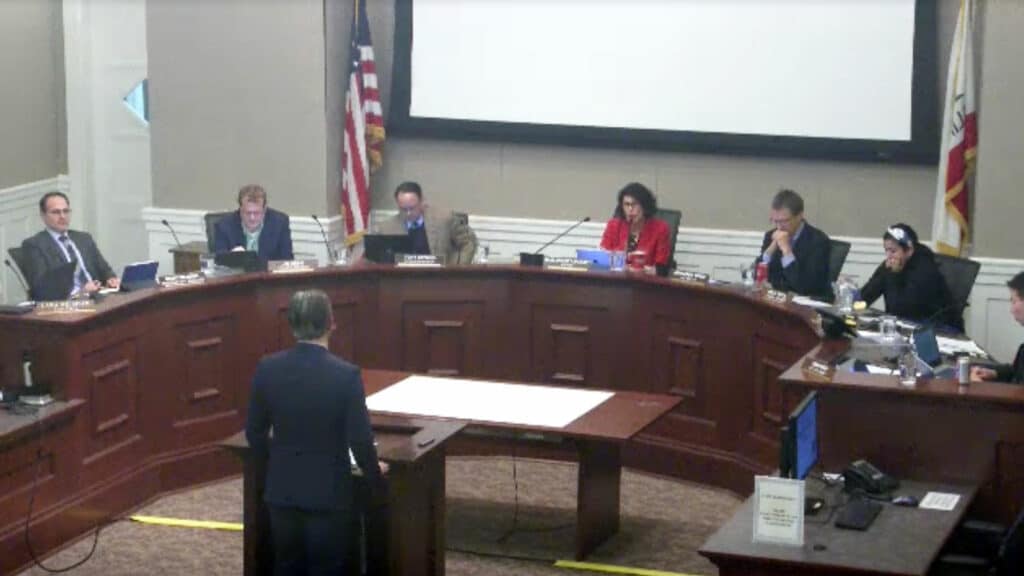 City Clerk Weisiger confirmed that any room used to hold a City Council, board, or commission meeting will have the appropriate equipment to broadcast the meeting and to allow the body that is meeting to view and respond to public comment from remote participants.
Councilmember Tracy Jensen was supportive of the change to in-person meetings. "Provided all attendees are in a safe environment, I think it is critical for public bodies to once again meet publicly," she said. "I look forward to taking my seat at the dais."
Public Art Commission Vice Chair Liz Rush endorsed the hybrid model. "Being in person and engaging with the public is exciting and adds camaraderie and better participation. In a public setting, participants are 'present' and more focused," she wrote. "Zoom helps to create a wider audience reach… I'm all about the hybrid meeting! This would allow public and remote participants." However, she noted that the hybrid system will require more involvement from staff to monitor online comments and communications.
Councilmember Trish Herrera Spencer was more circumspect about the return to meeting in person. She expressed concerns that not all members of the public have access to fast internet and the technology required to participate over Zoom if they are unable to attend in person. She worries that those people will be excluded. "It's not a public meeting when people can't participate," she said.
Limited exceptions
There will be limited exceptions to the  requirement for Council, board, and commission members to be physically present, based on emergencies and just cause. The exceptions include:
Childcare or family caregiving need (for child, parent, grandparent, grandchild, sibling, spouse, or domestic partner)
Contagious illness
Physical or mental disability need, or
Traveling on official public business.
In those cases, there are strict requirements for Council, board, and commission members to participate remotely via Zoom:
The participant's video feed may not be turned off during the meeting.
The meeting's agenda must list the location from which they are attending the meeting, such as a home address or hotel.
The meeting's agenda must be posted at that location.
Members of the public must be allowed to attend the meeting and participate from a remote location.
Furthermore, remote attendance by Council, board, and commission members is allowed only up to three consecutive months or 20% of regular meetings within a calendar year, or no more than two meetings per calendar year for bodies that meet more than ten times in a calendar year.
Note: The author is Chair of the City's Public Art Commission and has served on the commission since 2016.
Adam Gillitt is the Publisher of the Alameda Post. Reach him at [email protected]. His writing is collected at AlamedaPost.com/Adam-Gillitt.