Also votes to limit third-party food delivery fees
On March 7, City Council provided feedback to Staff on the disposition of the Alameda Point Reuse Area. Council favored selectively selling buildings as needed to fund new infrastructure while retaining high-value buildings to lease until the area's operating costs are reduced. The goals are to gradually transfer much of the property to private ownership served by new infrastructure while delivering benefits such as parks, jobs, and housing to Alameda residents.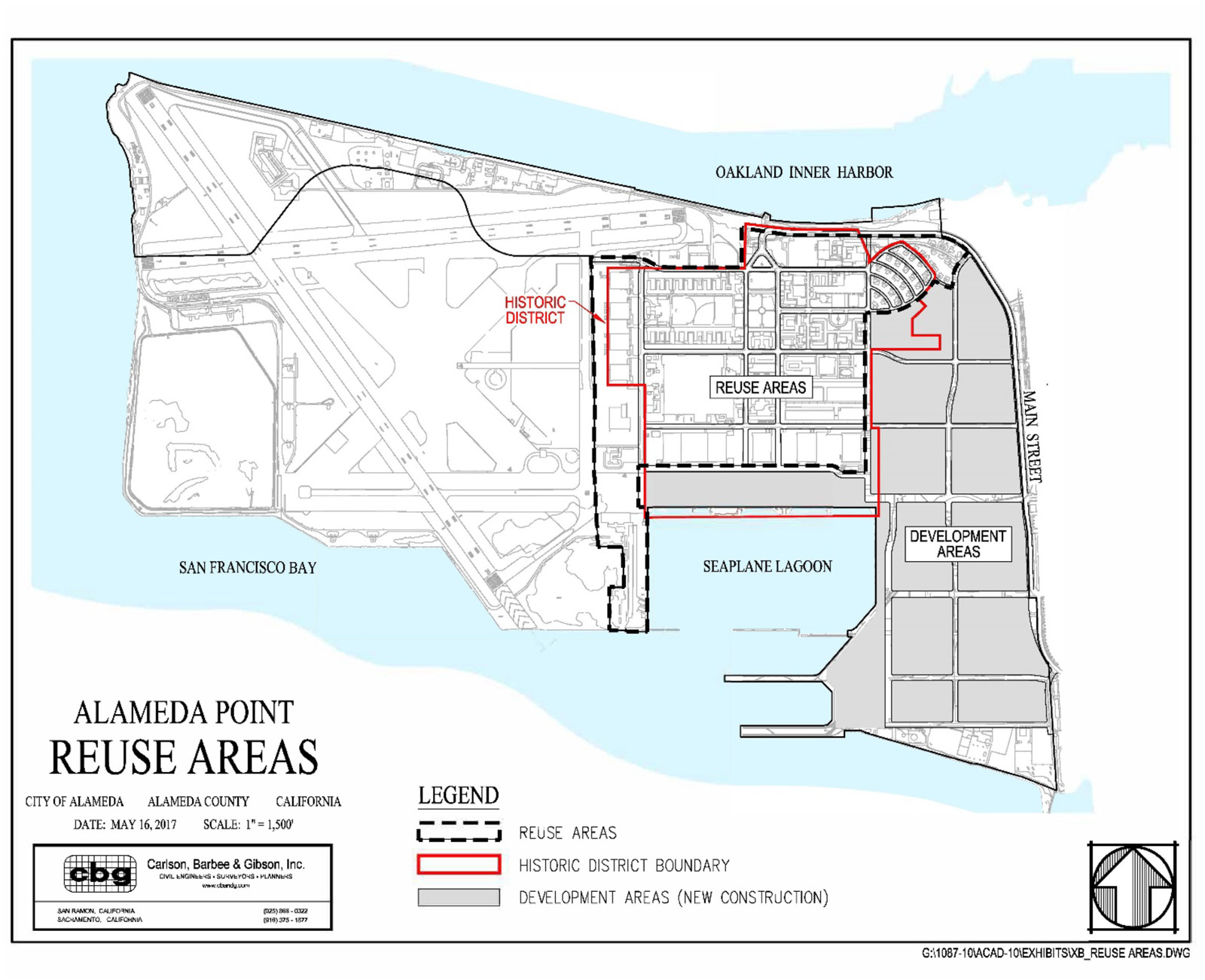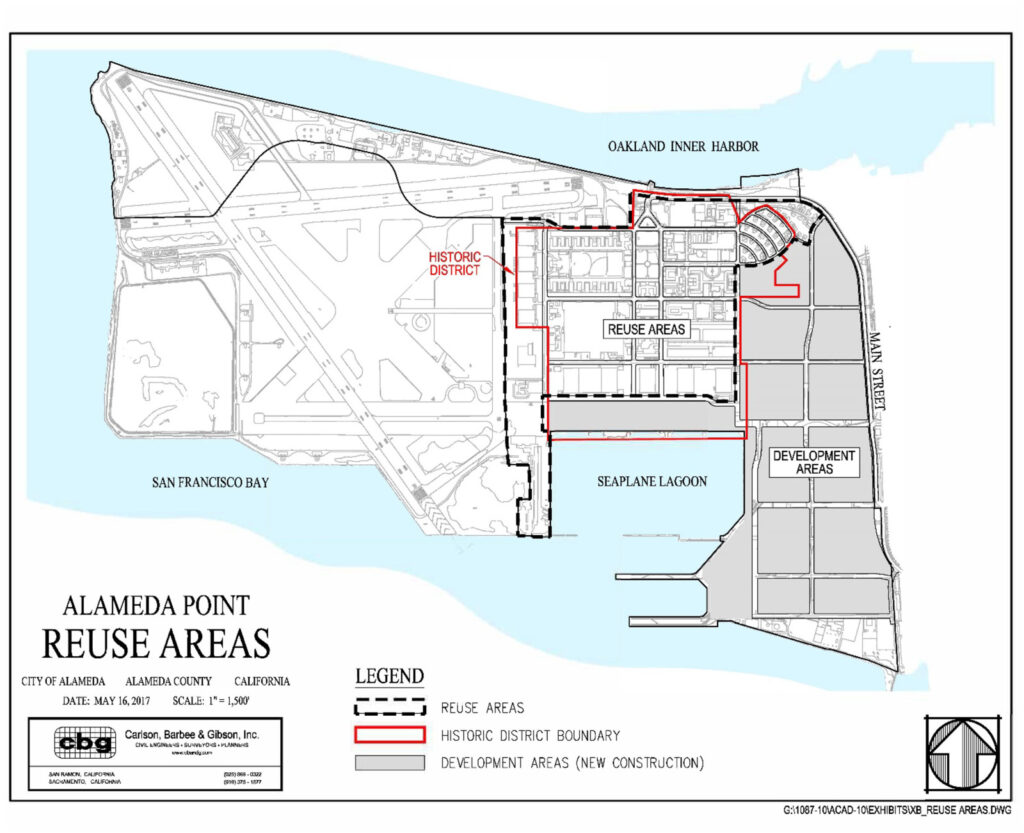 Vision for the Reuse Area
The Reuse Area is a nationally registered historic district bound by Spirits Alley, the Seaplane Lagoon, Pan Am Way, and Main Street, and part of the former Naval Air Station (NAS). Its historic designation restricts building demolition and new development. The vision presented in its 1996 Reuse Plan was to "transform NAS Alameda into a transit-oriented, mixed-use residential district and employment center with unique waterfront parks, recreational, entertainment, and retail opportunities."
The City has three goals for the area:
Develop new backbone infrastructure. The City cannot build new housing, parks, or businesses without new infrastructure.
Generate sufficient lease revenue to cover operating expenses of the existing infrastructure.
Deliver benefits to Alameda. These include transportation facilities, parks, jobs, housing for varying income levels, and tax base growth.
Staff proposed a Mixed Portfolio Phasing Strategy, which involves selectively selling buildings to fund the construction of backbone infrastructure while maintaining a portfolio of buildings to lease. Lease revenue would fund the maintenance of existing infrastructure. The Strategy allows flexibility to take advantage of unexpected opportunities that may result in City benefits.
Over time, selling buildings and parcels will reduce the City's real estate portfolio at Alameda Point, reducing operation and maintenance expenses along with the corresponding need to bring in significant leasing revenues. As the City replaces infrastructure, service reliability will improve and decrease the City's repair and maintenance costs. The long-term goal is an area primarily of privately owned and improved parcels served by new and reliable infrastructure that the City can cost-effectively maintain.
Council discussion
Mayor Marilyn Ezzy Ashcraft favored the Strategy, saying its incremental approach makes sense. She liked its flexibility to respond to innovative land-use ideas saying, "You never know what opportunities will present themselves."
Councilmember Tracy Jensen also favored the Strategy, saying it wasn't the role of City Staff to be realtors and that managing Alameda Point is a huge project. She supported lease-to-purchase options to maintain existing tenants.
Vice Mayor Daysog praised the idea of holding assets that generate value while not being afraid to sell some properties so long as covenants are in place, such as to protect historic architecture and preclude certain uses. However, Councilmember Malia Vella said she worried about the unintended consequences of restrictive covenants, such as for historic preservation, saying they might make it challenging to meet modern needs.
Councilmember Trish Herrera Spencer thought it important to sell buildings at market rate. She was concerned about the City picking and choosing who to do business with and not always selecting the highest bidder. She agreed with asserting covenants to protect architecture and view corridors and ensure the area stays clean. She also favored lease-to-purchase options.
City Manager Jennifer Ott said she would take Council's input as a guide for moving forward. She will return with specific projects to implement the Strategy, and Council will consider these at future meetings.
Third-party food delivery
In other business, Council voted to continue limiting charges imposed by third-party food delivery services such as GrubHub and Door Dash. The City began limiting charges during the pandemic to support struggling restaurants.
The City will:
Limit fees charged to restaurants by third-party delivery services to 15% while allowing restaurants to pay for additional marketing services at a higher cost if desired.
Limit the addition of new customer fees, but allow for the increase of existing fees by the rate of inflation.
Extend these limits until May 1, 2025, to evaluate effectiveness.
The City aims to help local restaurants stay in business and ensure that customers who are immune compromised and unable to leave their homes can afford food delivery.
Contributing writer Karin K. Jensen covers boards and commissions for the Alameda Post. Contact her via [email protected]. Her writing is collected at https://linktr.ee/karinkjensen and https://alamedapost.com/Karin-K-Jensen.