Wildfires and climate change are locked in a vicious circle: fires worsen climate change, and climate change worsens fires.
Scientists, including those at the World Resources Institute, have been increasingly sounding the alarm about this feedback loop, warning that fires don't burn in isolation — they produce greenhouse gases that, in turn, create warmer and drier conditions that ignite more frequent and intense fires.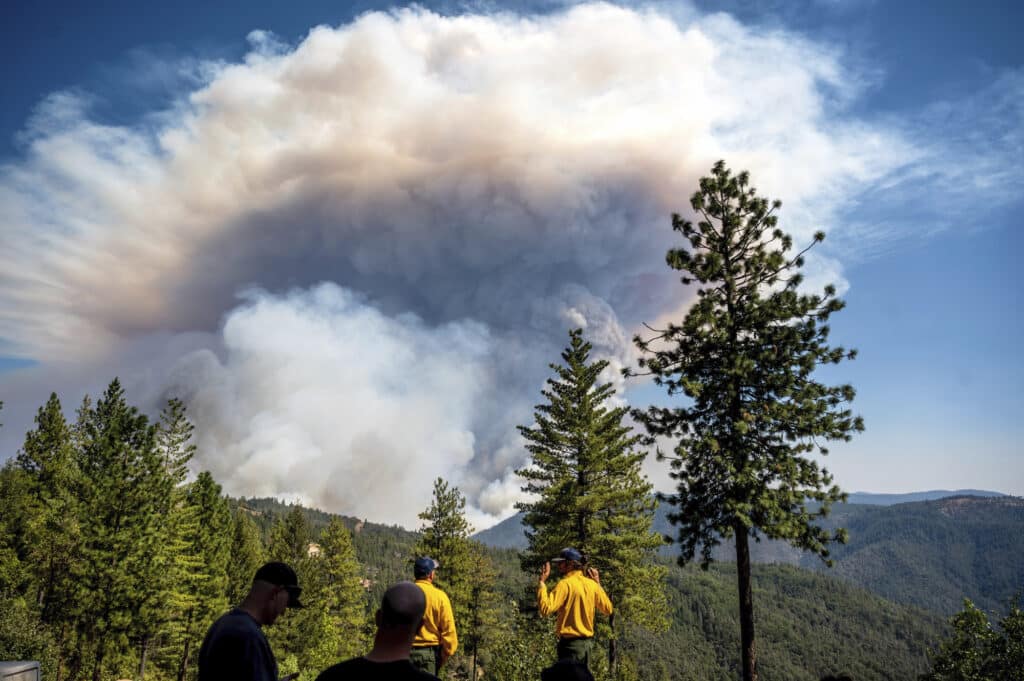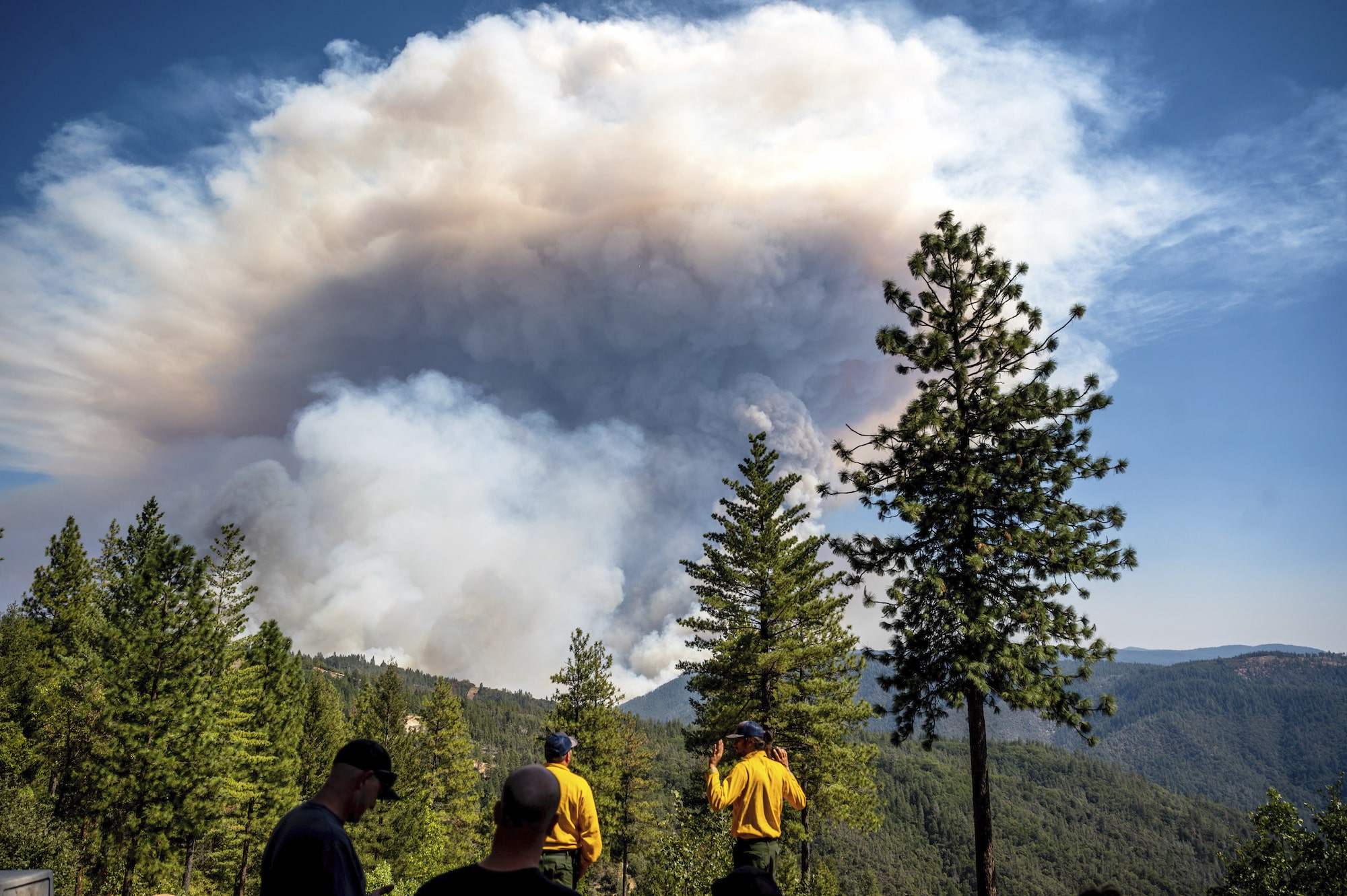 Last week, wildfire smoke prompted another round of unhealthy air quality in California. Fires in Oregon and Northern California sent smoke into Sacramento and the San Francisco Bay Area. And it's a global nightmare: This summer, world temperatures hit an all-time high, the worst U.S. wildfire in more than a century devastated Maui, a deadly fire in Greece was declared Europe's largest ever, and swaths of the Midwest and Northeast have been blanketed by smoke from Canada's forest fires.
As California's most intense wildfire months approach, the volume of greenhouse gases they emit is expected to grow.
A bill by Assemblymember Bill Essayli, a Republican from Riverside, introduced this year would have required the state to count wildfire emissions in its efforts to reduce statewide greenhouse gases. But the bill didn't get far: It was defeated in committee.
Here are answers to some of the key questions raised by the symbiotic relationship between wildfires and climate change:
What's happening to carbon emissions as wildfires worsen?
Scientists around the world are trying to quantify just how much wildfires contribute to climate change.
Last year, California wildfires sent an estimated 9 million metric tons of carbon dioxide into the atmosphere, according to California Air Resources Board estimates. That's equivalent to the emissions of about 1.9 million cars in a year.
In 2020, California's wildfires were its second-largest source of greenhouse gases, after transportation, according to a study published last year. The researchers from UCLA and the University of Chicago concluded that the 2020 wildfires increased overall emissions by about 30%.
When forests burn, carbon dioxide and other greenhouse gases are released into the air. It's considered part of a natural cycle, with plants absorbing and then releasing the chemicals into the air over time. But experts say the increasing frequency of fires might be throwing this cycle out of balance.
Emissions this year from Canada's forests have shattered records, according to the European Union's Copernicus Atmosphere Monitoring Service. Last year, carbon dioxide from boreal forests — the world's northernmost forests, which span vast swaths of Canada and Alaska — hit a record high, UC Irvine researchers reported in the journal Science.
Fires in these northern latitudes are of deep concern to researchers, as those forests historically were too cold to experience significant burns. They are incredibly dense, and emit methane from the permafrost that lies beneath them.
"These are forests that haven't burned, not just in decades but probably centuries," said Char Miller, an environmental professor at Pomona College in Claremont. "Where does that carbon go? It goes up into the atmosphere, it circles all around the globe, it's affecting all of us. It's both symbolic and I think really significant. The coldest part of the planet is also exploding in fire."
In addition, wildfires emit methane, which is a much more potent greenhouse gas than carbon dioxide, according to a study published earlier this summer.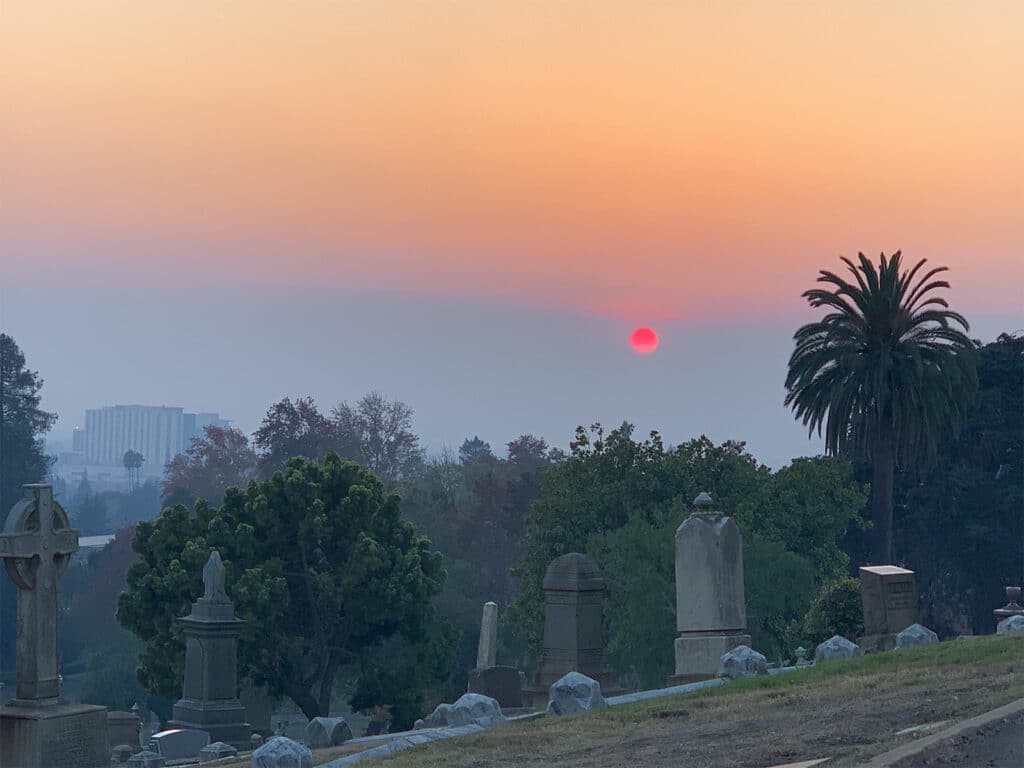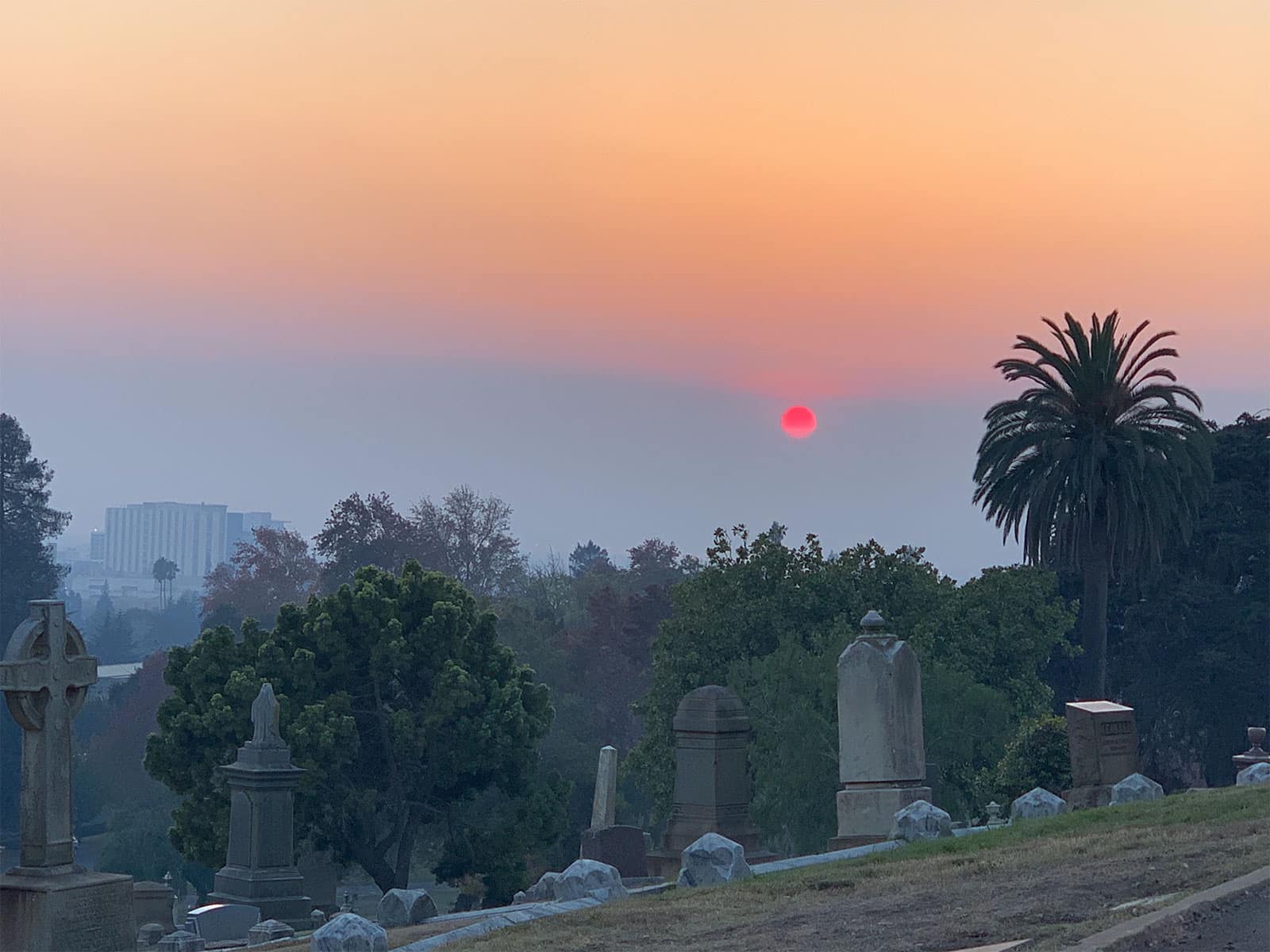 Will wildfire smoke derail the state's climate goals?
Researchers are increasingly calling attention to how forest fires might be eroding the state's climate goals, with UCLA scientists describing the state's efforts as "up in smoke."
Michael Jerrett, a professor at the UCLA Fielding School of Public Health, said nearly two decades worth of emission reductions from power plants were threatened by the 2020 fires, which included some of California's largest and most destructive fires.
"Essentially, the positive impact of all that hard work over almost two decades is at risk of being swept aside by the smoke produced in a single year of record-breaking wildfires," Jerrett said in a statement.
Some experts say carbon emissions from wildfires are not much of a concern — that the carbon captured by trees, brush and grasses already existed in the atmosphere so its release during fires is part of a natural cycle. As a result, they say, those emissions shouldn't be considered net contributors to climate change.
"These are distractions from the real issue which is that we need to generate a lot more renewable energy to displace our use of fossil fuels," Anthony Wexler, director of the Air Quality Research Center at UC Davis, wrote to CalMatters in an email.
On the other hand, some experts say carbon is carbon — and that it all contributes to climate change. Jerrett and the other authors of the UCLA report said wildfire emissions should be a bigger part of California's climate policy.
For its part, the California Air Resources Board estimates emissions from wildfires, but it doesn't count them against greenhouse gas targets for 2030. The targets are based only on gases produced by industries, energy, transportation and other human sources.
Last year, Gov. Gavin Newsom signed into law a requirement that the state achieve net-zero emissions as quickly as possible, no later than 2045. That mandate means the state will have to ultimately consider the roles of natural and working lands, said David Clegern, an air board spokesman. However, some wildfires are "part of the natural cycle and should not count against targets," Clegern wrote in an email.
Clegern said "it's difficult to know" how much carbon from wildfires "might reduce the effectiveness of the state's climate programs."
"That's because to a certain extent wildfire smoke is part of a natural carbon cycle…We cannot yet draw a bright line to accurately measure that impact," he said.
Instead, he said scaling back fossil fuels has to be California's priority.
"California is working on reducing wildfire in an all-hands-on-deck manner, but we won't really fix the problem until we quit pumping more fossil fuel emissions into the atmosphere," Clegern said.
How does the state plan to deal with carbon from fires?
State officials say restoring the health of forests and taking steps to make sure they are more resilient to fires will result in fewer wildfires and fewer climate-changing emissions.
Air board models project that natural and working lands — forests, rangelands, urban green spaces, wetlands and farms — will be a net source of emissions through 2045, while at the same time these lands will experience a decrease in the trees, shrubbery, soil and other natural features that naturally sequester carbon.
That's why the proper management of these undeveloped lands will be important in the coming two decades. More than half of California's forestland is managed by the federal government, and the Newsom administration announced in 2021 that it was working with the Biden administration to better manage forests and build fire resilience.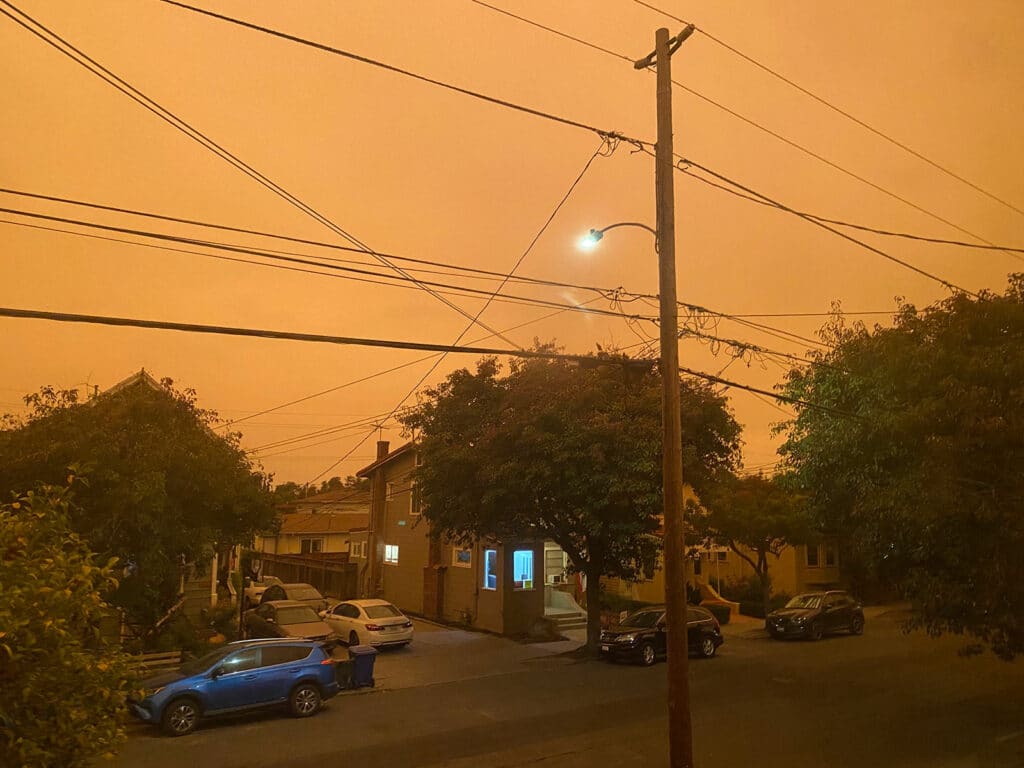 "These lands can be part of the climate solution, but we need to increase our efforts to reduce their emissions and improve their ability to store carbon into the future," Clegern said.
Burning forests might be complicating the state's climate goals in other ways, too. California's carbon offset market has been threatened by out-of-state wildfires, the online publication Grist reported, because the state awards credits to companies that maintain forests elsewhere to store carbon.
What about the impact on smog and soot?
Wildfire smoke is toxic, containing substances such as carbon monoxide and benzene, a carcinogen. Smoke's tiny particles of soot are considered its most hazardous ingredient, since they can enter airways, lodge in lungs and trigger asthma or heart attacks. Local air quality districts regularly send out warnings in California when wildfires spread smoke, sometimes hundreds of miles from the fires.
Smoke may be negating some of California's hard-fought clean-air gains. A report last year by the Energy Policy Institute of Chicago found that some California counties were more polluted than they were in 1970. In 2020, more than half of California counties experienced their worst air pollution since 1998, according to the report.
California's air quality agencies do not have to consider wildfire smoke when they outline plans to attain health standards for air pollutants, such as fine particles and ozone. That's because fires are considered "exceptional events" under the federal Clean Air Act.
"Even though the frequency of wildfires is increasing, we have no reason to believe that (U.S.) EPA will change how wildfire emissions are treated under the exceptional events process," Clegern said.
Meanwhile, concern about the impact of smoke on communities is growing. Nitrogen oxides, which form smog, appear to be increasing in rural areas — largely due to wildfires, according to a recent UC Davis study.
"If you go to these remote forests — which are predominantly in the north and the Sierras in the south — what you find is that there's this large increase," said study co-author Ian Faloona, a UC Davis bio-micro-meteorologist.
CalMatters.org is a nonprofit, nonpartisan media venture explaining California policies and Politics. This article is republished with their permission.