Until now, there has never been one centralized online calendar for Alameda events. The City hosts one calendar, the three business associations each host their own calendars, and so do many other businesses and organizations. Some are online, some are in print. It's difficult to keep track of what's happening when there are so many different calendars to check.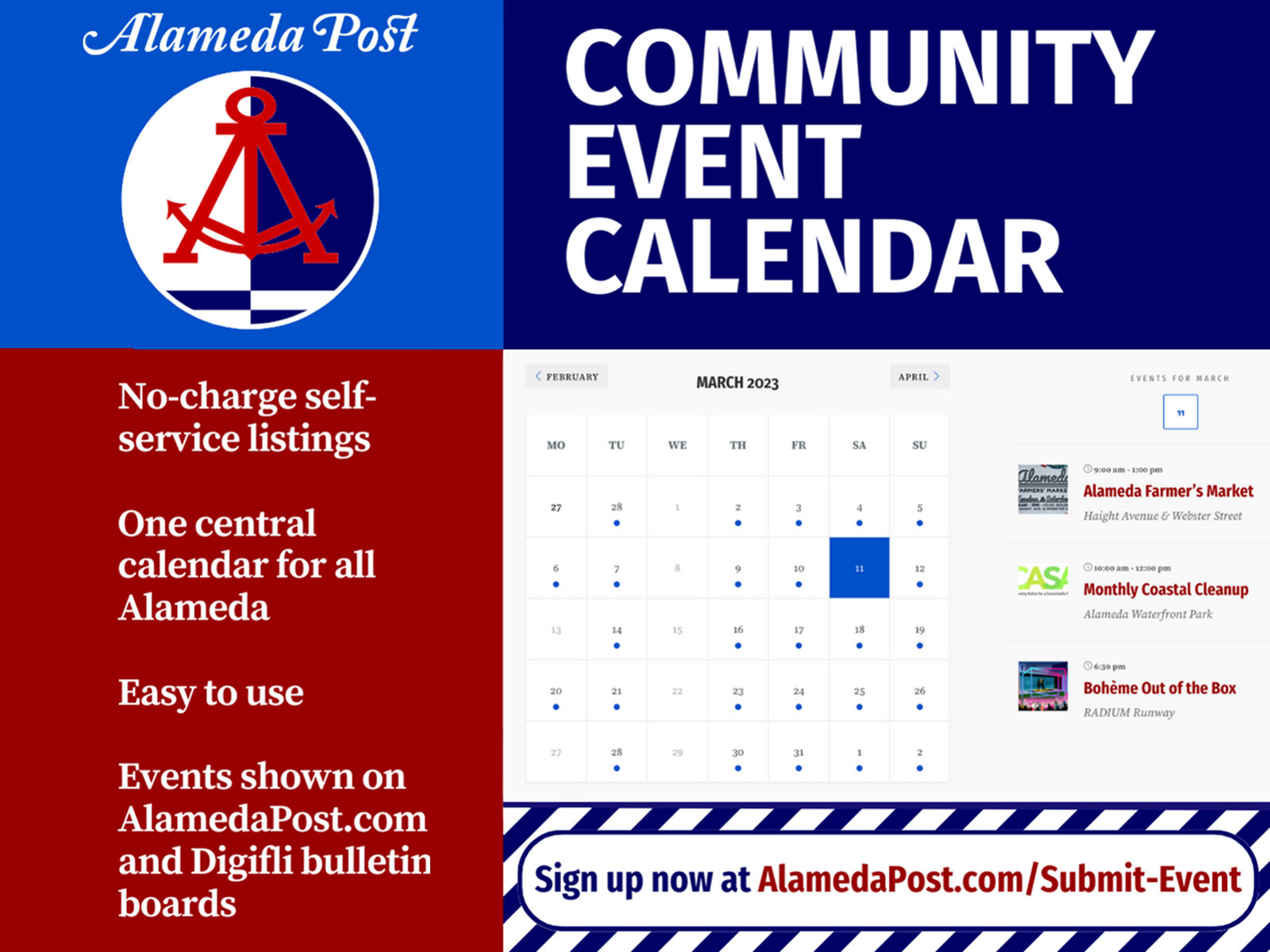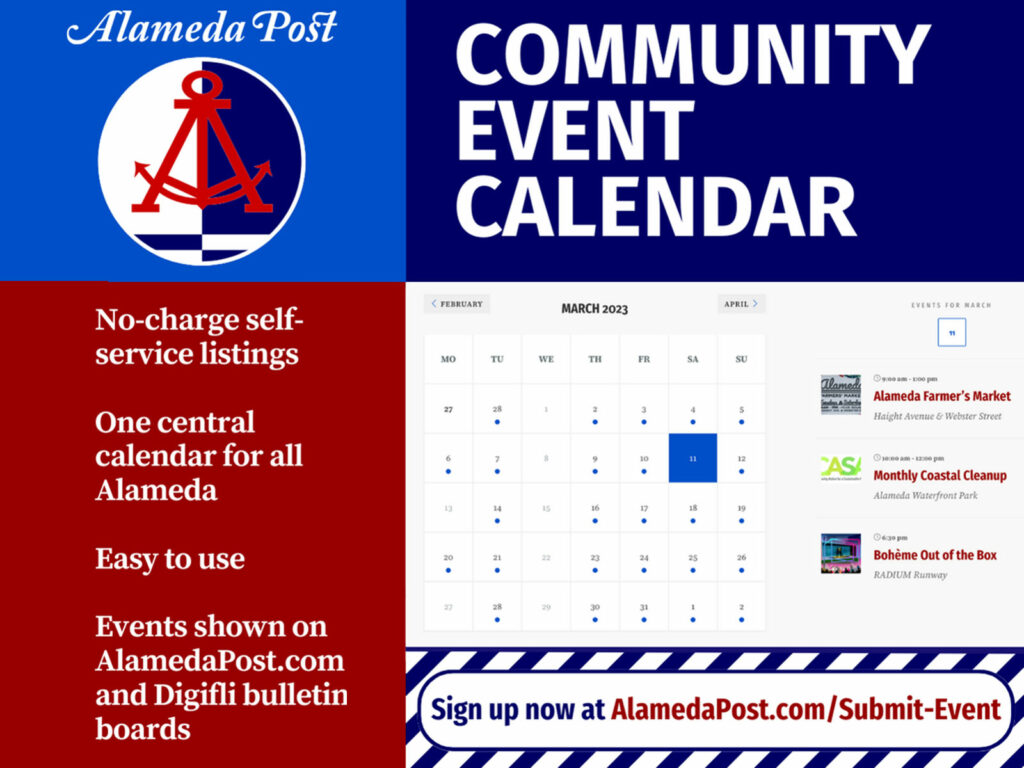 Not any more! With the endorsement of the City and all three business associations, local nonprofit news source, the Alameda Post, has stepped up and made their online event calendar available to fill that role. Now the calendar is available for all businesses and organizations to post Alameda events. If there's an event going on anywhere in Alameda, this is the place to find it. The online event calendar on AlamedaPost.com is a free resource that provides an open platform for businesses and organizations to showcase events and for the community to easily see what's happening on one centralized calendar.
"A centralized, comprehensive event calendar is a welcome addition," said Kathy Weber, Executive Director of Downtown Alameda. "This calendar will be a benefit to local event organizers and a valuable community resource. We'll all know what's happening and when."
In addition to posting community events online on one convenient calendar, the Alameda Post front page prominently displays a list of upcoming events with links to the calendar for more information.  Plus, in partnership with the community digital bulletin board, Digifli, daily events are shown on screens in businesses all over Alameda.
Easy to use
The online calendar on AlamedaPost.com is user-friendly and easy to navigate. It is designed to be equally easy for users to view on mobile phones, laptops, desktop computers, and tablets. The main events page shows a calendar of the current month where users can easily select which day's listings they want to view. There is also a filter so users can find events based on location or organizer.
Each listing includes a featured image, the date and time of the event, pricing, information about the host and venue, a map of the event location, and a prominent button linking to ticket sales, registration and/or more information. There are also buttons to add events directly to the user's calendaring apps, such as Google Calendar or Apple's iCal, plus an auto generated QR code and social media links to facilitate sharing of each event listing. There is even a feed of all events listed, available to businesses that request access, to aid scheduling.
Easy to post
"We understand the challenges that organizations and businesses face in promoting their events to the community," said Adam Gillitt, publisher of the Alameda Post. "Our goal is to make it as easy as possible for businesses to get the word out to Alamedans about their events and activities."
It's effortless to share events on the Alameda Post calendar. Simply submit an event using the online event submission form. There is no charge for posting events to the calendar.
Businesses can create a free account and submit their event details at that address. Please use your business email to identify yourself when you sign up. Once your account is approved, you will be able to return to the same URL and enter information about your event. Individual event listings may repeat in a variety of ways, such as every other Tuesday, or on the first Saturday of the month–and can include links and images as well as text.
To avoid spam on the calendar, and to help ensure that your listings are set up correctly, after you submit your event, it will be reviewed by the Alameda Post team. Once approved, you will receive a notification by email that your event listing is live and available to the public.
Get training or get started now
The Alameda Post will host two informational Zoom sessions, explaining how to post to the calendar, schedule repeating events, and to include all important information in your listing. Sessions will be held on Tuesday, March 21 at 3 p.m. and Friday, March 25 at 10 a.m. Please email [email protected] to reserve a place.
If you'd prefer to get started posting to the calendar right away, the event submission page has detailed instructions about how to enter information into each section and how to get additional help, if needed.
"We encourage all local businesses to take advantage of this opportunity to promote their events and connect with the community," said Gillitt. "Our website receives thousands of visits every week from residents and visitors alike, making it the perfect platform to reach a wider audience."