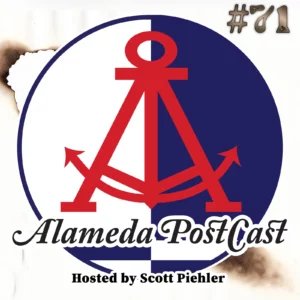 In Episode 71 of the Alameda PostCast podcast for September 22, 2023, Scott's topics include: City Council looks ahead with the next Strategic Plan; There's a rate hike coming from PG&E, but no one's sure how much the increase will be; Wildfires to the north have been affecting our air quality; Free COVID tests are back; The Island Bowl is upon us; Alameda's Bryan Woo returns to the Bay Area and shuts down the Oakland A's; Don't miss your chance to save a buck and help save the planet with your next cup of coffee; And another way for you to follow the Alameda Post. Plus, weekend events of interest.
If you can't see the embedded player, you can listen to this week's episode (and previous episodes, too!) on our podcast page. Or you can ask Alexa, Siri, or Google to "Play the Alameda PostCast Podcast" and you'll hear the latest episode. It's also listed in all the major podcast directories.
Scott Piehler hosts and produces Alameda's only weekly news digest podcast, the Alameda PostCast. Reach him at [email protected].