The successor to Market Spot on Lincoln Avenue and Bay Street.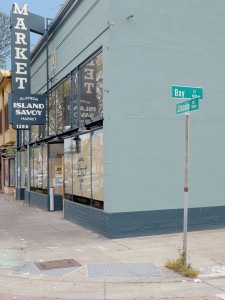 When Mike Stevens walked past the Market Spot during its last days, he looked at all the space that was no longer being used and imagined what it might be like if the once-popular corner store at the corner of Lincoln Avenue and Bay Street were revitalized. He thought about what his neighborhood needed and what his neighbors might want in that space.
"We need a coffee shop," Stevens said. "We need a good place to get a sandwich." A place to get locally sourced organic produce and groceries. A place to gather. A true community market. "And as I talked with neighbors," he said, "I found that they were feeling the same way."
Stevens steps up
So after the Market Spot closed its doors during the pandemic, Stevens, who lives a block away, stepped up. He signed a lease for the building in June, 2021 and went right to work. For him it was a no-brainer. His job in the catering industry had dried up during the pandemic, so he had time for the project. He and his family were able to put up an initial sum of about $125,000 but more would be needed, so he set up a community crowdfunding investment campaign via WeFunder. As of April 2022, more than $154,000 had been invested.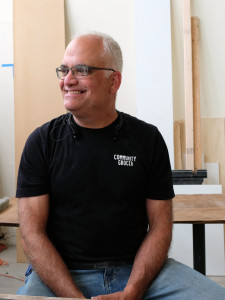 "It's money that people will get back," Stevens said. According to their page on WeFunder, investors will be repaid what they invested plus an additional sum. "It was really great to have the community chip in," Stevens added. "I was really surprised at the amount of people and where they came from." Some of the investors just happened to be walking by and stopped to talk, while others left notes welcoming the new store to the neighborhood.
Stevens also received $20,000 in matching funds from the City of Alameda's Façade Grant Program to renovate the exterior of the 1926 building and update the old sign with the new name: Island Savoy Market, a nod to the corner store his grandfather once operated in Providence, Rhode Island. The renovation required painting the building, replacing cracked windows, installing exterior lights, adding new window signage, and retrofitting or replacing the doors to provide ADA access, among other improvements.
"The city has been great," Stevens said. "They were really excited that somebody was going to move into this spot and do the restoration. The façade grant committee was wonderful and the city design department was very helpful. I have to give credit to Patrick Piccolo, who hand-painted all the signage. I met him through Signal (coffee roasters located on Webster Street). It was amazing to watch him work."
Partnering with local businesses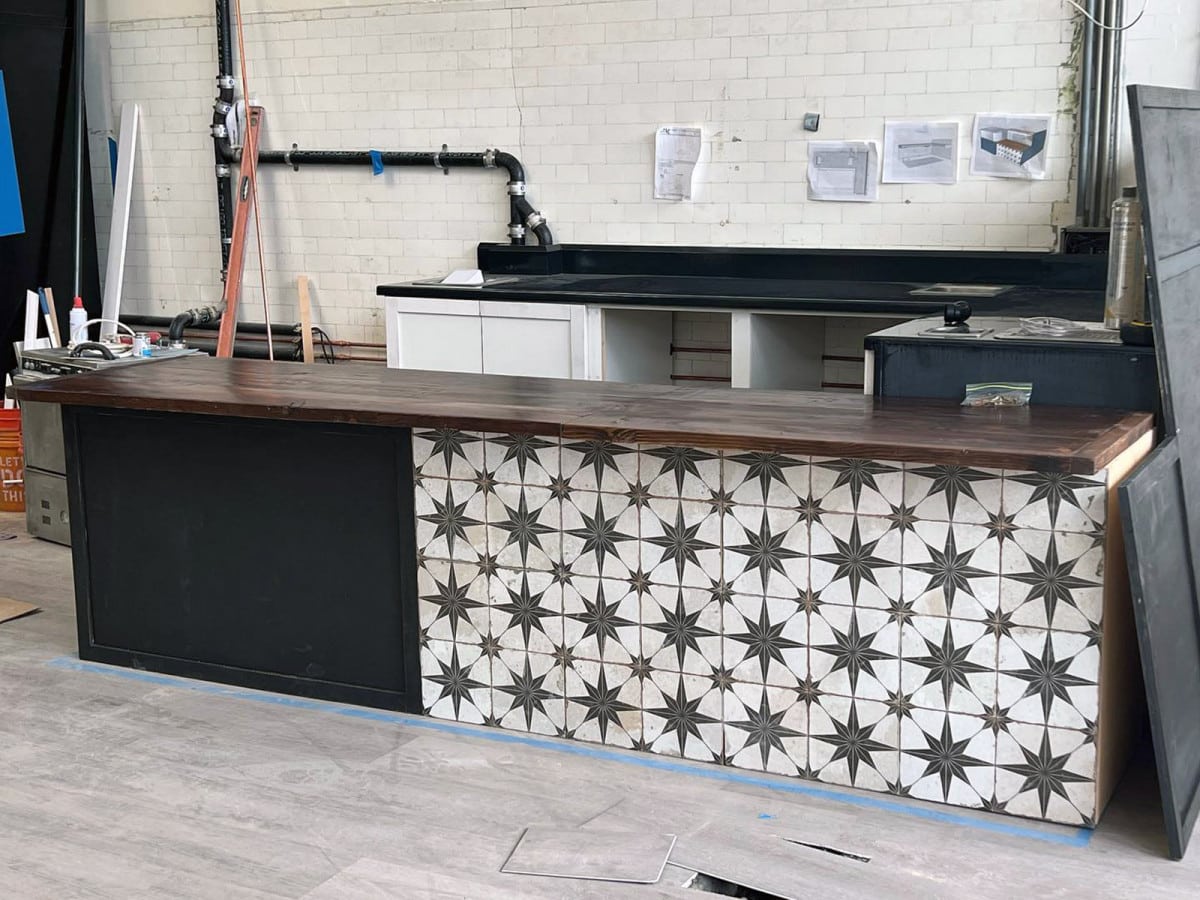 Signal will be the official coffee partner in the Island Savoy Market's café at the front of the store, while packaged coffee from other small local roasters will be featured on the shelves. "We're trying to go with as many small local artisans as we can," Stevens said. "We don't have a full kitchen, so there's a limit as to what we can prepare, but we will offer prepared foods that are made with local partner kitchens off-site," Stevens noted. So in addition to the fresh produce and other locally sourced groceries, the store will offer dishes to take home when you don't feel like cooking from scratch. The idea is to make it easy to enjoy delicious, fresh, locally-sourced food, all from a market you can easily walk to—and all of it as sustainable as possible. "People throw away a lot," Stevens said. "Single-use is something we really want to get away from, so as much as we can we will reuse, whether it's milk bottles or soup in a mason jar."
Stevens was impressed by some of the culinary artisans he met at Head West, an outdoor marketplace held monthly next to Hangar 1 at Alameda Point, and by the reusable containers some of them used to package their products. "I met a woman who is making jams, and a pair of sisters who are making barbecue rubs and spices, and a couple who are making salsas, and another person who was making agua frescas," he said. "It was wonderful to meet them and get to know them and their products." Those products, packaged in returnable jars and bottles, will be on the Island Savoy Market's shelves. Stevens also plans to work with Dispatch Goods, a female-founded company committed to "making takeout more taste-y and less waste-y." Island Savoy Market will offer as many items as possible in containers and bags that can be collected by Dispatch to be sorted, sanitized, and redistributed, eliminating the need for single-use food packaging.
Supporting the community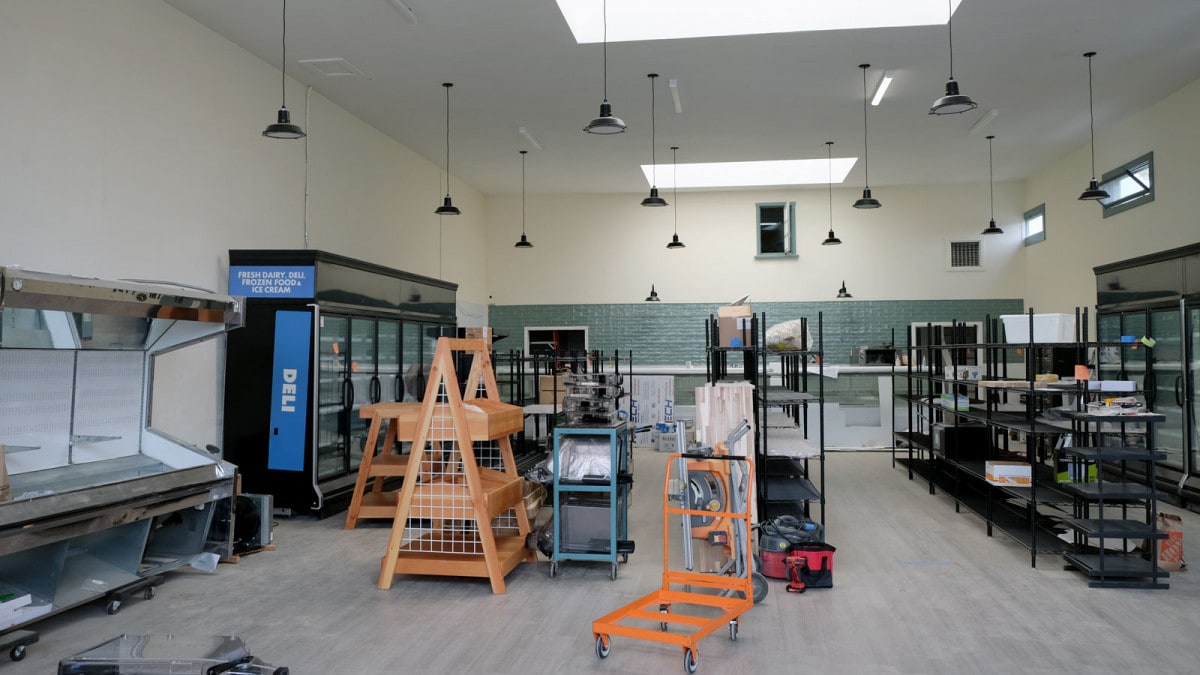 The list of ways that Stevens wants the Island Savoy Market to support the community goes on and on. "We want to work with the food bank, and with Alameda Point Collective," he said. It benefits people in need and reduces waste at the same time, he noted. "As expiration dates approach, you can creatively find ways to make use of things you would otherwise have to get rid of. And we'd also like to do things here that can financially benefit those organizations." He wants to use the space at the front of the store for fundraising events.
As much as he's dedicated to the community, however, Stevens recognizes the need to be practical. "When you're starting something like this, your head gets filled with ideas. But of course we do have to first open our doors and start selling some stuff."
Island Savoy Market is scheduled to open in June.
Contributing writer Liz Barrett writes about the community for the Alameda Post. Contact her via [email protected]. Her writing is collected at AlamedaPost.com/Liz-Barrett/.