Black History Month video shares compelling stories of resilience and love
Shanti Lair-Croom is a poet, educator, Educational Equity and Family Engagement Coordinator for Alameda Unified School District (AUSD), and a video producer. She definitely has fulfilled her ancestors' wildest dreams, as the video she created to honor Black History Month attests. The 10-minute video, "I Am My Ancestors' Wildest Dream," begins with Lair-Croom speaking her poem of the same name.
"Honor the past and inspire the future"
The expression itself has often been credited to New Orleans artist and activist Brandan "BMike" Odums, but it has circulated in the Black community for years. Lair-Croom said she became aware of the term because it was "all over social media, mostly on T-shirts." Then, in December 2022,  she saw the mural BMike painted to celebrate the idea. "It was just so inspiring to me," she said. "So when I was thinking about how I could capture how far we've come as people in this nation and how far we still need to go, my vision was to have local people who are really extraordinary share their stories to honor the past and inspire the future." Her video became a reality just a few weeks later.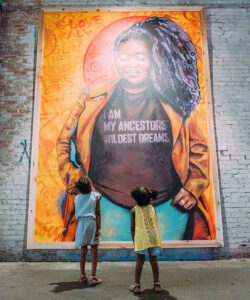 Lair-Croom said the purpose of her video was to educate, honor, and inspire—and it certainly does. The local heroes featured in it are educators, community healers, business owners, scientists, and activists. All of them are involved in Alameda in some way. The list includes Vernon L. Walton Jr. Ed. D, Jamilah Jones-McLean, Steven Mack ,Vickie Smith, Seth Pearman, Aaron Mercadel, Mikala Royal, Robin Lynn Wilson, Dr. Chris Wachira, Renate Westbrooks, and Shamar Edwards.
"I appreciate their stories and their daily contributions to build a better society," Lair-Croom said. She credited Alameda Education Foundation (AEF) Executive Director Vicki Sedlak for putting her in contact with many of them. And, of course, she offered "huge thanks" to AEF for sponsoring the project. She also offered gratitude and kudos to producer/editor Shaun Daniels at Castaway Creative, along with Students on the Set, a nonprofit that gives students on-set experience with video and digital film production. Many of those students are from AUSD schools.
The school district is officially Lair-Croom's place of work. "I create and lead programs with students to coordinate educational and cultural events," she explained. "I analyze and implement equity practices at both the site and school level, such as examining classrooms or participating on interview panels, and facilitating restorative circles between staff and students." She also works with Shamar Edwards, Senior Director of Equity and African-American, Black, and Multi-Ethnic Achievement. "Our department is really just about examining all parts of the system that either perpetuate or disrupt inequitable outcomes," she said. "I think we're definitely making a shift for the better."
Meet the artist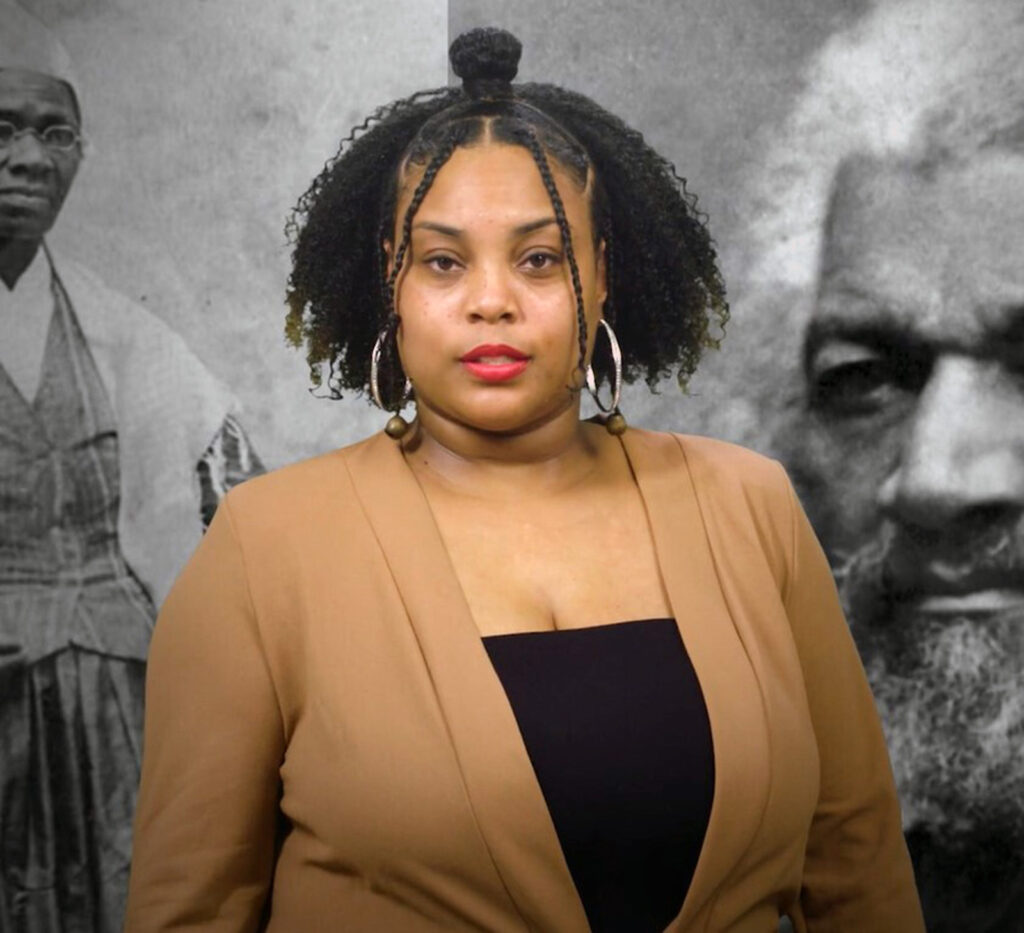 There's more to the story. Lair-Croom's background is in sociology, social work, and human services, but her passion lies in the creative arts. "I've been writing poems since I was 8," she said. "My cousins and I used to put on performances for our families every Saturday, so I always had my hands in the arts. But my heart is always with the people, so it was a good combination to be able to do this video."
One of the lines in her poem at the beginning of the video is, If love were a person, it would be us. "When I said we are love in human form, it's because to be devalued by society for generations, and still have so much love in our soul to give to the world when we've been given nothing but hate—it takes a special type of being to do that," Lair-Croom said. "To be completely resilient, to not want revenge from the past, to just want humanity to be fair, to want to be connected, to want humanity to thrive. I think that's bigger than all of us, as far as the universe continuing to produce those types of spirits, those types of beings. I just find that energy to be divine, so I really want to want that to resonate with people."
Lair-Croom's hopeful perspective is extremely important for all of us, not just during Black History Month, but every day. "The Black experience is undeniably different from everybody else's. That's what I was touching on," she said. "Unless you've lived it, you have no idea. We are always resisting and we're always getting back up, and we're always looking out for everybody else. That's why I really think there's just something so special about being Black. To be alive and to be Black in America is a great responsibility. We are literally only here because our ancestors believed in pushing through. So when I made this video, it was to make sure I honored them, because I feel I owe them that, and I owe future generations something to look up to, something to be inspired to be. Because at the end of the day, despite all of the beat-down we've taken as a people, we still have so much love to give. I really wanted this video to embody that. I think it did, and I'm happy about it."
Final credit from the producer: "I would like to give the ultimate thank you to the creator, my ancestors, and family (Mama, Dad, Sister, Brother, Niece, Nephew, Grandmas, Cousins). I grew up surrounded by love and assertiveness. My ability to express myself freely and truthfully derives from each of them. I am blessed to be a part of such a powerful pure-hearted family lineage."
---
I Am My Ancestors' Wildest Dream
By Shanti Lair-Croom
"I … am my ancestors' wildest dream."
That's a beautiful statement,
but it comes with an undertone and backstory
that's anything but beautiful.
Historically, Black people have unique stories;
for hundreds of years Africans were enslaved on American soil.
So when you hear the American dream,
if you listen closely, you can hear our screams.
Our voices put forth progressive changes,
yet our skin pigmentation is still discriminated against
across seas and nations.
The Black experience is undeniably different from everyone else.
That is why when we speak, it's felt!
The truth. Cut the trees but we still have our roots.
Kind spirits, in and out of bondage.
Resilient.
I'd like to pay homage.
To my parents, and their parents, and their parents,
and my entire family heritage
because my energy and values derive from them,
isn't it apparent?
My ancestors planted seeds so I could grow
and everyday I live my purpose,
to plant some more.
Walking firmly in the present as I hold one hand in the past
and stretch out my other to grip the future
so we all move together.
I am them and they are me.
Their blueprint is instilled in me;
their thoughts, their memories appear vividly as I follow their footsteps,
praying to reach victory.
The fact that I can openly share this testament,
makes it evidence,
that "I am my ancestors wildest dream."
Ultimately, our ancestors always believed in better days
for you and for me.
Generations after generations,
the atrocities from the depths of hatred couldn't ever
penetrate our souls.
Because if love were a person, it would be us.
The stories untold.
The beauty of our light beams. We are our ancestors' wildest dreams.
Liz Barrett is the Copy Editor of the Alameda Post and writes about our community. Contact her via [email protected]. Her writing is collected at AlamedaPost.com/Liz-Barrett.