Alameda Halloween scientists report costumes, colors, and candy collection.
Halloween 2022 marked our triumphant return to data collection after several pandemic-induced years off. Our location changed from Willow and Lincoln to Central and Grand and, let me tell you, we were not prepared for the wildness that is Grand Street on Halloween. This year boasted our largest team of data scientists yet—four  clipboard-ready adults and a candy-wrangler. Click on any of the charts to enlarge.
We had first blood at 5:21 p.m., earlier than we ever saw at our previous location. If this is what Monday looks like in our new neighborhood, I live in fear of the next time Halloween falls on a Saturday. We smashed our previous all-night records within hours and had to rely on an emergency infusion of candy from our generous neighbors to keep going—thank you—still withdrawing into the house at 8:41 p.m. while families roamed the neighborhood.
Color data remained relatively stable from years past, with black continuing to dominate the community couture. Most trick-or-treaters were unmasked, but we still saw some COVID protections, some of which were well-integrated into the overall look. This year saw a distinct rise in candy bags with a skeletal hand attached at the top, though traditional bags and pumpkin buckets continued to dominate.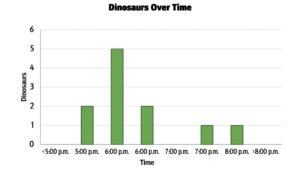 We last tracked retro vs. modern costumes in 2018; percentages on those remained stable this year. However, we did see a drop in fantasy costumes as compared to science fiction attire since last looking at those numbers in 2016. Anecdotally, I believe this is due to a rise in Spidermen and Spider-Gwens. One of our data scientists owns an inflatable T-rex costume, so we also chose to track dinosaurs roaming the street. There were several. Stay safe out there, that's all we're saying.
MacKenzie Stuart is a Halloween Scientist based in Alameda. Article reprinted from Alameda Peeps on Facebook with permission from the author.