SCOTUS decision to reverse abortion rights condemned by elected officials.
Today's decision by the US Supreme Court to revoke women's right to abortion by overturning Roe v. Wade has brought immediate condemnation from local officials. The vote to overturn the 1973 Roe v. Wade decision has no support among any of Alameda's office-holders.
CA Governor Gavin Newsom posted a video and statement to social media which stated, "The Supreme Court has stripped women of their liberty and let red states replace it with mandated birth. This is an attack on American freedom. CA, OR and WA are creating the West Coast offensive. A road map for other states to stand up for women. Time to fight like hell." His office later released another statement simply reading, "Abortion remains legal and accessible in California."
State Attorney General, and former Alameda City Councilmember, Rob Bonta declared, "The Supreme Court's decision is outrageous, unprecedented, and dangerous. But CA won't backslide. We'll keep fighting to strengthen and expand access to safe and legal abortion."
Assemblymember Mia Bonta also Tweeted, "What a sad day for women, especially women of color and low-income women who have been stripped of their fundamental right to choose what do to with their bodies with the overturning of [Roe v. Wade]. I fear for the health of women across this country. But let's be clear, CA will always fight to protect a woman's right to access comprehensive reproductive health. We owe it to women who will now lack that."
Congressional Representative Barbara Lee released a lengthy statement on the the reversal of Roe v. Wade. It reads: "Today, I share the anger, outrage and devastation of the millions of Americans who have just lost the fundamental, precedented right to abortion care.
"After a decades-long coordinated strategic assault on women's rights by right-wing extremists, Roe was overturned in a 6-3 decision by an unelected conservative court. This decision is a blatant attack on reproductive freedom and in direct opposition to the will of the people. And we know it will be felt even more acutely for women of color, low- income individuals, young people, those in rural communities, LGBTQ+ communities, and others who already face higher barriers to care. "This conservative Supreme Court has ruled that states shouldn't be trusted to make their own laws on gun control but can keep people from making their own health care decisions. It is unconscionable. We are seeing the horrific consequences of minority rule playing out in real time -and this is only the beginning of their radical agenda to take America back in history and take another step toward eroding our democracy.
"This is the first time in history the Supreme Court is taking away a constitutional right. We cannot allow them to reverse the progress we've made to secure fundamental rights like access to contraception and marriage equality. Politicians and justices should not be trusted to make health care decisions more than people themselves.
"Now, we must support local clinics, health providers, abortion funds and nonprofits doing the ground work to connect those in states with draconian abortion bans to safe-haven states like California or provide access to medication abortion. We must ensure safe abortions are still accessible to the most vulnerable.
"This is NOT over. We must fight this in state legislatures. We must organize and elect a pro-choice Senate in the midterms and every election thereafter. We must abolish the filibuster if we have any hope of passing meaningful legislation not only to enshrine Roe into federal law, but to stop gun violence, safeguard voting rights, dismantle white supremacy and police brutality, fight climate change, and address all of the most pressing threats of our time. For those who don't trust people to make their own health care decisions: we'll see you in November."
State Senator Nancy Skinner was more succinct. "63% of Americans did not want Roe v. Wade overturned. 35% do. What Democracy? It's The Handmaids Tale."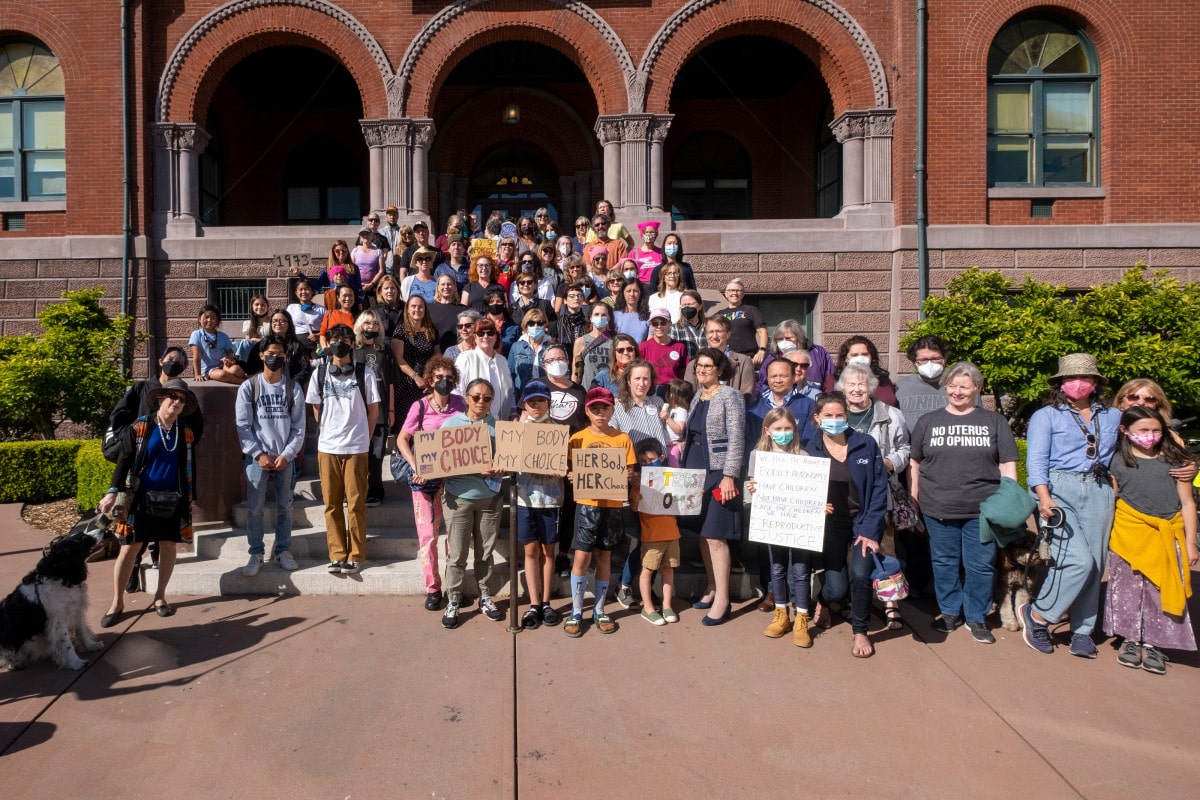 Two of Alameda's City Councilmembers commented on the ruling. Councilmember John Knox White wrote, "Today I am sad, and angry, and disappointed, and outraged and embarrassed for and of our country. It's going to take decades to undo the illegitimate actions of this illegitimate court.
"As we move to becoming a divided country where a woman's freedom and rights are only recognized in some states, it is paramount that we work harder to address the ongoing cost-of-living and housing inequities that are forcing people to move out-of-state of financial reasons. People should not be forced to choose between their own rights and continuing to live in their community due to out of date, exclusionary housing policies."
Councilmember Tony Daysog released a public statement which said, "I am saddened by the decision by the Supreme Court today to end a constitutional right to abortion.  While states such as California, and places in California such as the City of Alameda, will continue to be places where women can exercise their right to choose, I am saddened that, because of today's decision, in many other states across America, women will no longer have the ability to make an intensely personal decision, with assistance from their respective medical professionals, with respect to abortion."
We reached out to the other Alameda City Councilmembers and the Mayor for statements about the ruling repealing Roe v. Wade as well, but City offices are closed on Friday.
If you want to get out and make your voice heard, a list of upcoming Bay Area protests can be found at FunCheapSF. You can make a contribution to support abortion access in states across the US at Donations4Abortion.com.