Olive Little is a student, an artist, and a tireless fundraiser. She started by making and selling notecards to raise money for her senior class at Encinal High School and expanded into creating heartwarming custom pet portraits to help pay her college expenses and donate to the Friends of Alameda Animal Shelter (FAAS).
Scroll down for more information about FAAS services and resources.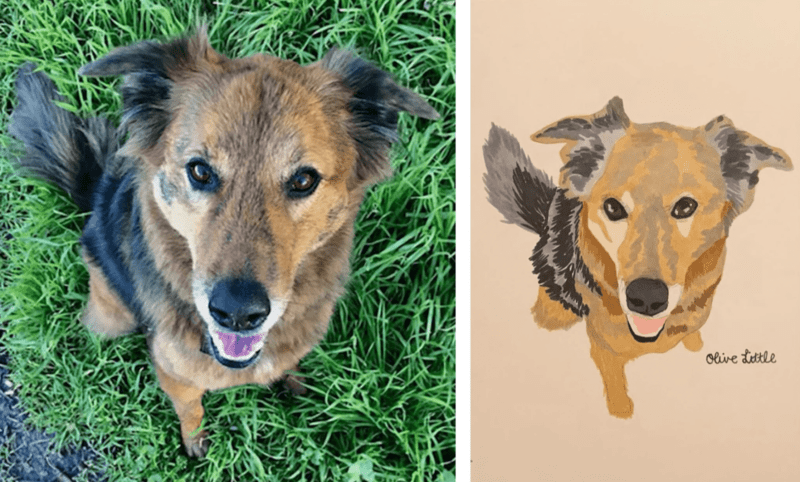 "I knew that the school wouldn't pay for the Grad Night activities," said the 18-year-old who is now a freshman at Evergreen College in Olympia, Washington. "I knew we couldn't do all those fun activities if we didn't pay for it." So, she started fundraising—not just for herself, but for the Class of 2022. "I wanted to give back to my community because I knew that I could potentially be helping someone that wouldn't be able to afford to go. I just like helping people and it really just makes me feel good to know that l was able to raise this money to help everyone go."
Cards for a cause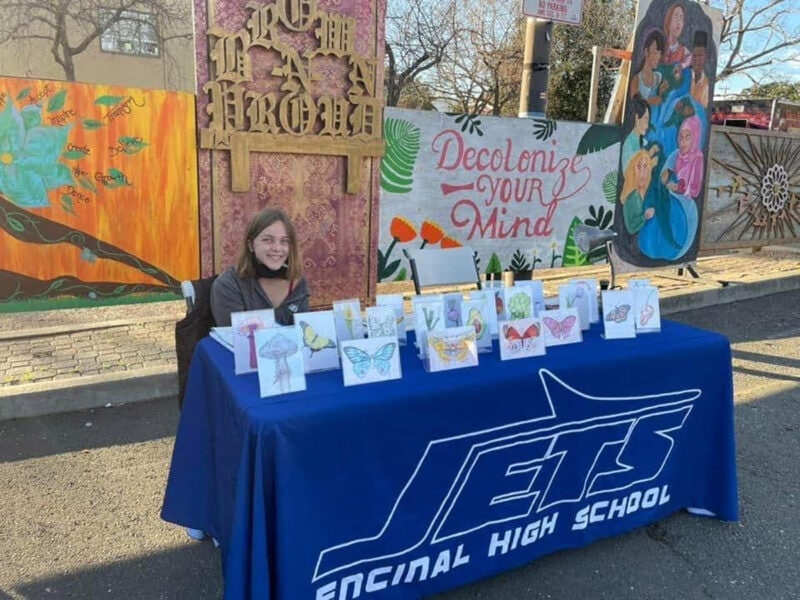 Olive created notecards which she sold online via All Good Living's School Spirit portal and in person wherever she could get a free table. Her mother, Heather Little, is currently Vice President of the Alameda Unified School District Board of Education. Heather gave a major shout-out to the West Alameda Business Association (WABA) and Sandy Russell from Fireside Lounge for continually providing table space at Webster Street's Second Friday Art Stroll. It was a family affair. Olive, her mom, and her brother Finn–who is now 16 and a junior at Encinal—worked the tables together and sold cards wherever they could almost every weekend.
Their efforts were successful. Olive's cards raised almost $4000, enough to pay for three buses to transport her classmates and the adult chaperones to their Grad Night event at Boomers amusement park in Livermore. The grads had a great time, and the parents loved it because it was also safe. "We didn't have to worry about kids drinking and driving, or other kids drinking and driving and getting in accidents with our kids," Heather said.
Funding a picnic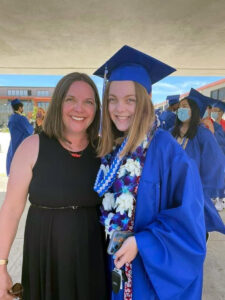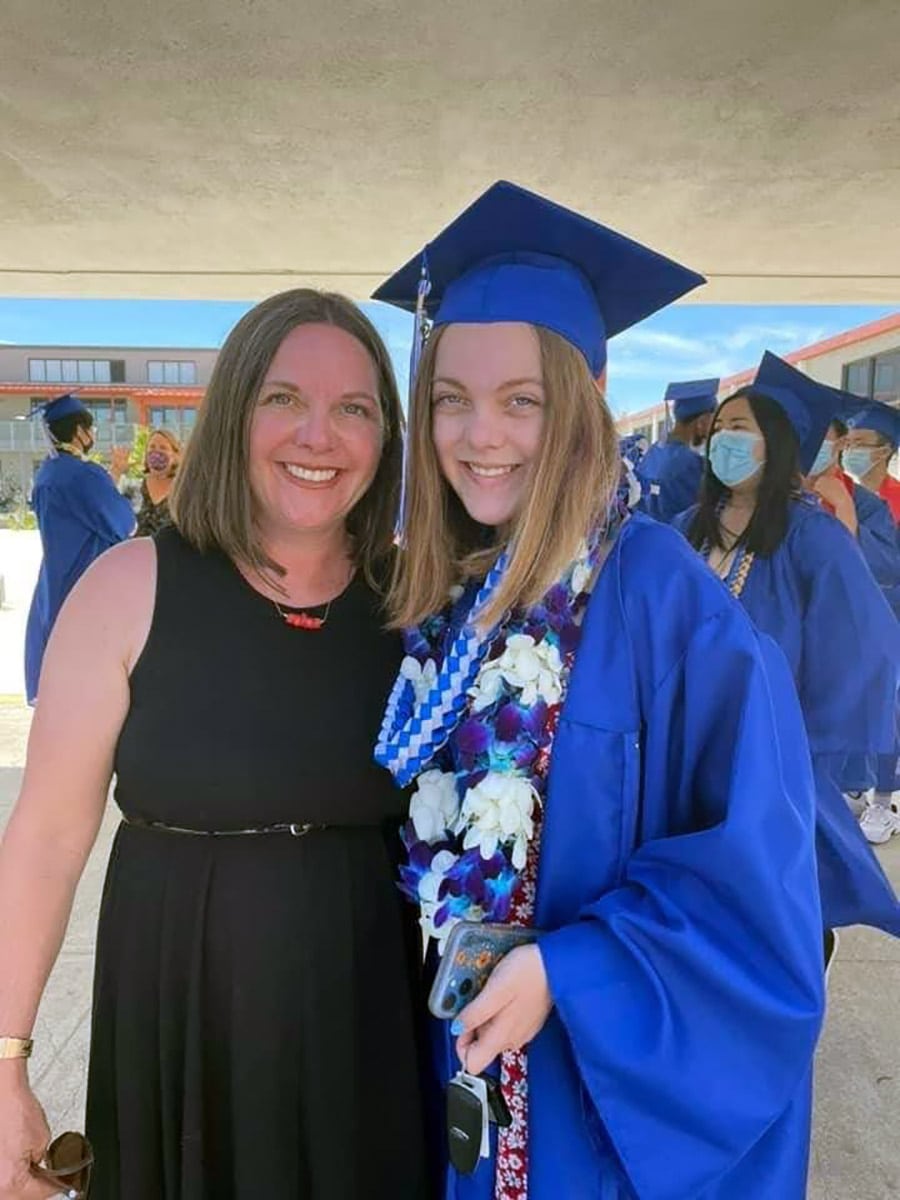 Olive's cards are still raising money to support Encinal students, most recently to pay for Finn's junior class picnic at the Jean Sweeney Open Space Outdoor Pavilion on November 2. It was the first event the class has had together, because they have been learning remotely since they started high school due to the COVID-19 pandemic.
"It was absolutely fantastic," Heather said. "The sun came out, they were playing volleyball, they were playing flag football. They were playing with those big parachutes that you throw up in the air and then everybody goes underneath. Like preschoolers. It was just wonderful to see this desire to just be kids. Everybody just had an amazing time."
Olive's cards are still available for purchase online and wherever you may see them around town. She recently added some holiday designs for the season, and buyers can specify which class they want to support with their purchase. But her primary focus now is her pet portraits, which benefit FAAS. She creates the portraits from photographs, so she can do them from her college residence up in Washington.
Pet portraits for FAAS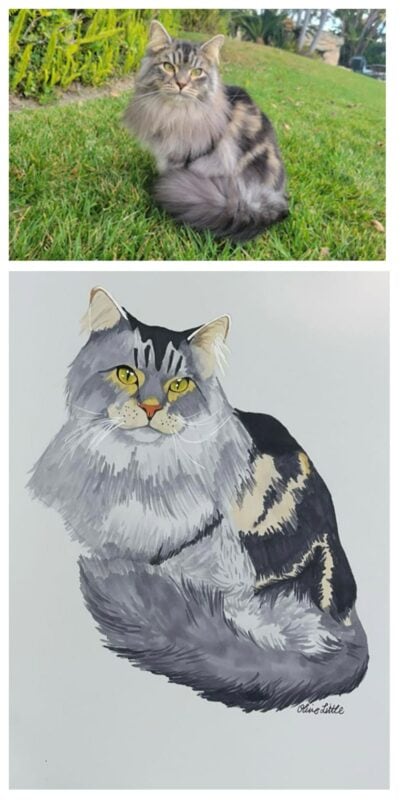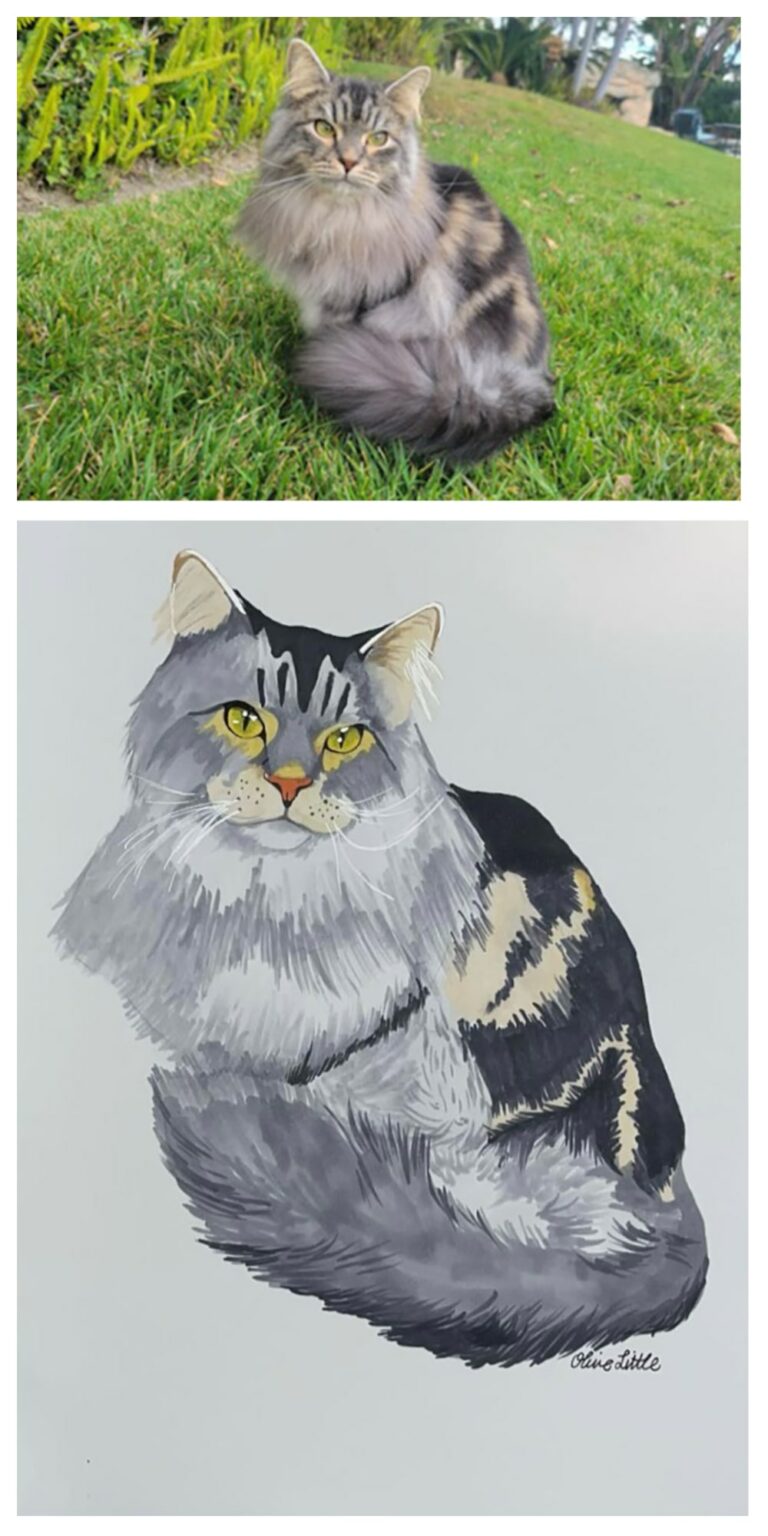 The connection with FAAS was a natural. The whole family, including Olive's father, architect Mark Little, has been involved with FAAS for more than a decade. They have been fostering dogs for at least 10 years, taking in complicated and hard to adopt dogs and puppies. Heather has been a kennel volunteer since 2020. Even their dog, Oliver, is involved. "His calm, reassuring, alpha personality has helped bring them all around and successfully adopted," Heather said.
Olive figured she could add a little extra to the cost of the pet portraits to donate to FAAS. "I had always donated things other than money, like blankets and toys and stuff," she said. "But it's nice to be able to donate funds to them so that they can pay for what they need for the animals."
There's a base price for the portraits, and the buyer can specify an add-on amount for the FAAS donation. The pet portraits can be either 7-by-11 inches or 9-by-12 inches. The 7-by-11 portraits are $125 for black-and-white or $150 for color; 9-by-12 portraits are $150 for black-and-white or $175 for color.
Olive will work with you to design something that is special for you, including size, medium, and whether you want it custom framed or not.
To order a pet portrait or get more information, email Little Arts by Olive. She suggests you place your orders by Thanksgiving to ensure delivery by Christmas.
---
FAAS Services and Resources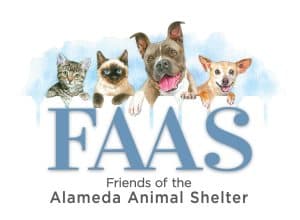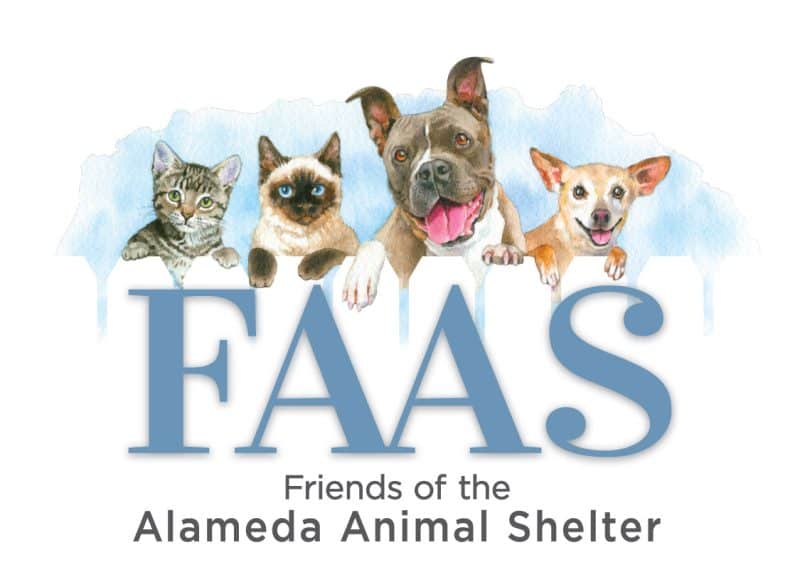 FAAS is here to help
Most Alamedans know that our local Friends of the Alameda Animal Shelter (FAAS) is an amazing resource for adopting pets, finding lost pets, and even visiting pets who are waiting to be adopted. But FAAS offers many other services as well, from a pet food pantry to a support group for those who are grieving the loss of a pet. All of this is made possible by the support of our community, from individual donors and volunteers to fundraising events that draw crowds who want to help and have fun at the same time.
Santa Paws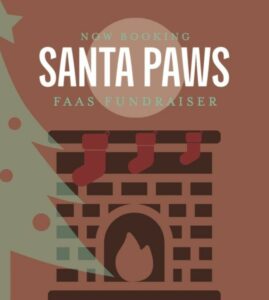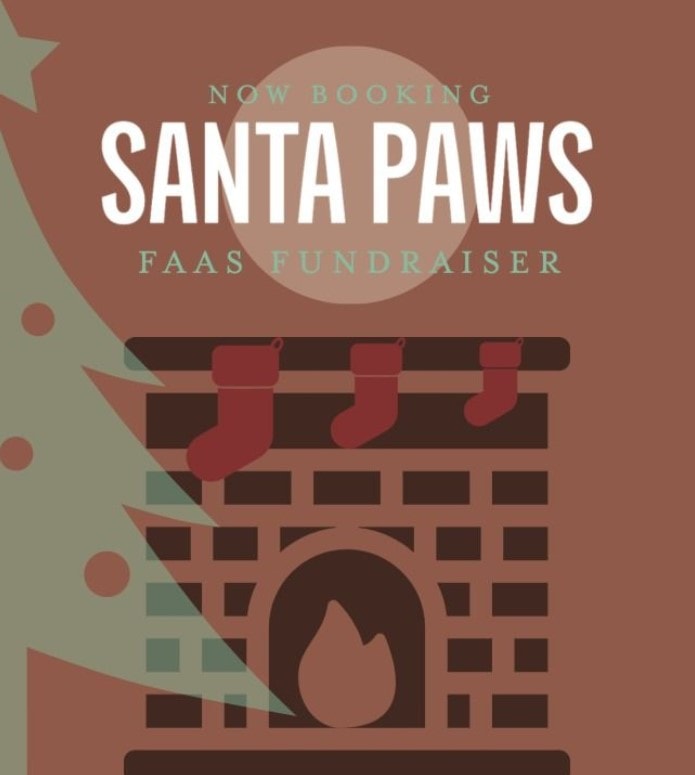 Bring your pets to the fun and festive Santa Paws holiday photo shoot with professional photographer Tonya Perme this weekend, November 12-13. The event will take place at a special pop-up studio near the FAAS annex at 2229 South Shore Center. Signs will direct you to the exact location.
The backdrop theme for this year's FAAS benefit is "cozy by the fire." The $45 donation fee includes a 10-minute sitting and an instant print. Three complimentary digital photos will be emailed to you within a week.
Pet Food Pantry
With the cost of food skyrocketing—including pet food—some of us could use a little extra help getting healthy food for our furry family members. The FAAS Pet Food Pantry is here to help. Alameda residents in need may pick up one month's free supply of cat and/or dog food at the FAAS Pet Food Pantry at 1590 Fortmann on the second and fourth Saturday of each month from 10 a.m. to 12 p.m. Please park and open your trunk. Supplies are limited to up to three dogs and three cats per family. Visits per family are limited to once a month.
If you would like to make a donation to the Pet Food Pantry, FAAS welcomes unopened cat and dog food. You may drop it off in person on Sunday or Monday between 11 a.m. and 5 p.m., or ship it to FAAS at 1590 Fortmann Way, Alameda, CA 94501. Call FAAS at 510-337-8565 for more information.
Pet Loss Support Group
Need support while grieving the loss of your pet? The FAAS Pet Loss Support Group Zoom meeting, led every third Monday by licensed therapist Suzanne Hayne, is free to all. Come to share or just listen; all are welcome. The next meetings are November 21 and December 19, 6 p.m. to 7 p.m. Email [email protected] for the Zoom link. Also visit the FAAS pet loss Facebook Group, FAAS Remembers.
Liz Barrett is the Copy Editor of the Alameda Post and writes about our community. Contact her via [email protected]. Her writing is collected at AlamedaPost.com/Liz-Barrett.