I'm definitely not the only one who was surprised and pleased to hear a host of the midday NPR news magazine program Here and Now announce herself: "I'm Deepa Fernandes, in Alameda, California." The show is distributed across the U.S. to over 450 stations, with an estimated 4.5 million weekly listeners.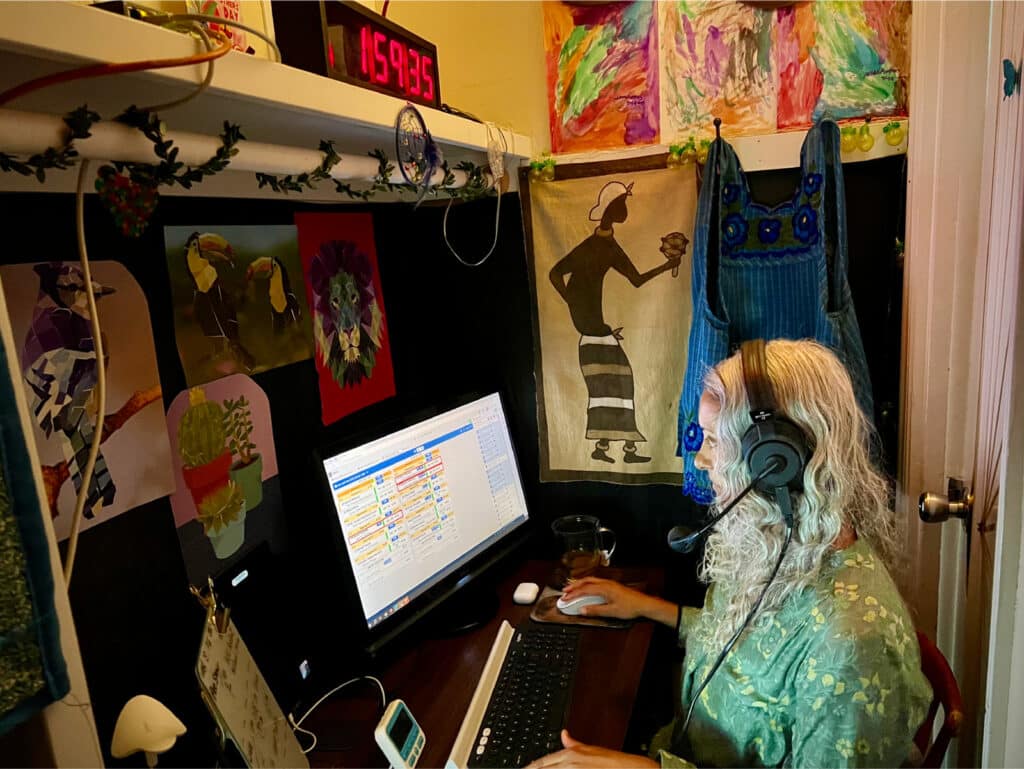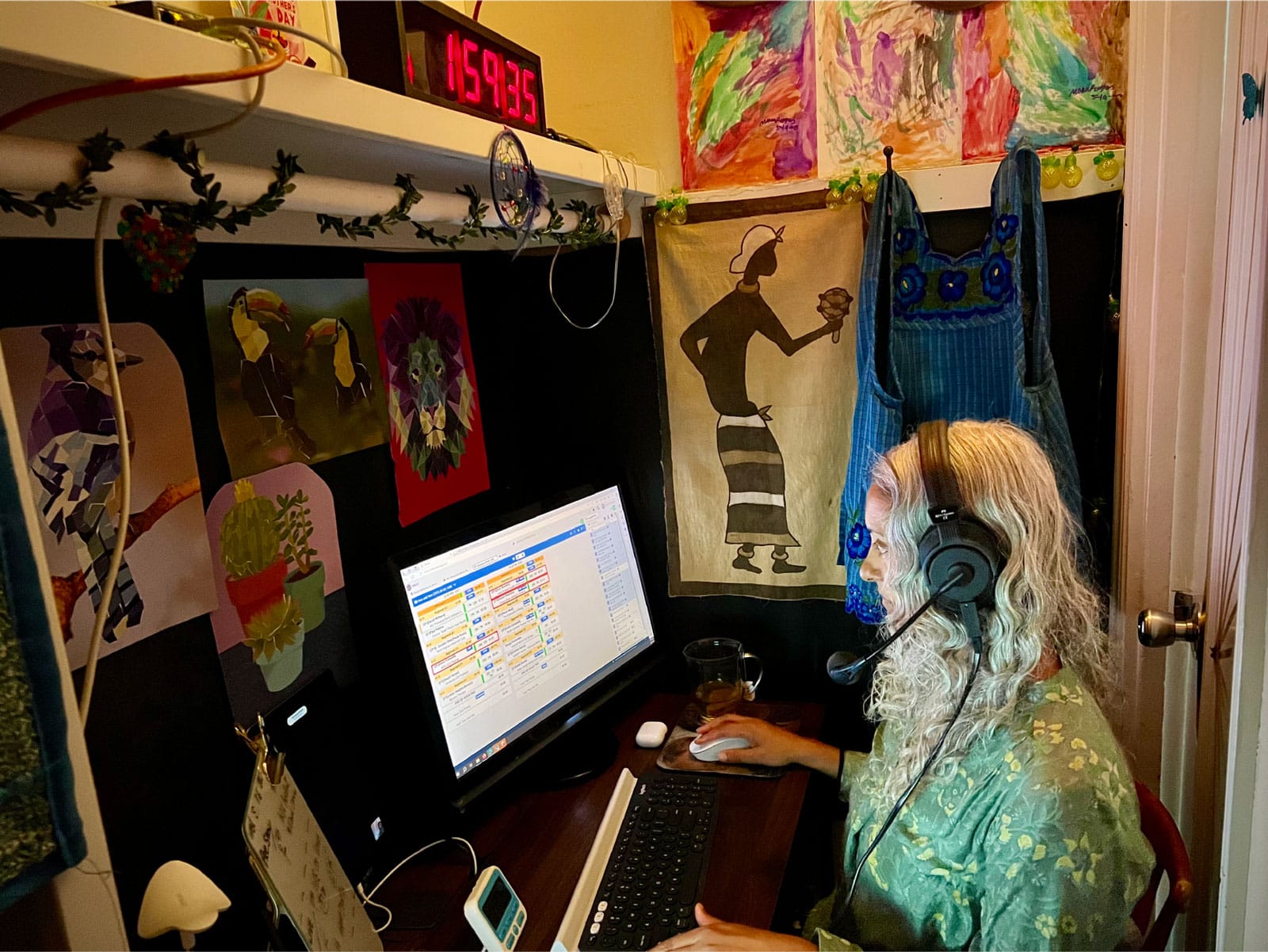 "I've felt the love of Alamedans who've reached out when they heard their tiny island mentioned," says the multiple award-winning bilingual journalist who's covered everything from guerilla insurgencies to natural disasters to political coups all over the world. The program is a live production of NPR and WBUR Boston, and features timely, smart, in-depth news, interviews, and conversations. Deepa is coming up on one year in this position, having traveled through many continents, countries, and cities to finally settle in a place where she is happily broadcasting from the pantry in her house. Whereas Deepa's remote audio recording equipment once fit in a large suitcase, "it now can fit into a handbag," she says.
"My journey is an immigrant's journey," she explains. Born in Mumbai, her parents moved to Australia in search of a better life. Deepa grew up there. Her last name—Fernandes—reflects her roots in the Portuguese-colonized Catholic region of southern India.
She left Australia after getting her degree in communications, followed by a stint in Sydney as a college/community radio producer. "I've always carried a microphone with me since then," she says, adding that meeting and recording people and their stories was—and is—her passion. Admitting that it sounds cliché, she says, "I'm a citizen of the world, and I've managed to spend a great deal of time in the world community, quietly observing and learning."
Her world community included Ecuador, where she was the sound producer for a documentary series on indigenous communities, Cuba, where she was a features producer, and Chiapas and Oaxaca, from where she reported.
New York City was next. "I was there for over a decade, and loved it," she says. Citing its diversity, she says, "I felt that I didn't stand out, for the first time in my life." There she worked for a number of Pacifica Radio Network productions, covering issues affecting Latin America and the Caribbean, as well as co-anchoring the network's national daily news program. She also founded a youth media training program for public school students of color in New York City, which grew into a national organization. She earned a master's degree from Columbia Journalism School. And her time in New York actually provided her link to Alameda, when she met and married multimedia journalist Matt Rogers, who grew up on the island, and whose family still lives here. Deepa and Matt welcomed their two children while in New York, as well.
Then they moved to CA, where she took a fellowship at Stanford, then a gig at NPR member station KPCC covering early childhood development, and freelance journalism work. The founding of a fellowship program for new reporters that are most often excluded from journalism followed.
As with many people, the pandemic changed everything. Shut in and dealing with Zoom school, in 2021 the family decided they would move and shelter in place in Alameda, living in Matt's childhood home with the kids' grandma, near their cousins.
"We loved it—we could be outdoors, hiking, riding our bikes around the lagoons and Bay Farm," she says. "Our pandemic experience was now very grounding and liberating," she says, adding that "family is very important to us."
In the Bay Area, Deepa first landed a job as immigration correspondent and senior newsroom advisor on Race and Equity for the San Francisco Chronicle, followed by Here and Now.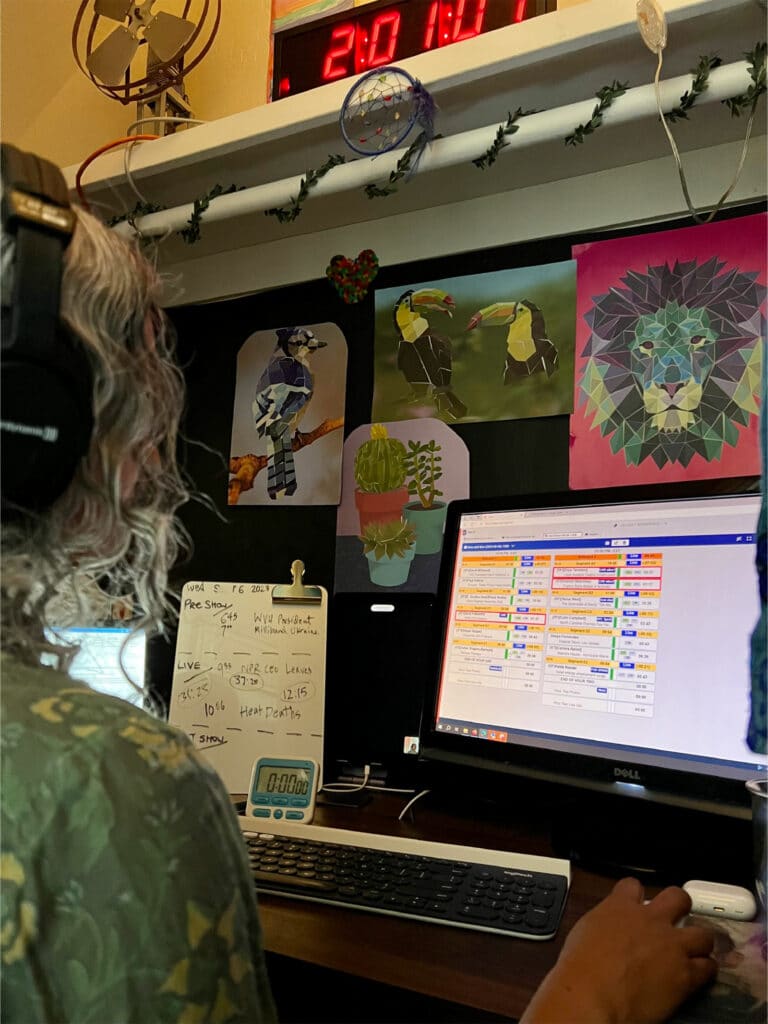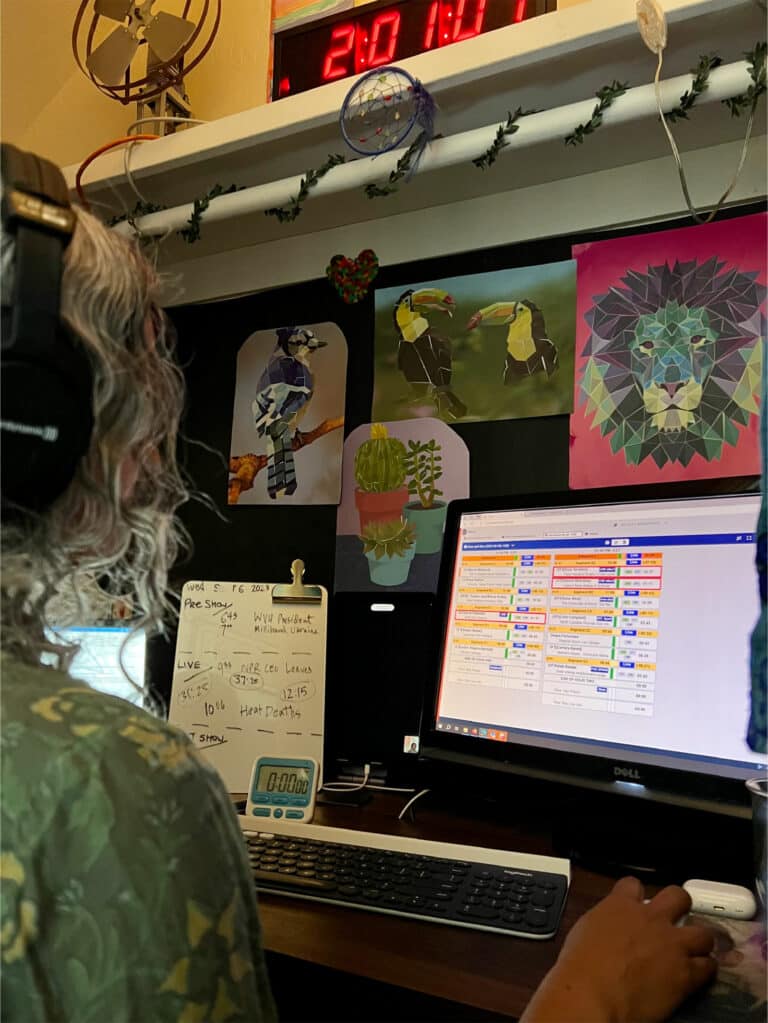 Broadcasting a daily live radio show from a kitchen pantry does have its challenges. "It's a bit of an awkward house, with not many doors that close," she says. "It's lucky I'm not claustrophobic."  And although most traditional pantry items have been moved, she still works next to a large sack of flour and an instant pot. But what about the sounds of neighborhood leaf blowers, construction, kids and her dog Bella? "The technology is great," she says, acknowledging the fine work done by her engineers in Boston in controlling extraneous noise.
Her day typically begins at 4 a.m. PST, followed by interviews and prep from 5:30 a.m. to 9. From 9 to 11 a.m. the show is live on the East Coast, repeated here from 11 a.m. to 1 p.m. PST, Monday through Thursday. The schedule is noon to 1 p.m. on Friday.  Deepa is connected to her team through Slack and Facetime, and so far the internet has only gone down only one or two times, when her colleagues needed to pick up the slack.  She explains that a disadvantage is that in a "real" studio, you can speak with others by using what is called a "cough button," which mutes all sound. But in her home studio, "my mic is always on," she says. She does travel to Boston often to meet in person with her team, but she appreciates that her normal schedule allows her to be present in the afternoons for her kids. Around town, she says, she can be found at the skateboard park, on bicycle paths, and at Trader Joe's.
She concedes that working on a live, two-hour show is "a lot," but says that she feels privileged to get to talk to "the most incredible people." She particularly enjoys speaking to musicians and authors, and says she's always reading.
She's already getting mentally prepared for the upcoming 2024 elections, she says. What might we expect from her political reporting?
"The stories that interest me most are never part of the mainstream narrative," she says. "I prioritize different voices to speak to the national audience."
Stay tuned.
Editor's note: The first version of this article contained minor inaccuracies about Ms Fernandes that she asked us to correct. We apologize for the errors.
C.J. Hirschfield served for 17 years as Executive Director of Children's Fairyland, where she was charged with the overall operation of the nation's first storybook theme park. Prior to that, she was an executive in the cable television industry. She now contributes regularly to KQED's Perspectives series, The Oaklandside, and eatdrinkfilms.com. She holds a degree in Film and Broadcasting from Stanford University. Her writing is collected at AlamedaPost.com/C_J_Hirschfield/.