This is the first year of the always popular and now collectable 1967-1972 Chevrolet C/K series trucks. The C/K was available as a half-ton (C10), three-quarter-ton (C20) or one-ton (C30), in 2WD (C series) or 4WD (K series), and in short- and long-bed variations with a step side or fleetside box out back.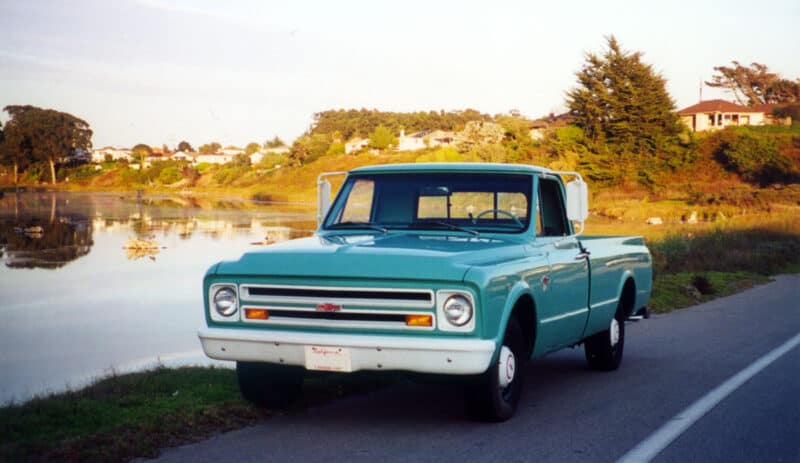 The '67 is identified most easily by the lack of side marker lights and the small rear window, which was a carryover from the 1966 model.
The highest trim level short-bed trucks are the most popular and the most valuable. This half-ton long-bed is a base model truck as identified by the white front bumper, white grill, and white headlamp bezels. Optional equipment consists of  mini-RV mirrors, a 327 V8 engine under the hood and a Powerglide two-speed automatic transmission. The truck is just as spartan inside with nothing but a heater and a lone sun visor on the driver's side. It has the radio delete option which covers the radio mounting location with a body-colored blanking plate.
This '67 is equipped with four-wheel manual drum brakes and manual steering, making this pickup truck a challenge to drive, especially when you need to stop quickly, which is nearly impossible. Parallel parking requires considerable upper body strength and a bit of practice. Despite the need to manhandle the controls, this truck is fun to drive and serves as a great conversation piece wherever it goes.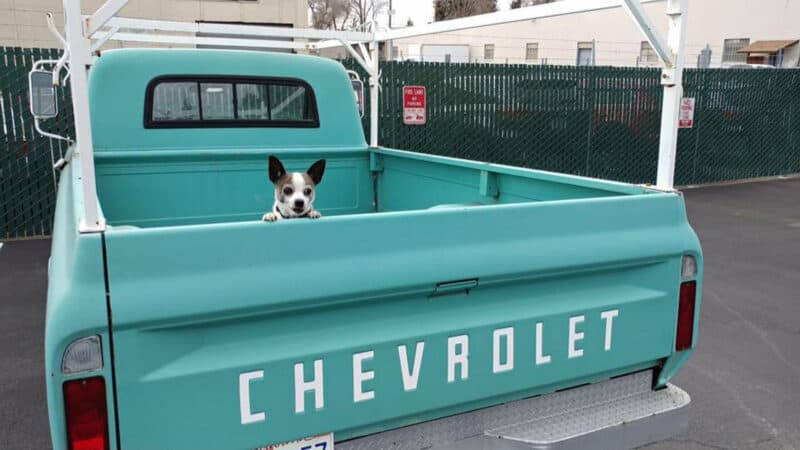 This 56-year-old pickup has had only two owners. The original owner owned the former Black and White Liquor Store at the corner of Fruitvale Avenue and East 27th Street in Oakland. It served as the liquor store's delivery vehicle from 1966 until 1987.
You'll see this truck driving around Alameda and occasionally parked outside the offices of the Alameda Post. It's owned by yours truly, Post automotive editor, John Berg.
John Berg is the Automotive Editor of the Alameda Post. Contact him via [email protected].