Tour the Original Villages of Alameda
Join us for three walking tours to celebrate Alameda's 150th anniversary
The island we live on today was once a peninsula with three small towns: Alameda on the East End with areas set aside for farming, Encinal centered on a wharf at the foot of today's Grand Street, and Woodstock near the Central Pacific Railroad terminus on the West End. On February 29, 1872, the State of California approved a charter that combined these three villages into the Town of Alameda. Read more about the three original villages: Back in Time: A Trip Through Alameda's Three Towns.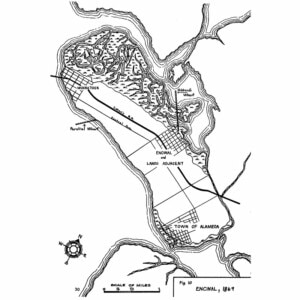 Help the Alameda Post celebrate the 150th anniversary of the charter that created Alameda as we know it today. Join our Editor and Alameda historian, Dennis Evanosky, for walking tours through each of these villages. We will present these tours from 9 to 11:30 a.m. on three consecutive Sundays, Feb. 27, March 6, and March 13.
The Alameda tour on Feb. 27 will meet at the fountain at Encinal Avenue and High Street. The Encinal tour on March 6 will meet at the foot of Grand Street, near the Marina. The Woodstock tour on March 13 will meet at Pacific Avenue and Main Street.
The cost is $15 for each tour, or $40 if you register for all three at once. We will also be taking registrations on the day of the event for $20. Space will be limited, so we recommend signing up early to guarantee your spot if you are interested in attending. Clicking the 'Buy now' links below will take you to checkout via Square, where you can pay securely with your credit card.
Update
Our first two tours have been a great success with 40-50 attendees for each!
Our third tour of Woodstock on March 13 is SOLD OUT. The tour will take place on small streets around private property, so we cannot accommodate additional attendees, and we will NOT be selling tickets on the day of the tour. If you do not already have a ticket, we are sorry that you can't join us, and we hope you will join us for future tours.
We will soon post a schedule of future walking tours for the coming months. If you missed your chance to attend these tours, we will be offering them again in the future. Thank you all for your support!
We encourage attendees to wear masks for this event, particularly when in close contact with others, especially if you have not been vaccinated and/or boosted. We also encourage attendees to social distance to minimize any potential risks.
Alameda Post Inc. is presenting these tours as part of our commitment to raise awareness of Alameda's culture and history. We will use the money raised to cover some of the initial expenses incurred to create a nonprofit news source and newspaper to serve Alameda. Please consider investing in our venture and have some fun learning about Alameda's history!