For over 20 years, Pride has been widely celebrated in the Bay Area during June each year. But the month-long celebration only began in 1999, by a proclamation from then-president Bill Clinton. In fact, the first Pride parades were held just over 50 years ago in 1970. The date was the first anniversary of the Stonewall Riot on June 28, 1969. That uprising was in response to yet another raid by NYC police who persecuted the patrons for having the audacity to create a safe space to gather with other LGBTQ people.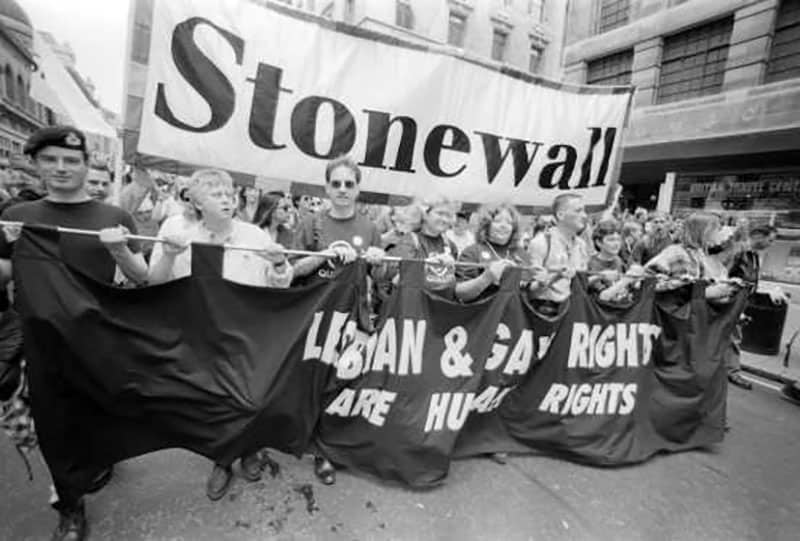 Those first parades were much smaller than the one we enjoy in San Francisco every year. The first events had no corporate sponsorship and no police protection. For the participants, it was a radical act to announce to an unaccepting world that they were gay, lesbian, bisexual, transgender, or queer. They risked their jobs, their housing, their family relationships, really everything, to stand up to the fear and hatred that predominated in their lives.
But for that one day, their worlds transformed. Those first celebrations were joyous, raucous expressions of being that had been denied for so long. People participated because they were proud that they could be who they really were. They were proud because they had overcome all the repression and could express themselves freely. That was a new and powerful feeling, and one that drove gay and lesbian civil rights activism for years.
Since then, those first expressions of pride have blossomed into even more colorful and inclusive celebrations today. Now Pride means our city puts out rainbow flags on the streets all month, Pride parades have extensive TV and media coverage, and pillars of the community join in the festivities. Families bring their kids to camp out along the route to enjoy the camp and pageantry. It's a level of acceptance that was unimaginable before the Stonewall riots.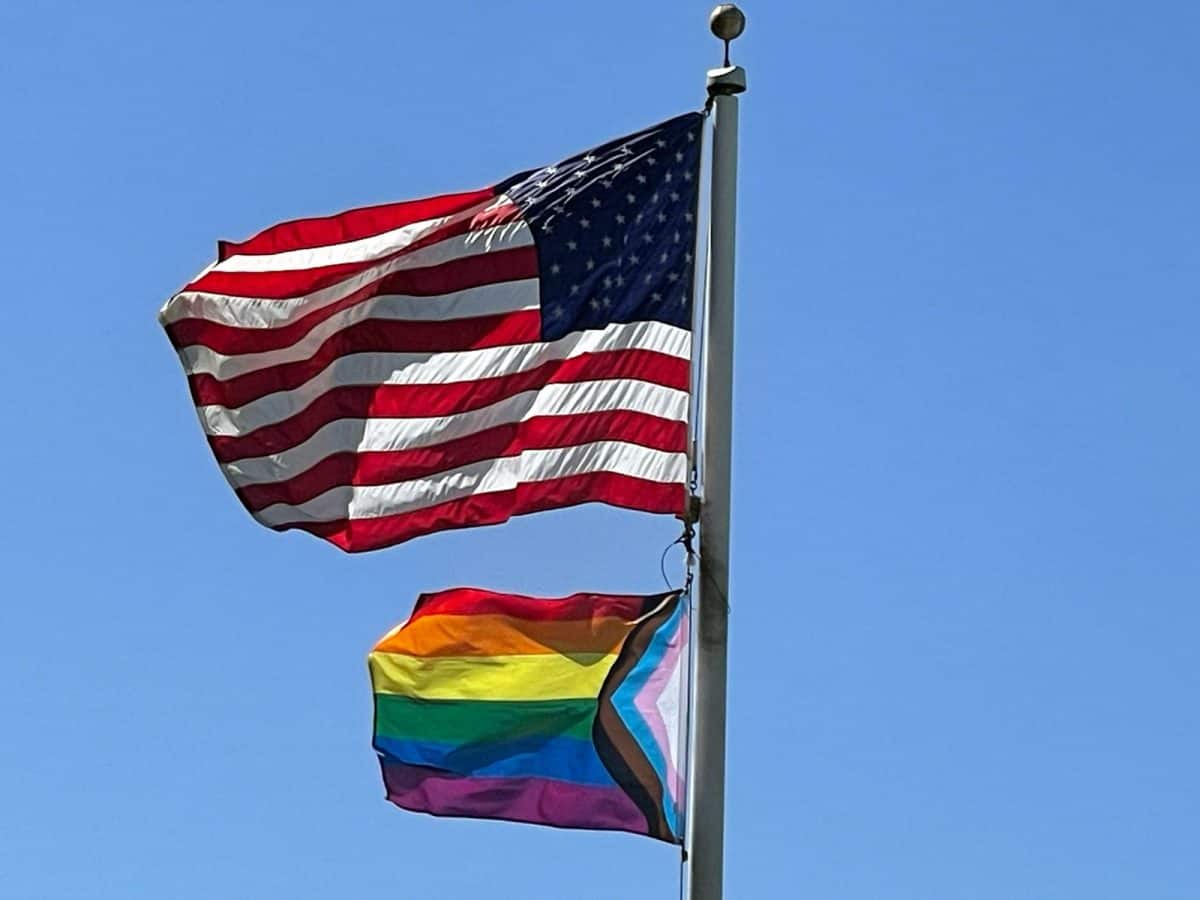 I first came out when I was 19. After an unpleasant high school experience feeling 'other' and repressing any unwanted feelings, I finally felt comfortable enough to tell family and friends that I am queer. Most of my friends responded with support, others said, "Duh." I'm really lucky in that respect, and I try not to forget it. My coming out was low stakes. I come from a liberal, well-educated background. I didn't lose any friends; my family didn't disown me. If I've experienced any discrimination in my employment, it was subtle enough that I didn't notice it.
But, as enlightened and open as my friends and family may be, that's not the case for other LGBTQIA+ people today in this country and around the world. Despite all the social advances we enjoy in California like same-sex marriage and employment and housing protections, those rights are not available in other parts of the country. In that, the queer community is not alone. States that are voting to restrict abortion rights, voting rights, and any other civil rights are also restricting queer rights. It is important that we continue the fight for our civil rights as well as for the civil rights for all groups that are being restricted and oppressed. Suicide and self-harm are a huge problem not just for queer youth. We all need the support of a community that protects and encourages us.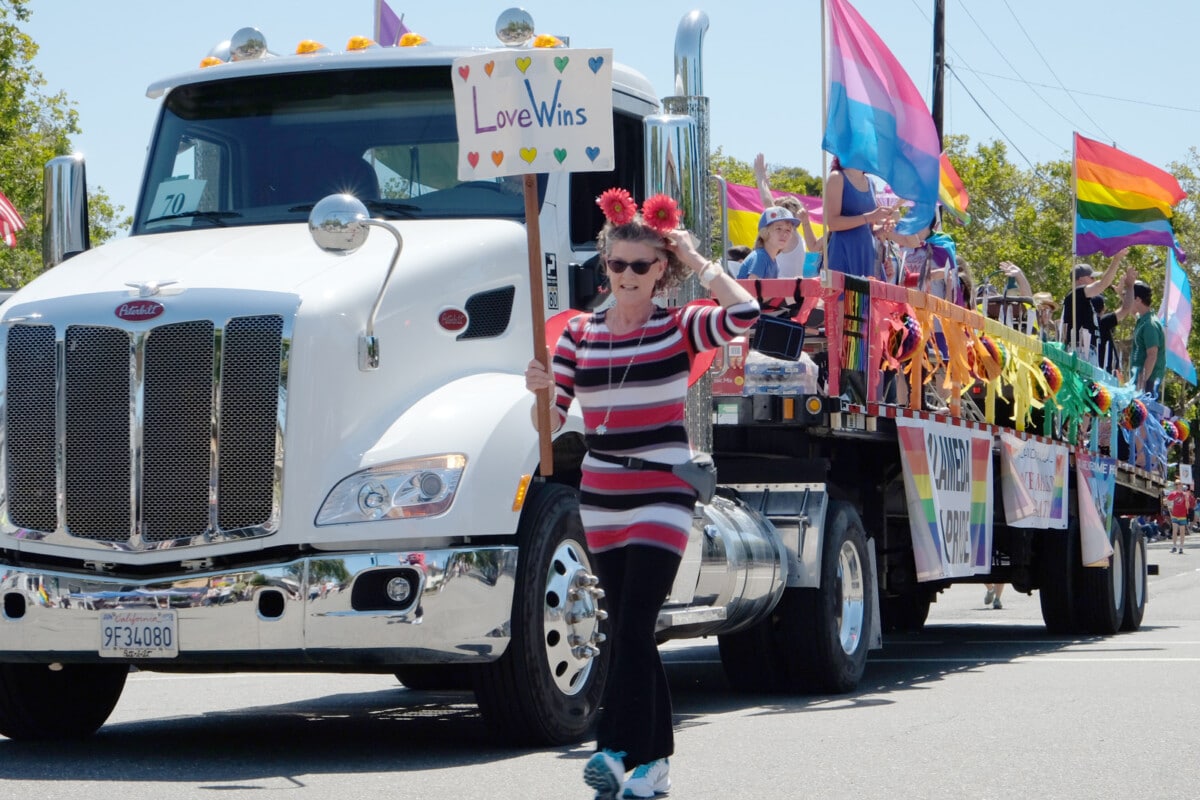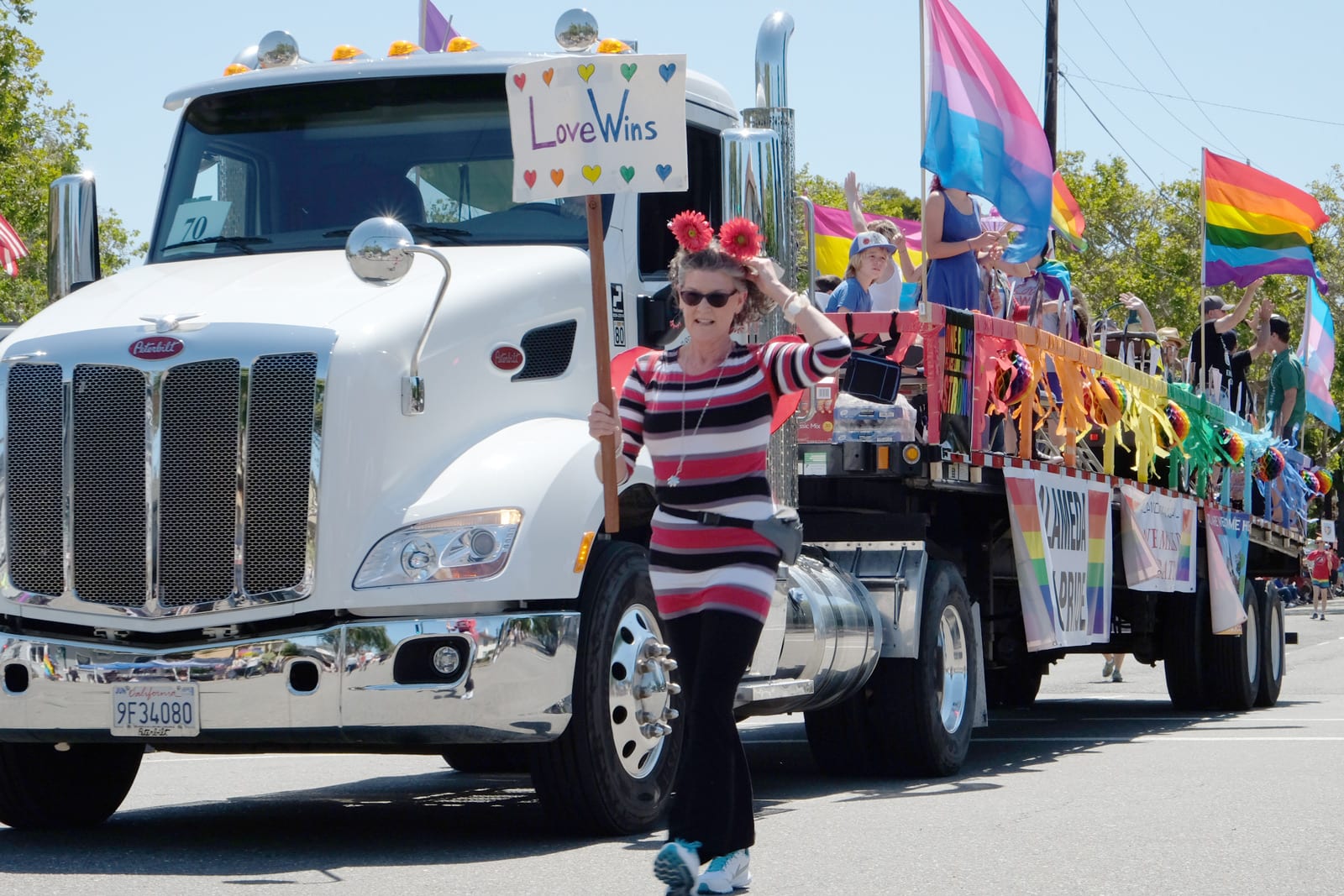 By standing up and choosing to be counted, I work to further acceptance of the LGBTQIA+ community. We are normal. We live with you in Alameda. Whether you know us or not, many of your neighbors are gay, lesbian, bisexual, transgender, intersex, agender, or other non-conforming identity. But not all of us are comfortable or feel secure enough to accept ourselves. We are at Safeway and Grocery Outlet and at Tucker's and Lola's and we ride our bikes along the Cross Alameda Trail and make sandcastles on Crown Beach. We raise families and manage businesses and participate in the community. Those of us who are comfortable being open and visible give hope to those who haven't made it to that point yet.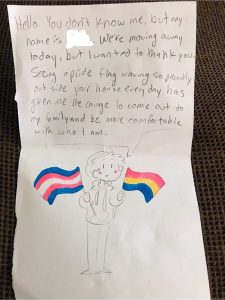 One example I remember well was a Facebook post from a few years ago. A woman found a note on her door and shared it; the post went viral. The note reads "Hello. You don't know me, but my name is [redacted]. We're moving away today, but I wanted to thank you. Seeing a pride flag waving so proudly outside your house every day has given me the courage to come out to my family and be more comfortable with who I am." The note almost brought me to tears, because it made me remember my lengthy struggle with "am I normal" and "what's wrong with me?" Small gestures of positivity make a big difference!
There are other examples of positivity in our community that inspire hope. Alameda's first Pride celebration is planned for October 8, 2022. Our local Rotary Club just presented a special Pride with a video of students from AUSD who are members of the LGBTQ+ Round Table. The video is available to watch on YouTube. There is also a Queer Social Club that meets monthly at the Library. City Councilmember John Knox White indicates in his official email signature that he is equally comfortable being addressed by he/him or they/them pronouns. One sees same-sex couples comfortably walking, shopping, talking, and eating together at South Shore and along Park and Webster Streets.
These are only a few examples of what Pride is about. It's a scary place to feel hated and shunned for something about yourself you can't control. Pride is the light out of that dark place, and why we celebrate so enthusiastically every year. My partner Ben and I hope you will join us, put out a rainbow flag, dance along with the parade in SF on Sunday, and celebrate Pride 2022!
Additional LGBTQIA+ resources: The Trevor Project, GLAAD, and the Oakland LGBTQ Community Center.
Adam Gillitt is the Publisher of the Alameda Post. Reach him at [email protected]. His writing is collected at AlamedaPost.com/Adam-Gillitt.
---
Editorials and Letters to the Editor
All opinions expressed on this page are the author's alone and do not reflect those of the Alameda Post, nor does our organization endorse any views the author may present. Our objective as an independent news source is to fully reflect our community's varied opinions without giving preference to a particular viewpoint.
If you disagree with an opinion that we have published, please submit a rebuttal or differing opinion in a letter to the Editor for publication. Review our policies page for more information.