To the Editor:
In 2014, Kathleen Suryan and many longtime friends set a goal to brighten the faces of the Alameda Meals on Wheels (AMOW) recipients. After speaking with Rosemary Reilly, who was AMOW Director at the time, they learned that there were many seniors who did not have family members or friends to support them, especially during the holidays. The majority of these seniors also live below poverty level.
The first year, they "adopted" four AMOW seniors. What fun that was, and it was very well received. The following year there were 12 adopted seniors. In 2022, they are adopting 70 seniors plus their grandchildren who live with them.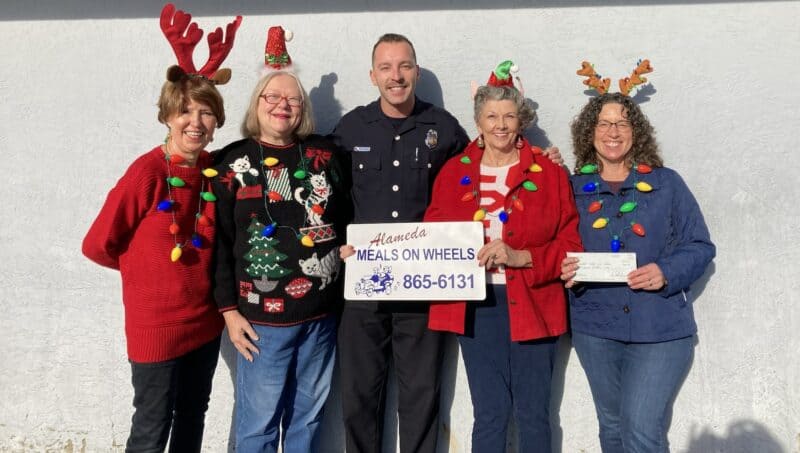 Their requests for these seniors are very modest. They need warm robes, clothing, slippers, and underwear. These necessities are considered luxury items for these seniors. Occasionally there's a request for something really special like See's candy or mixed nuts. We always make sure that they get gift cards to various grocery stores.
The phone calls that I receive as the Alameda Meals on Wheels Director after "Santa" delivers his gifts are heartwarming. Many recipients are in tears and say they cannot believe that strangers would be so kind and generous to them.

The adopt-a-senior program is incredibly rewarding and carries on throughout the year, providing grocery gift cards and other treats on Halloween, Valentine's Day, and Easter.
There used to be a booth at the AMOW annual fundraiser at the Rock Wall winery to help raise funds for the Secret Santa program. Since the Covid pandemic put a halt to that fundraiser, they now rely on donations from friends, family, and people who want to support the cause and the Alameda Meals on Wheels seniors.  The Alameda Firefighters Union has been supporting the program since 2019. The response from the community in both Alameda and beyond is really wonderful.
If you would like to learn more about Alameda Meals on Wheels, or make a donation, please visit the Alameda Meals on Wheels website or call 510-865-6131.
Peri Drake
Director, Alameda Meals on Wheels

---
Editorials and Letters to the Editor
All opinions expressed on this page are the author's alone and do not reflect those of the Alameda Post, nor does our organization endorse any views the author may present. Our objective as an independent news source is to fully reflect our community's varied opinions without giving preference to a particular viewpoint.
If you disagree with an opinion that we have published, please submit a rebuttal or differing opinion in a letter to the Editor for publication. Review our policies page for more information.