On August 28, the Alameda Rent Program held a public workshop to review proposed updates to the City's Capital Improvement Plan (CIP) Policy. CIPs allow landlords to submit proof of qualifying improvements to the Rent Board and pass costs to their tenants. CIPs moderate the pass-through costs by spreading them over the useful life of improvements and require landlords to provide relocation assistance if tenants are displaced. The intention is to maintain the quality of the City's rental housing stock and encourage long-term improvements while providing tenant protections.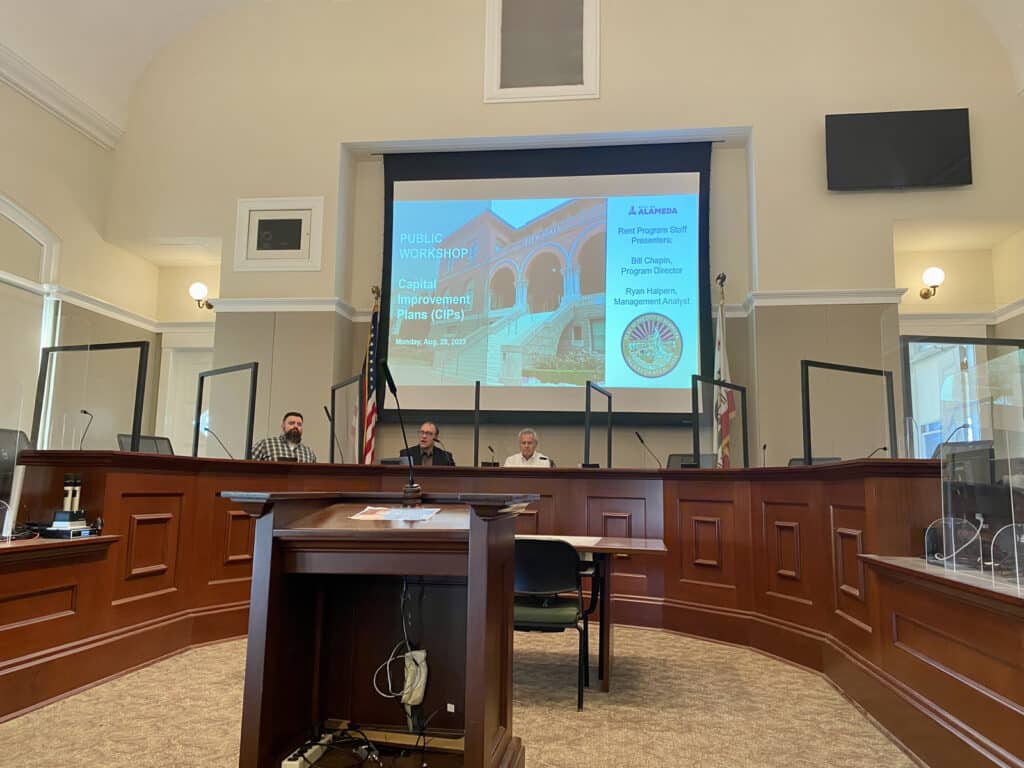 Background
On June 6, City Council imposed a temporary moratorium on CIP applications dating back to July 2022 for properties with 25 or more units. The action followed outcry from tenants at South Shore Apartments over the property owner's application to recover nearly $24 million in construction costs through rent increases. The temporary moratorium allowed Council time to consider revisions to the City's CIP Policy while halting additional applications.
Rent Program proposals
Rent Program Director Bill Chapin and Management Analyst Ryan Halpern offered two options for updating the CIP Policy. Option A would eliminate CIPs altogether. Instead, landlords would use the Rent Ordinance's "fair return" process to recover the cost of capital improvements.
The fair return process involves comparing current net income (revenue minus expenses) to the net income of the base year—presumed 2015, before regulation of rents. Expenses include the amortized cost of capital improvements. The landlord then files a petition for consideration. If the hearing officer agrees that net income, adjusted for inflation, has decreased, rent adjusts upward.
Option B would update the CIP Policy to better balance the concerns of tenants and landlords. Under this proposal, landlords could amortize the cost of specific capital improvements and pass it through to tenants. The pass-through would not be considered part of the rent. Consequently, the pass-through amount would stay the same over the amortization period and not compound with the Annual General Adjustment (AGA).
For example, if the rent is $2,000, the AGA is 3%, and the pass-through is $50, then the AGA amount would be $60 or 3% of $2,000. The monthly pass-through would remain $50 regardless of how much the rent increases. The pass-through would terminate when the tenancy ends.
Smaller landlords could recover a percentage of costs based on the number of units, with landlords of more than 25 units ineligible. The pass-through amount could not exceed 5% of a tenant's rent, and the pass-through plus the permitted annual rent increase could not exceed 8% of the tenant's current rent. Low-income tenants could apply for exemption from the pass-through based on financial hardship.
Qualifying improvements would expand to include converting utilities to save energy or reduce greenhouse gases, fire sprinklers, and alarm systems, and replacing stairs or railings. Instead of a CIP, landlords could elect to use the fair return process as described above.
Public comment
Most speakers were South Shore Apartments tenants who advocated for Option A. Many argued that CIP pass-throughs would destabilize them financially. Stacey, for instance, said that an 8% increase for her would be nearly $300 more per month, which she described as untenable.
Laura questioned why the federally required fair return process requires landlords to demonstrate financial need for recouping capital improvement costs while the CIP process does not. Sung Joon noted there are many empty units at South Shore Apartments and questioned why the owners don't do more to rent them as a way to recoup their costs.
Other speakers included small landlords who advocated for Option B. Karen said she owns a six-unit Victorian that is expensive to maintain. She noted that although she can charge higher rents when tenants move out, it typically takes years to recoup renovation costs. Leslie said that if the City wants landlords to implement gas-to-electric appliance conversions, it will be expensive, and the City should maintain the CIP program as an incentive to perform the work.
Next steps for Capital Improvement Plan Policy
The Rent Program expects to schedule a date for City Council to consider changes to the CIP Policy in October. Subscribe to the Rent Program newsletter or City Council agendas to stay informed.
Contributing writer Karin K. Jensen covers boards and commissions for the Alameda Post. Contact her via [email protected]. Her writing is collected at https://linktr.ee/karinkjensen and https://alamedapost.com/Karin-K-Jensen.