On Wednesday, May 10, the United States Army Corps of Engineers (USACE) and the Port of Oakland held a public meeting to present the Revised Draft Integrated Feasibility Report and Environmental Assessment (IFR/EA) for the Oakland Harbor Turning Basins Widening Study.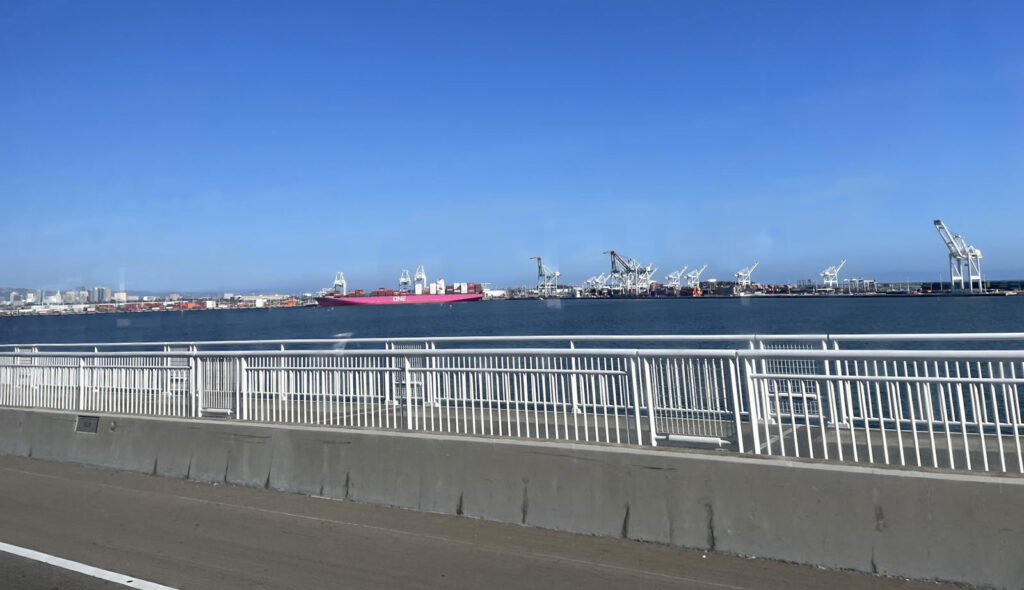 The study analyzes the expansion of two turning basins in Oakland Harbor that will allow shipping vessels of up to 1,300 feet in length to maneuver and turn around when entering or exiting the Port of Oakland. Constructed in the early 2000s, the existing basins were designed for 1,100-foot-long vessels and can only accommodate larger vessels (up to a maximum of 1,210 feet) with additional support from tugboats. One turning basin is located in the Oakland Outer Harbor off Maritime Street in Oakland; the other is located in the Oakland Inner Harbor just east of the Main Street Ferry Terminal in the Oakland Estuary.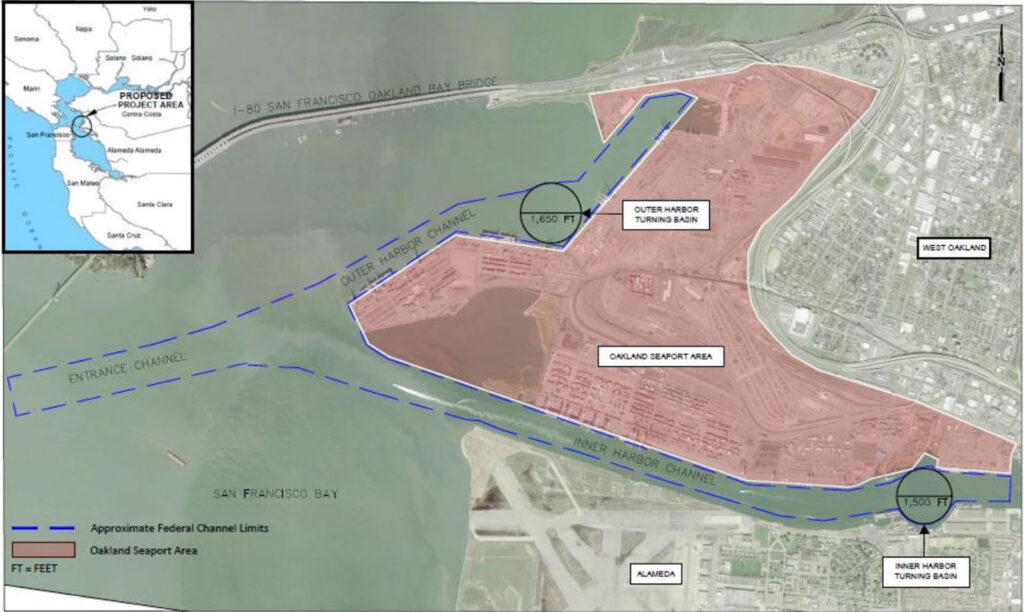 According to the study's lead planner, Jessica McCaffrey, shipping has become more efficient over the last two decades with larger ships transporting greater volumes of cargo that ultimately make fewer visits to the Port of Oakland. McCaffrey explains that these larger vessels encounter difficulties in Oakland Harbor.
"In order to safely navigate the channel, these larger vessels…[have] limits [on] when they can enter and exit…and require additional pilots to guide the ship. This results in delays and idling, not just on larger vessels…but also smaller vessels that are impacted by having to wait while [larger] vessels navigate the channel."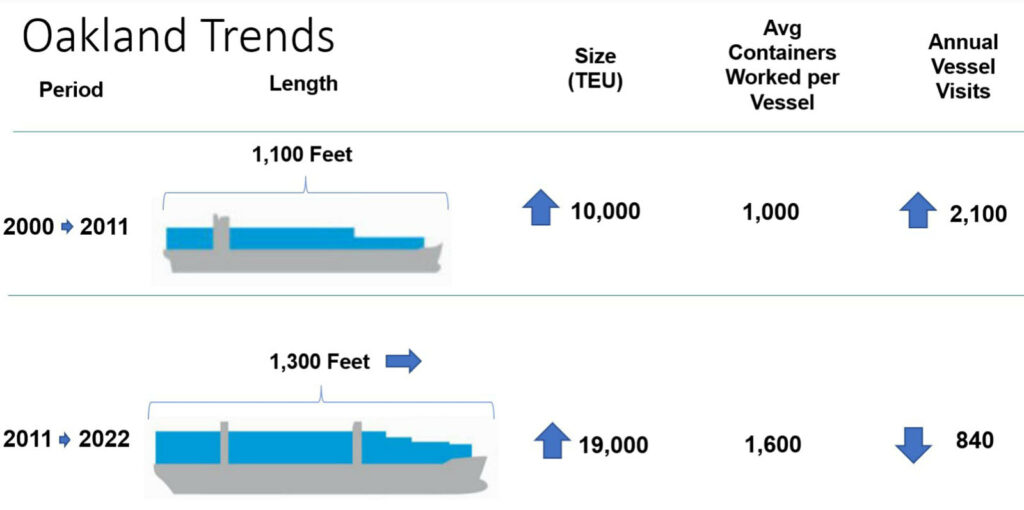 Widening the turning basins would require the removal of up to 2.2 million cubic yards of underwater sediment and repurposing a total of 10 acres of land at Howard Terminal in Oakland and the Continental Terminals Annex property in Alameda. The study proposes using electric dredges to avoid construction-related emissions and reusing dredged sediment to restore approximately 279 acres of wetlands in an effort to boost sea-level rise resiliency.

Many of the public commenters at the meeting were nearby industry professionals who voiced support for the study. Susan from SSA Terminal described the potential project as "essential for the economic growth of the Port," in agreement with other speakers, who noted that more efficient, enhanced shipping operations would help the Port remain competitive with other ports along the West Coast. Some also urged that the Port of Oakland regain control of Howard Terminal for maritime purposes, noting the impending departure of the Oakland A's.
However, other commenters expressed concern that widening the turning basins could lead to an induced demand of larger vessels within Oakland Harbor. In response, USACE Environmental Manager Eric Joliffe clarified that the proposed changes are intended to alleviate inefficiencies resulting from existing demand and that Port growth is independent of the turning basins.
Since the Oakland Harbor is a federal channel, USACE and the Port of Oakland will seek Congressional approval for the proposed project, tentatively expected by 2024. Construction is expected to begin in 2027 and last three years, through 2029. Public comments are being accepted through June 16 on the revised Draft IFR/EA report, which refines several elements of the first Draft IFR/EA released in December 2021. Changes include updated footprints of the widened turning basins, revisions on impacts to cultural resources and wildlife, and discussion of numerous other environmental considerations resulting from project construction and implementation.
Video of the public meeting is available online. The full feasibility study report and project details can be found on the USACE website. Written comments may be emailed to Eric Jolliffe at [email protected] or mailed to Eric Jolliffe, Environmental Manager, San Francisco District, US Army Corps of Engineers, 450 Golden Gate Ave., 4th Floor, San Francisco, CA 94102.
Ken Der is a contributing writer for the Alameda Post. Contact him via [email protected]. His writing is collected at AlamedaPost.com/Ken-Der.