Public art feedback sought, candidates pull papers, APD makes theft arrests, and National Night Out 2022.
Shape the future of public art
The City's Public Art Commission has started to develop a Public Art Master Plan. It is intended to provide direction on the planning and processes necessary to further develop, administer, and maintain a dynamic city-wide public art program that prioritizes diversity, creates opportunities for local artists, and represents the character and goals of the entire community.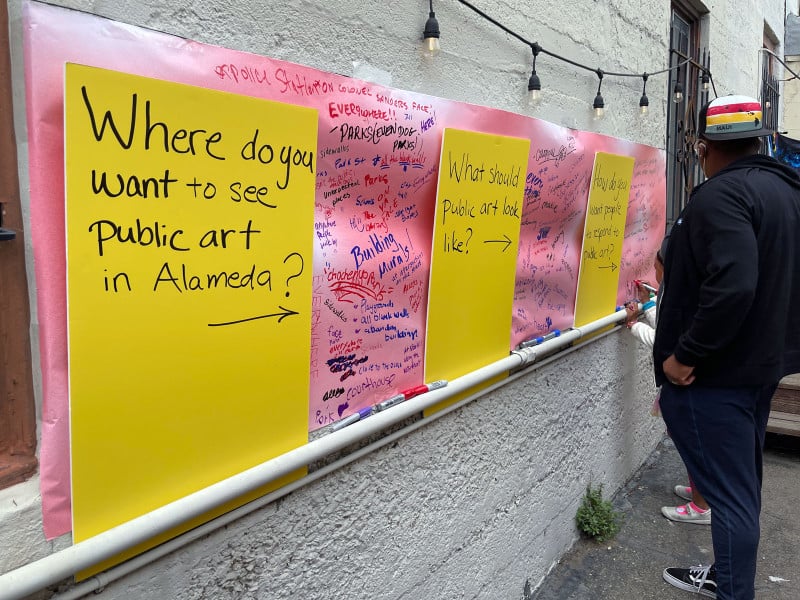 The City has engaged a national arts consulting organization, Forecast Public Art, to lead the process. They are a nonprofit organization that nationally activates, inspires, and advocates for public art that advances justice, health, and human dignity. The organization is working with city staff and local artists to engage and solicit feedback from Alamedans in a series of individual interviews, focus groups, and community engagement pop-up events.
Community members are encouraged to take a five-minute online survey to identify their public art priorities in Alameda. The survey will be available until October 3, 2022. If you are interested in more information about public art, please visit www.alamedaca.gov/publicart or email Walker Toma at [email protected].
New public art on Webster Street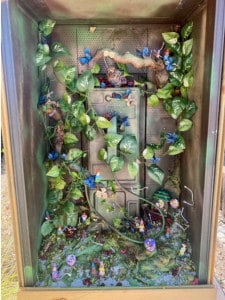 333 Arts, a nonprofit arts organization, has transformed the antiquated phone booth next to Peet's Coffee on Webster Street into a fantasy garden. This type of project is called ARTifact, a project that focuses on obsolete public utilities, objects and reimagines them as an artful and aesthetic installation. The phone booth between the Fireside Lounge and the Shell Shock Seafood further along Webster Street will soon be transformed in a similar manner.
Election season underway
As of Thursday evening, two candidates have pulled papers to explore running for Mayor this fall, including incumbent Marilyn Ezzy Ashcraft. An Alameda political neophyte with a very familiar name has pulled papers as well. Barack D. Obama Shaw's LinkedIn profile describes him as a political consultant based in San Francisco, as well as a long-time music producer who was educated at Texas Southern University.
Four candidates for City Council have notified the City of their intention to run so far including incumbent Tony Daysog, former Councilmember Jim Oddie – who ran for re-election unsuccessfully in 2020 – and two new candidates. Both newcomers are Bay Farm Island residents. Paul Beusterien is a software engineer for Google who previously worked for Wind River. Bill Pai is a director of strategic accounts for Cornerstone OnDemand and is board president of the Community of Harbor Bay Isle, the association of Bay Farm Island homeowner associations.
All candidates will need to secure enough signatures from local residents in support of their candidacy to qualify for November's ballot. The Alameda Post will be providing in-depth coverage of this year's local races; check back regularly for information to help you make an informed vote in November.
Alameda Police make theft arrests
Alameda Police Department (APD) received a report about thefts targeting high-value equipment from the boating community in May of this year. Working together with Marine Patrol Officers, APD detectives analyzed physical and electronic evidence and identified the suspect as a 29-year-old resident of Hayward. He was arrested by officers who spotted him last week on Sakas Street, near several of Alameda's marinas.
On  the evening of July 17, APD dispatchers received a call from an employee at a South Shore Center business about another theft. The caller was able to provide a detailed description of the individuals and their vehicle. Officers located the two women and a vehicle that matched the description on the 1500 block of Pacific Avenue. When officers made the arrests, they confiscated approximately $1,300 worth of stolen items.
National Night Out returns for 2022
Every year on the first Tuesday of August, the City participates in National Night Out, a police-community partnership looking to combat crime, drug, and violence within the city while promoting safety and neighborhood unity.
This year, on August 2, Officers will spend the evening visiting registered communities, chatting with residents, handing out goodies, and answering questions. You have until Monday, July 25 to register for a visit from police officers and fire personnel.
Suggested neighborhood activities for the evening include block parties, street festivals, barbecues, musical performances, chalk art, food trucks, chili cook-offs, outdoor movie theaters, scavenger hunts, food bank collection and other fundraisers, and talent shows.