Awesome entries outweigh late scratches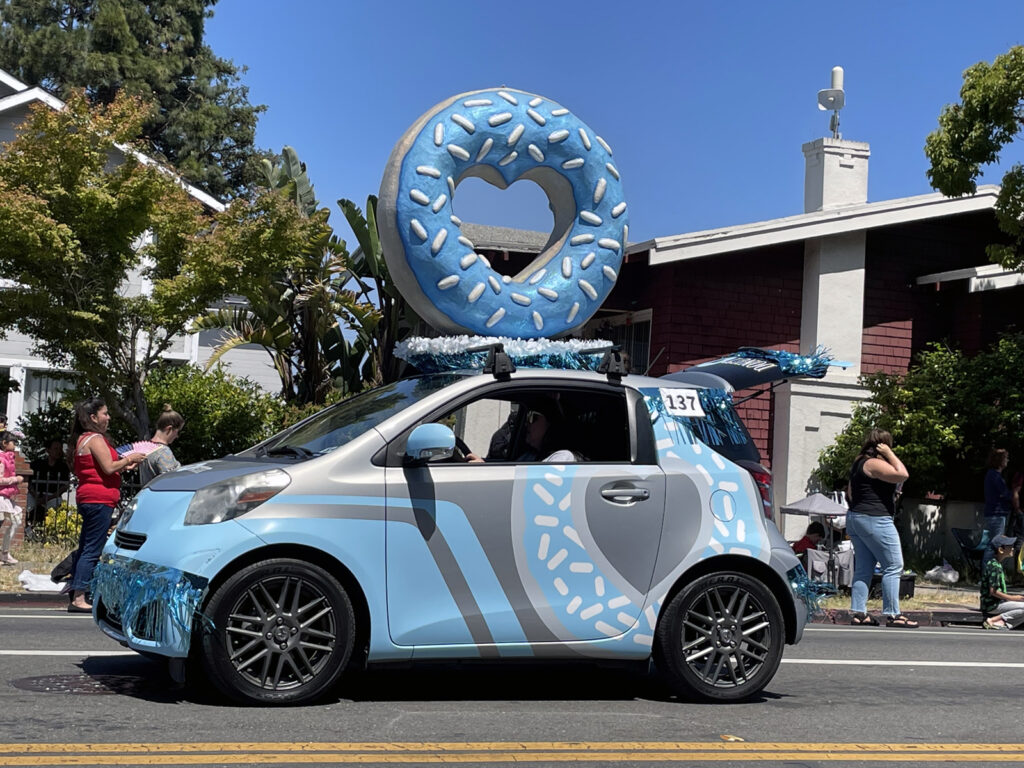 Alameda's 4th of July Parade, heralded as the longest in the nation, made another triumphant trip around the island to celebrate Independence Day on Tuesday. After the OutFront Endurance 5K run/walk at 9 a.m., while it was still overcast and foggy, the entries lined up along Lincoln Avenue to begin moving along the Parade route.
Approximately 150 entries took part in the sunny procession, which made its way along Park Street from Lincoln Avenue to Otis Drive, then proceeded along Grand Street, turned on to Central Avenue, and proceeded onto Webster Street to the finish line at Lincoln Avenue. The crowd lining the route was estimated to be in the range of 60,000, with about 2,500 Parade participants. There was one change to the usual route—because of the resurfacing project on Encinal Avenue, the Parade proceeded up Central Avenue instead.
View our gallery of 4th of July Parade 2023 photos by Maurice Ramirez.
What was the outcome of the Parade 5K Run/Walk?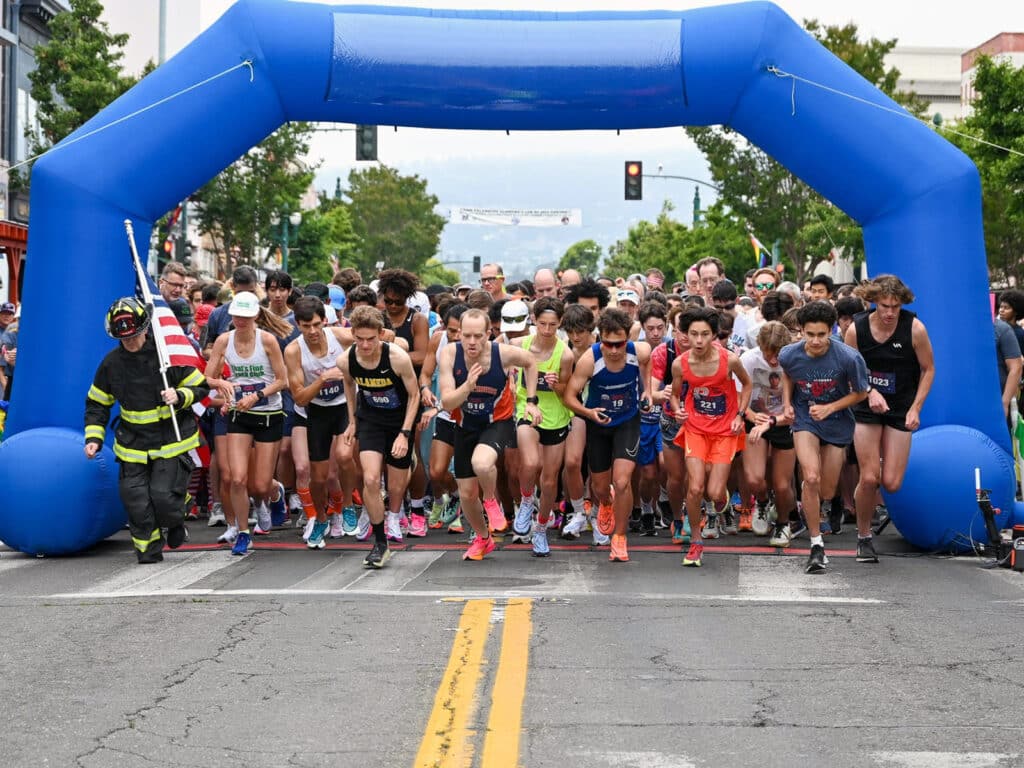 Congratulations to all the 5k walkers and runners that made this year's race a success! This year's overall top five runners for all female age groups are:
1st Place: Claire Callon, age 20, with a clock time of 18:41.9
2nd Place: Katie Klymko, age 34, with a clock time of 18:46.9
3rd Place: Karen Eckberg, age 38, with a clock time of 19:30.1
4th Place: Anh Bui, age 31, with a clock time of 20:09.0
5th Place: Katherine Congleton, age 30, with a clock time of 20:34.1
This year's overall top five runners for all male age groups are:
1st Place: Alexander Hancock, age 34, with a clock time of 17:06.0
2nd Place: Kellan Murakami, age 18, with a clock time of 17:41.9
3rd Place: Emilio Cazares, age 19, with a clock time of 17:43.9
4th Place: Andrew Riley, age 40, with a clock time of 17:50.1
5th Place: Sam Robinson, age 38, with a clock time of 17:51.8
Complete race results can be found online.
Who was at this year's Parade?
As always, the Parade was led by the Coast Guard Base Alameda Color Guard, followed by this year's Grand Marshals—Cindy Houts, Executive Director of the Alameda Food Bank, and Christ Episcopal Church's Co-Chair for Social Justice, Alisa Rasera. They were followed by the Mayor, all four Councilmembers, and California Attorney General Rob Bonta and State Assemblymember Mia Bonta. Other local officials, major sponsors, and military outfits came next, all in a variety of vehicles from vintage convertibles and pedicabs to the cockpit of a jet on a trailer from the USS Hornet Museum.
Public entries featured many favorites from previous Parades as well as a variety of new entries that drew appreciation, cheers, and waves from the crowd as they passed. Live music was provided by the Academy of Alameda Parade Band and the Jason Cropper band, along with recorded music from other entries, including Alameda Pride, the Freak Truck of Love, and others.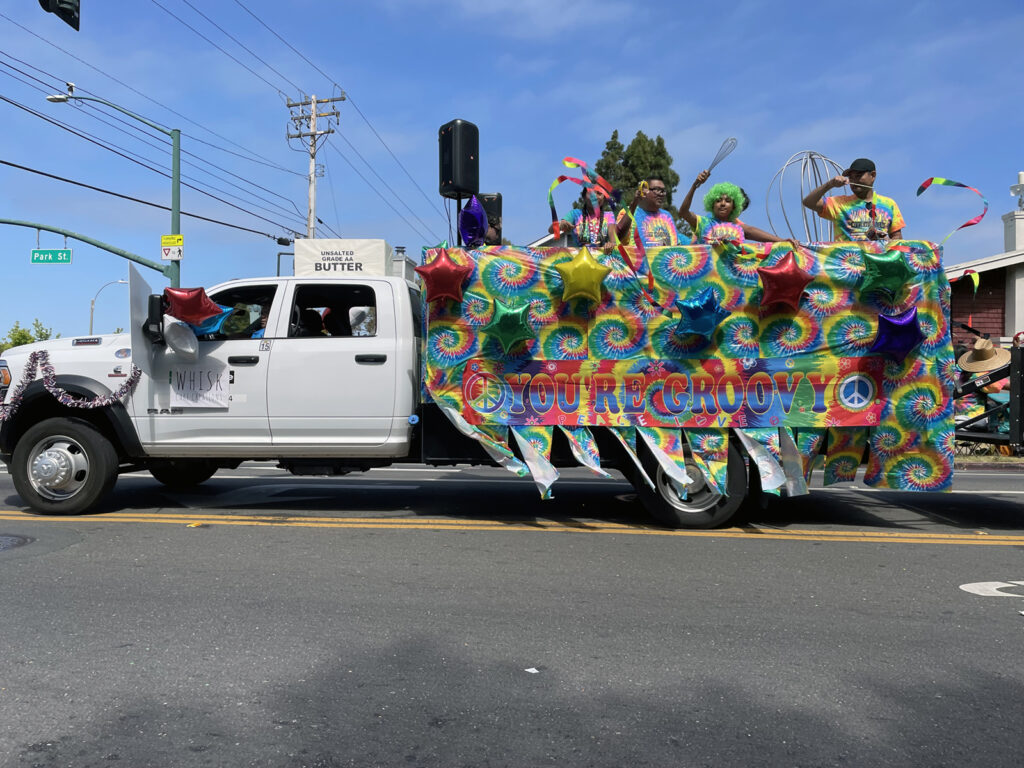 Many popular Alameda institutions were represented in the Parade, including traveling performances by the Foodbank Players; a huge flatbed trailer for Temple Israel; local schools and youth sports such as the Alameda Islanders, My Escuela, ABC Preschool, Alameda Lacrosse Club, and Vipers Basketball. Participating cultural associations included the Alameda Sister City Association and the Toishan Benevolent Association, while nonprofits such as Pacific Pinball Museum and Meals on Wheels joined other popular favorites, including Alameda Pride, the Alameda Theatre & Cinema Grill, and the Cargo Bike Brigade.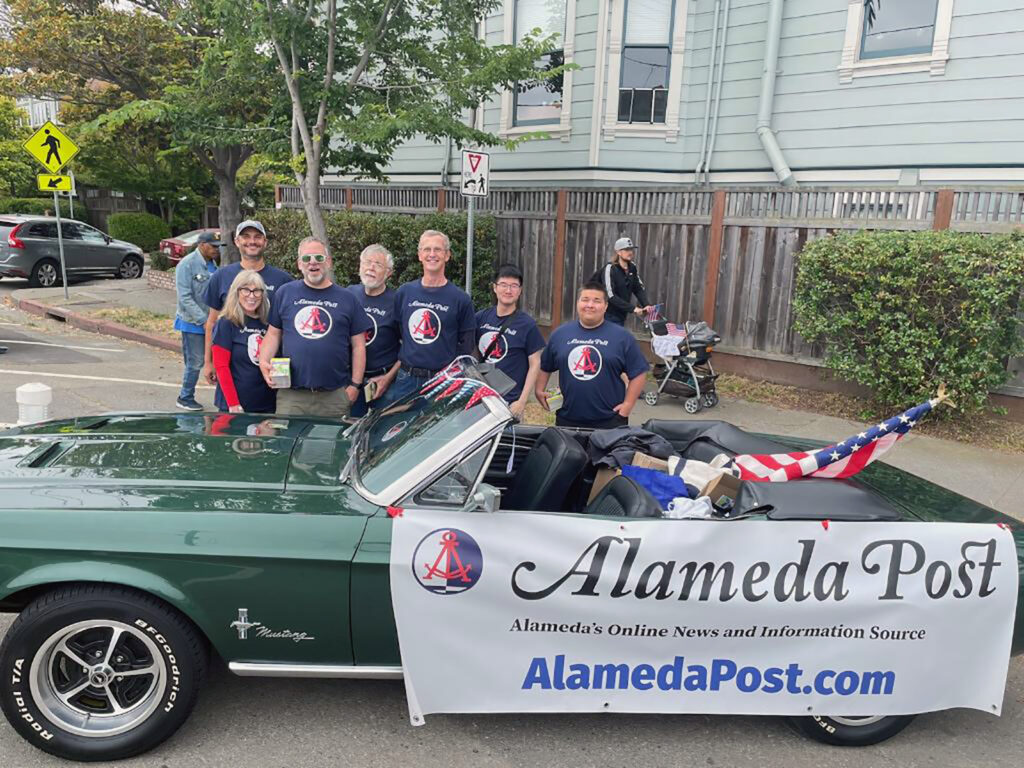 Newcomers to the Parade included new local businesses Island Savoy Market, Doodlecakes Bakery, and our entry #52 for the Alameda Post. We were proud to be one of the sponsors of this fantastic Parade and we also designed and produced the program for the event. We borrowed a beautiful '68 Mustang convertible from a friend for the day, and it served us well… for half the route. The battery died just a block before the judging stand on Otis Drive and we had to push it off the street, park it, and grab our handouts and water bottles to keep up with the Parade on foot. Nevertheless, we had a great time and we truly appreciated all the recognition and support along the route.
Who wasn't at this year's Parade?
Most of the livestock and equestrian entries that have taken part in previous Parades were not in attendance this year. The only equestrian entry was from the Alameda County Sheriff's Office. Other equestrian entries that had planned to participate this year attended the planning meeting on the Friday before the Parade. One of those intended entrants asked why the City instituted a new policy that bans stallions from participating. Between that time and the Parade, all of them withdrew.
We contacted the City Manager's office to inquire about this new policy. Assistant City Manager Amy Wooldridge responded: "Prior to this year's Parade, ARPD consulted with several equestrian experts and created a clearer equestrian policy based on the California Horsemen's Association Parade rules and ethics. This was done to ensure humane treatment of all horses in the Alameda Fourth of July Parade as well as safety for Parade viewers. All equestrian groups that previously participated in the Parade were contacted and provided the updated rules well in advance of the Parade. Some groups chose not to participate in the Parade."
As an example of implementing clear rules for the safety of Parade viewers, Wooldridge noted, "…rearing of horses—which occurred frequently in previous years—is considered a safety risk for viewers and ARPD received a report last year that there was a near miss with a viewer and a rearing horse.  [It is] correct that stallions are no longer allowed in the Parade with the new rules."
When we followed up with others in the City to ask about this policy change, we were told that the equestrian policy continues to be reviewed and may be revised in the future. We also inquired about other late scratches from the Parade, including the Encinal Marching Band and the Sikh Riders, and were informed that many of the last-minute withdrawals were caused by fatigue and/or health issues such as COVID. There is much optimism that many, if not all, the missing contingents will be back next year.
What happened after the Parade?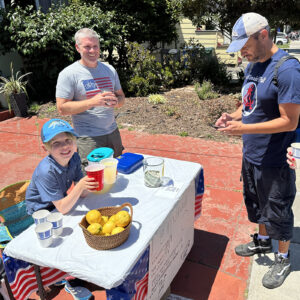 After the Post completed the Parade route, some of our staff came across an enterprising young man named Lucas who, along with his father's help, had set up a lemonade stand in his front yard. The lemonade was made from freshly squeezed lemons grown on trees right there in their own yard. After a fun walk in the sun, the ice-cold lemonade was refreshing and delicious, and our crew sure appreciated it!
The scores from the judges who made their determinations from the Judging Stand located on Otis Drive next to the former Lum School are still being tallied. ARPD and the City will hand out awards in a variety of categories on July 20 at 6 p.m. at the Pavilion at Jean Sweeney Park.
Adam Gillitt is the Publisher of the Alameda Post. Reach him at [email protected]. His writing is collected at AlamedaPost.com/Adam-Gillitt.