On an Alameda Post history walking tour in June of this year, the group stopped in front of 1425 Paru Street as staff historian Dennis Evanosky pointed out the features of the Craftsman bungalow, built in 1913. At that moment, out walked the home's owner, Rita Hampson. Rita, of Seattle, Washington, and her siblings had recently inherited the house after the passing of their 107-year-old mother, Kathleen Francis Thomson Stoye, who was born in 1915 and grew up in the house. In recent years, Kathleen had been living at Canyonlands Care Center in Moab, Utah, while another relative lived at the Paru Street house.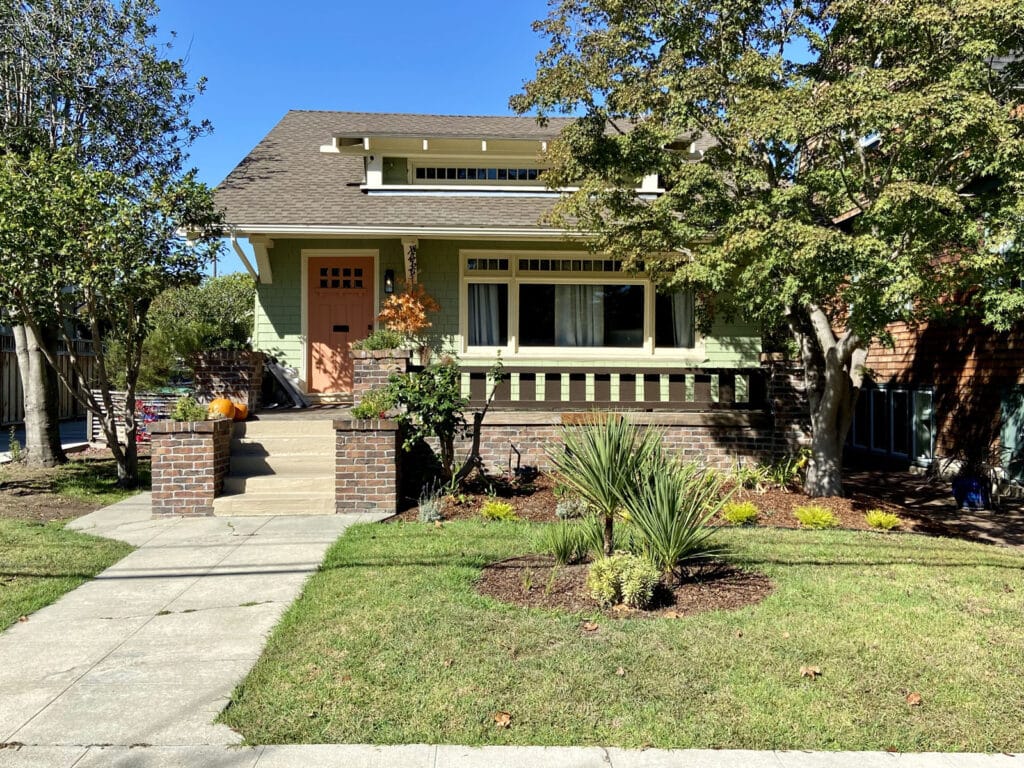 Kathleen's parents—Rita's grandparents—Mabel Harriet Melrose Thomson (1894-1992) and Ralph Lattimore Thomson (1881-1959) bought the home at 1425 Paru Street in 1917, and it remained in their family's ownership for the next 106 years. They had one daughter, Kathleen, who attributed her long life to avid bridge playing and a daily glass of Chardonnay. Although the home contained a treasure trove of memories for Rita and her family, the time had come to pack up those memories and pass the home on to a new family. As she was cleaning up the house and getting it ready for sale, she came across something curious while doing some landscaping work in the back garden.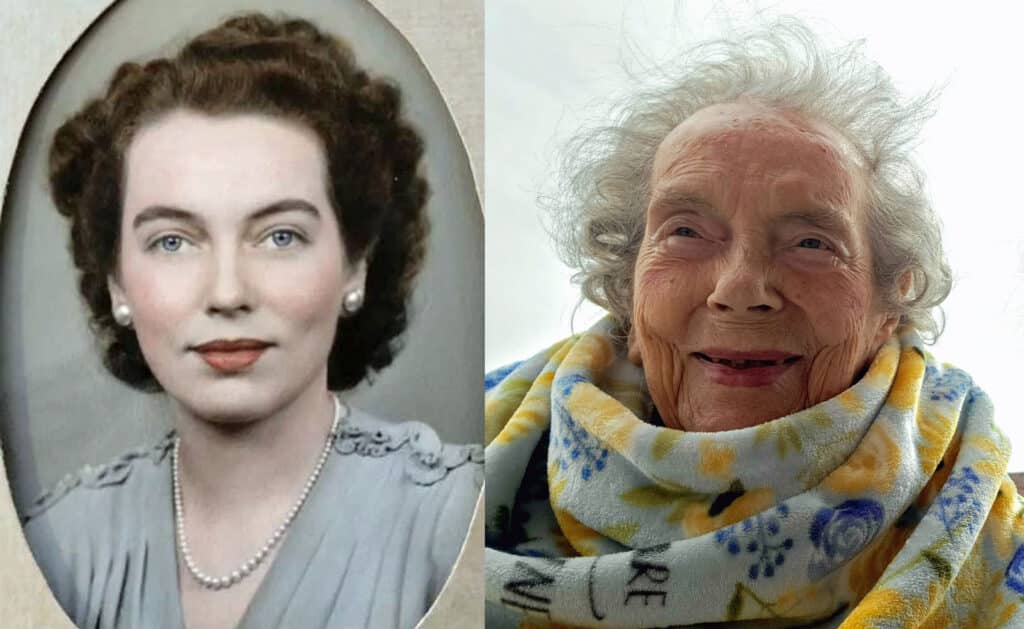 Buried treasure
As workers dug in the backyard near the house, a shovel suddenly stopped with a clunk. It had hit something hard beneath the surface. For anyone who's ever seen a movie about finding buried treasure or a time capsule underground, this is the kind of moment that gets the heart racing. As they bent down and cleared away the dirt, what started to emerge was something glazed, like some sort of ceramic pottery. Intrigued, the workers' digging and clearing continued until some 14 mysterious ceramic vessels were unearthed. Not knowing the provenance of these artifacts, Rita cleaned them and put them aside as souvenirs for herself and other family members.
Good timing
It was fortunate that an Alameda Post history tour would just happen to be taking place on this street on this particular day when Rita was there preparing the house for sale. When she learned what the tour was all about, she brought out a few of the antique bottles to show us, and gave a few out to the most historically-minded among us to do further research on. That's one of the wonderful things about these history walks; it's not uncommon for homeowners to come out of their houses when they notice the group, and then proceed to share inside information on the history of their homes. Seldom does someone emerge carrying recently discovered historical artifacts, though. What are these mysterious ceramic bottles stamped with German text, and why were they in the backyard of a home on Paru Street?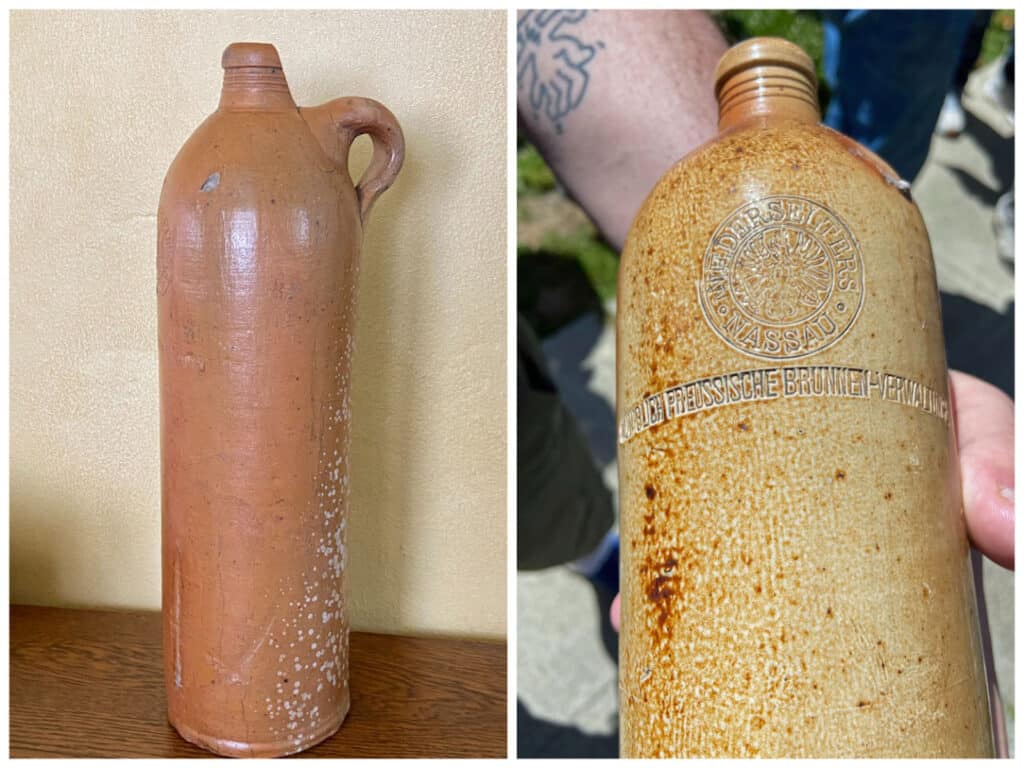 Clues in German
Learning about these bottles required a little German translation work. A round stamped seal near the top reads, "Niederselters – Nassau," with an eagle in the center. Below that, printed horizontally, is the text "Oniglich Preussiche Brunnen-Verwaltung." Starting with the text in the seal, we learned that Niederselters is a village in the former Prussian province of Hess-Nassau in Germany. The naturally carbonated mineral springs in the village were once under the rule of the Duke of Nassau, and became popular in Europe and North America in the mid-1800s. This was the first clue that what was found underground at 1425 Paru Street is a collection of old stoneware bottles once used for seltzer water, and that the very word seltzer comes from the village of Niederselters, where these vessels originate.
According to a story on RelicRecord.com, "Since the Bronze Age, the water has been known as a natural soda water because of its high concentration of sodium bicarbonate. Selters water also contains raised levels of calcium, chloride, magnesium, sulfate and potassium ions. The Romans used the wells and may have given the origin of the current name Selters, possibly from 'aqua saltare' (lat. water jump, or dance)."
The story continues, "Selters jugs were exported to England at least by the early 19th century and may have arrived in the U.S. as early as 1846 at a price of 15-25 cents each (about $6-$10 in today's dollars). With the introduction of glass containers, the use of stoneware jugs declined by the end of the 19th century and was reduced to 49 jug makers by 1926."
Alameda Post reader helps solve a mystery
While we now know what "Selters – Nassau" means, the next line, "Oniglich Preussiche Brunnen-Verwaltung," was still a mystery. I was able to learn that the last three words mean "Prussian Spring Administration," but could not find a definition for Oniglich. This is where Alameda Post reader—and regular tour attendee—Jim Quilici stepped in. While communicating with Jim about the bottles, he noted that the German word Koniglich means "royal." Looking closely, the letter "K" on the bottle is very, very faint due to either a printing error, or the effects of being buried underground for between 100 to 150 years. Jim's help finally put the final piece in place as we identifed this antique stoneware jug as having come from Germany in the mid to late 19th century, filled with sparkling water from Niederselters, in the province of Nassau, under the Royal Prussian Spring Administration, Koniglich Preussiche Brunnen-Verwaltung.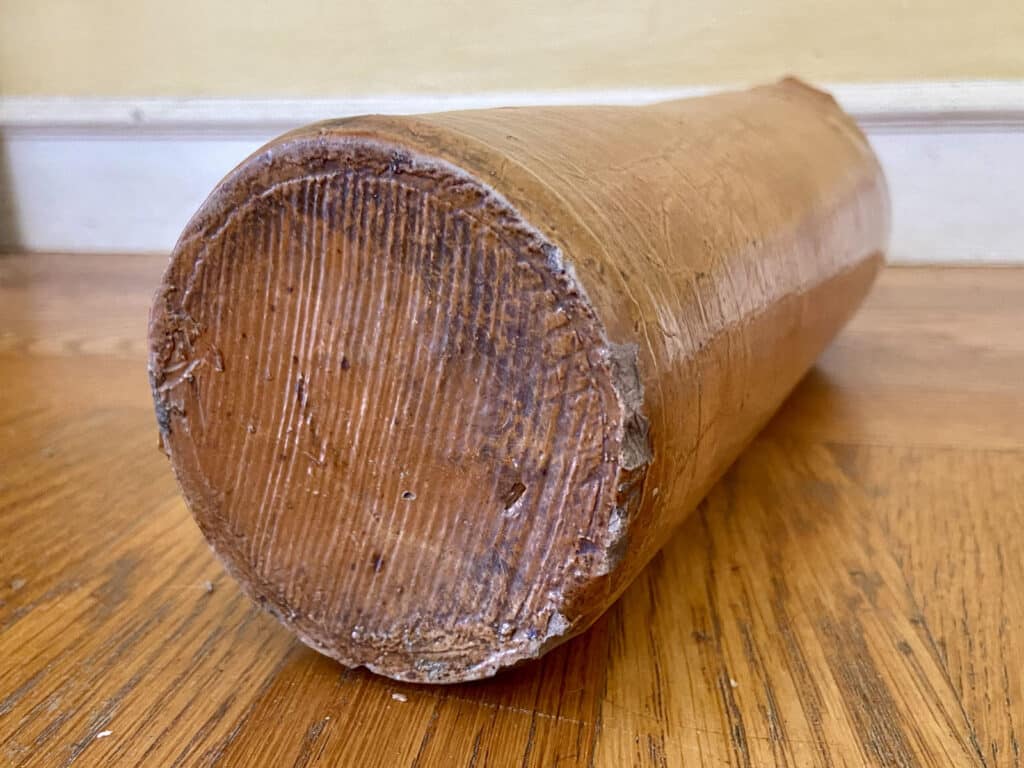 Remarkably preserved
These stoneware jugs are in remarkably good condition considering their age and where they've been buried for generations. The straight-sided, wheel-thrown jugs still retain their shiny glaze of yellow-orange ochre. The short necks still have well-defined threads/ridges, along with a rounded top lip where they would have been capped and sealed. The single handles still show the tell-tale marks and textures of the potter's fingers and tools. Underneath, the bases exhibit a pattern of ridges typical of the wire used to cut the clay base off the wheel. Overall, these vintage bottles are an extraordinary time capsule of another age. Long buried and forgotten, they emerge now to remind us that the past is all around us, if we just know where to look. Or, in this case, dig.
Next up
Why was this trove of jugs found underground in the backyard of 1425 Paru Street? Are there more buried back there? There is a long-gone German connection to this neighborhood that explains the presence of these old Prussian bottles, and we will explore that in our next installment, along with more  history of the Thomson family history in this house. In the meantime, when you next enjoy a glass of seltzer water, remember that the origin of the name comes from a village in Germany, which also connects us to an old house in Alameda.
Read more about the discovery of these same kinds of jugs in Augusta, Georgia, on RelicRecord.
Contributing writer Steve Gorman has been a resident of Alameda since 2000, when he fell in love with the history and architecture of this unique town. Contact him via [email protected]. His writing is collected at AlamedaPost.com/Steve-Gorman.