This is part of our ongoing series of Dave LeMoine's memories of growing up in Alameda. Further installments will be published every Friday.
Utah State's Homecoming Game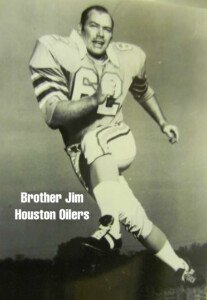 It was 1966 and Brother Jim had a full ride scholarship to Utah State University in Logan. Mom and I decided to take the long weekend and race eleven hours across Nevada. At that time, with no speed limit to restrain Mom's '65 Pontiac Bonneville, we could catch his last homecoming game.
Thinking back to four years earlier, I had visited Salt Lake in my '32 Ford roadster on her shakedown trip. I had dreamt of a trip of this sort since the debut of "Route 66" on television in October of 1960. At that time the '32 was still in pieces, but the dream kept me going day and night.
In 1962, the car now on four wheels sporting a convertible top, Shifters plaque, chrome everywhere, fat tires, headers, and that 24 coats of pearlescent blue lacquer, with a candy apple red racing stripe, and gold pin striping. All it needed was a full tank of gas. John, my neighbor, and I had decided to travel cross country and live our dream. Sunday night about eight, looking forward to the Monday morning departure, John approached me in the garage while putting last minute touches on my creation.
"Dave?"
"Yeah, what's going on?"
With a sheepish look he said, "Something's come up. I can't go."
"You mean you're chickening out! Too bad, but I'm leaving at 7:00 a.m. if you change your mind."
Looking back, it was a gutsy thing to do, with very little money, no spare tire or tow service, and no side windows in a state that has summer rain. Call it blind faith. Now I would call it a little unwise. I stayed in Reno the first night, Wendover the second, Salt Lake the third, on my way to visit cousins in Nebraska. In Salt Lake I found a semi-secure motel, showered, donned my best Levis and Pendleton to cruise down the boulevard feeling, oh, so cool.
There it was, a glorious sphere of light and life, the local drive-in all lit up in neon and taillights, encircled with cars and car hops, not knowing they were waiting for the cool rod from California. Pulling up to a stall almost center in the circle, I let the '55 Olds Rocket 88 engine throb just long enough to turn heads, a slight rev so as to hear the 3⁄4 cam, solid lifters, light aluminum Schafer fly wheel, then silence. I had them looking, and car hops responded. I'm living a Hollywood dream, the perfect movie… and I'm James Dean.
There were a couple of waves and nods from the locals, though a little too cool to come over and talk.
I downed my burger, fries and cherry Coke, then paid the bill leaving a larger than needed tip for the voluptuous blonde waitress. I hit the starter, and 400 horses roared to life, heads turned trying not to be too impressed, but they were. A flip of the switches on the black walnut dashboard and into reverse as the custom speed shop headlights played off of a '56 Chevy to the right of me. Waiting to enter South Temple, the radio came on just as "In the Still of the Night" was playing, a rev of the engine, just enough to hear that glorious sound of the glass pack mufflers, as my 1950 Pontiac taillights fade into the night. Three blocks up the boulevard, sitting at a red light, I heard the rumble of a maroon '34 Ford coupe pulling up next to me, another rev, and I knew his meaning. In the coupe is a face looking my way with a grin that says,
"You wanna go?"
No need to reply; he knew my answer. A green light, then smoke in the night. Not a problem; he's toast! As I waited at the next red light, he had had enough and motioned me to the curb.
"Hi. My name's Jim! What've you got in that thing?" he asked while stepping out of the coupe.
"Olds," I said. "How about you?"
"Chevy. I thought I was fast, but you're the man. I need more speed equipment; it's hard to find in Salt Lake. What's your name?"
"Dave."
"What are you doing in town?" he questioned.
"Traveling through to Nebraska to visit family," I responded.
"How long are you staying here?"
"I was leaving tomorrow."
Jim looked disappointed, "Too bad! Our "Monarchs" car club meets on Wednesday. I sure would like a "Shifter" from California at the meeting. You could stay at our president's house. I know he has room."
"Sounds interesting," I pondered.
Jim said, "I'll pick you up tomorrow morning and we'll go over to his house."
Monday morning we met John and his show quality '27 T truck.
John invited me to stay and said, "Let's go camping in the White Mountains just up there. I've been wanting to go since I arrived from L.A. five years ago. I hear there's a cave called Neffs. It's supposed to be the deepest in the western hemisphere and, with you here, we have a good enough reason. We'll be back for the Wednesday meeting, then you can leave on Thursday."
"Sounds like fun," I agreed.
To shorten the story, we went, we found the cave, climbed down about 500 feet, almost fell the other 500 and, with flashlight batteries depleted, groped for the cave entrance vowing never to do that again.
Back in the city and one race too many, I had blown second gear in my '39 Cadillac transmission. I met two guys from Oklahoma, Ed and Don, working at the Mobil station hoping they would have a lead on a second gear. Now I'm in big trouble, with a crippled transmission and 800 miles from home. The guys had the neatest red '40 Ford coupe with a '56 T-bird engine. What am I going to do?
Don said, "Hey, Dave! We've never been to California. What do you say we tow you home? All you have to do is pay for food and gas. We'll drive straight through and see the west as we go."
"Really? Great!" I responded enthusiastically.
"We'll leave Friday and have the long weekend to get back," Ed chimed in.
With my duce in tow behind the '40, we left Friday night and arrived home at noon Saturday. Mom fixed lunch, Ed and Don said good-bye, and I never saw them again.
Now back in 1966, Mom and I have made it to Salt Lake with only 60 miles to Logan, and we will see Brother Jim play football. We pulled into the nearest gas station. The attendant responded with, "Can I help you?"
"Fill-er up with Custom 104." Thinking back to my time there, I asked, "Have you heard of the 'Monarchs' Car Club?"
Can you believe it? A city of close to a million people, and the guy responded, "Yeah, I used to be a member, but they changed their name a few year ago to 'Shifters Midwest'."
"What did you say?" I asked in total disbelief.
"Shifters. Not sure why, but it stuck."
Hmm, this sounds like a screen play, but nobody would believe it.
Shifters Reunion – 2012
It's time again for a Shifters of Alameda car club reunion. So much time has passed. It doesn't seem possible but, as I look back in my scrapbook, I am privileged beyond measure to think of the life and friends God has given me in a city called Alameda.
Fifty-eight years later, there's no pickup truck, no '49 Merc or Chevy, no louvered hood or moon hubcaps. There's just Dean and Joanne, Freddy (alias the Fonz), Bev, Ken, Carl, Judy, Jim, John, Laurence, Tom, Tubby and Marlene – now driving their motor homes – and me in a Toyota pickup. Did I say boring?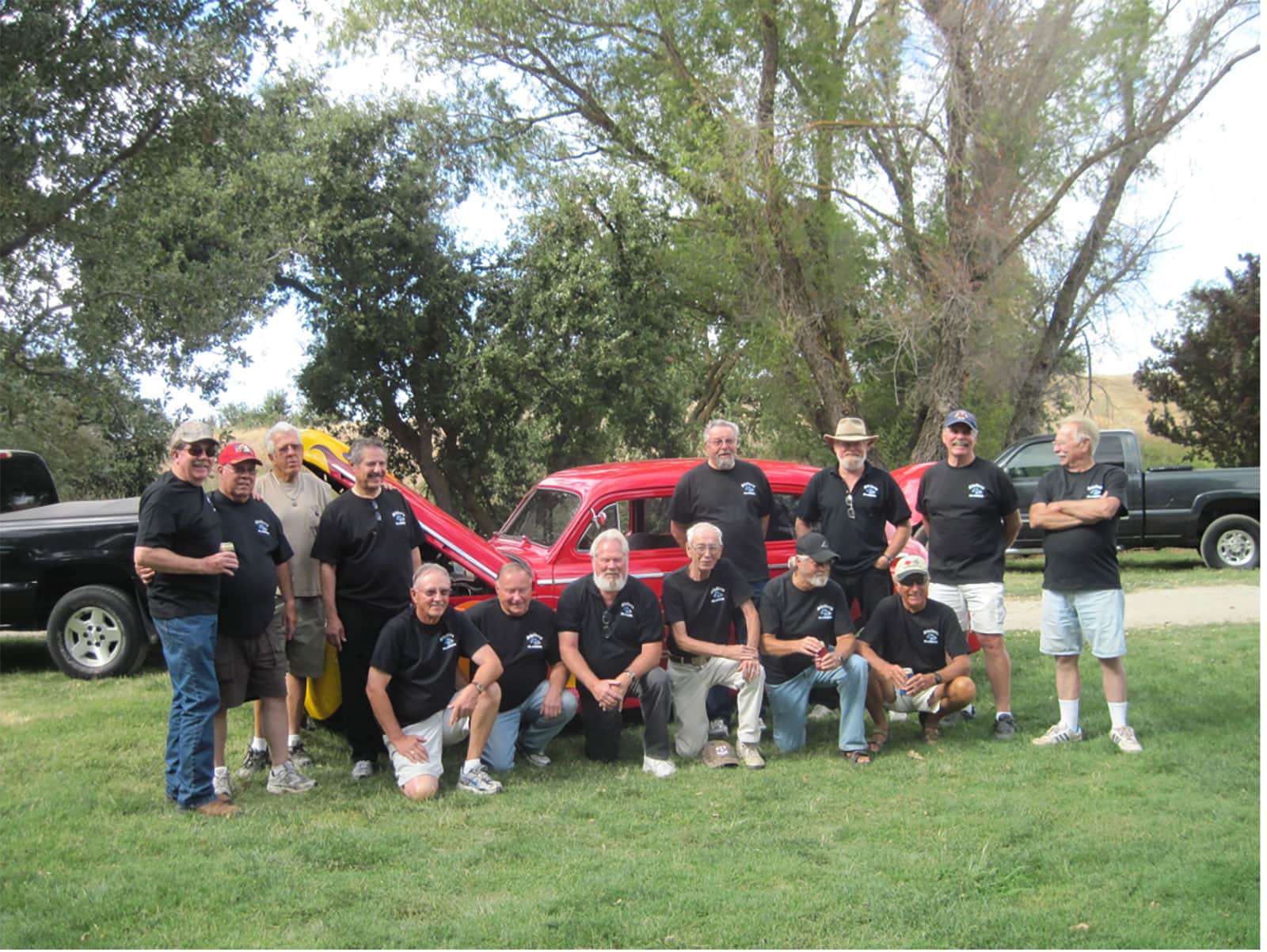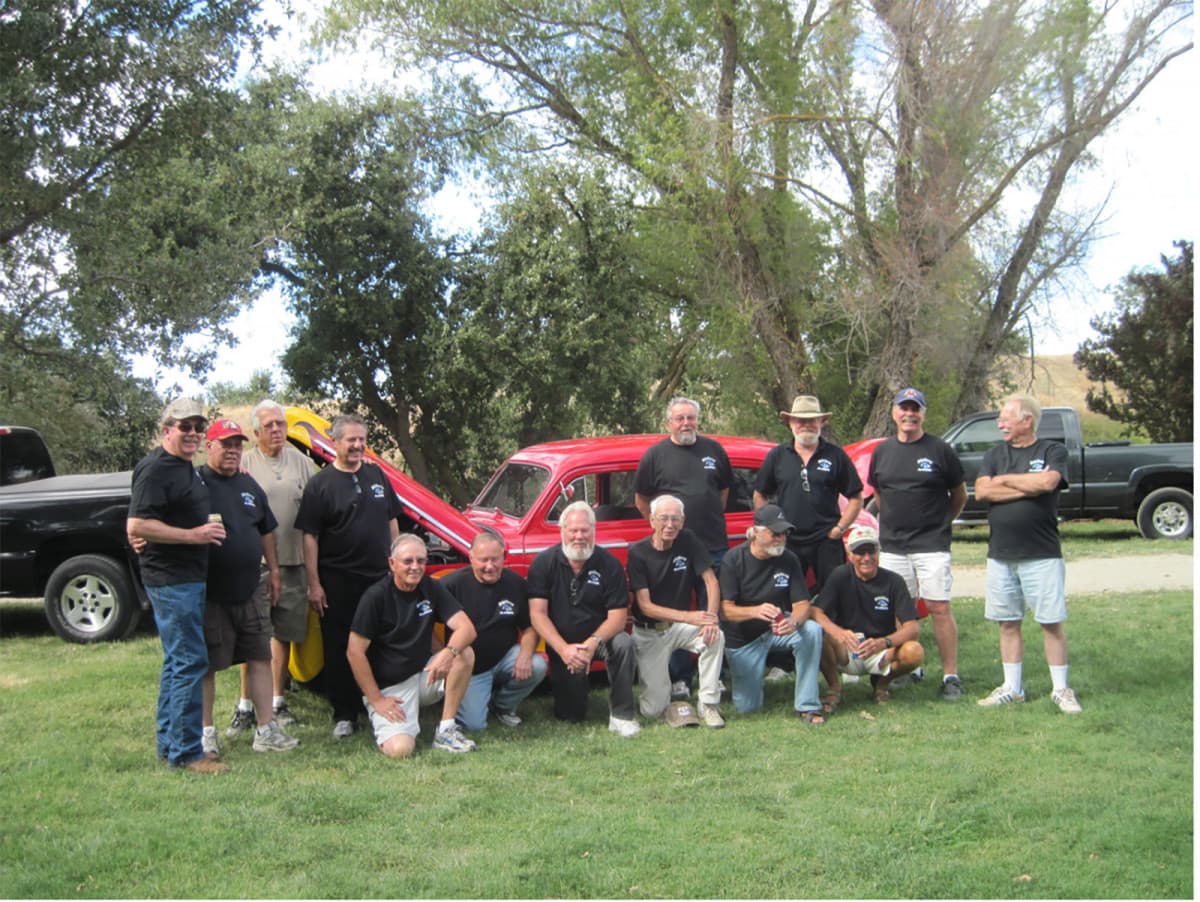 We are now truly seniors: Red Dog and Frank are gone; Flip just recently died lying under his '56 Chevy. Budda can't make it to the reunion; Heater showed up with his younger brother, Tom, in a nice Chevy-powered '47 custom, and the story continues.
My Life's Work Begins
Through all the Shifters adventures and my work experiences, I was apprenticing in my future career. My big break came when I became an Operating Engineer, leaving the filling station behind. I was hired by Peterson Tractor, the Caterpillar dealer for Northern California. At Peterson, I steam cleaned, sand blasted and painted tractors, which gave me the chance to drive every type of Cat and Letourneau equipment from brand new back to the early Twentieth Century.
Eventually I received a Class A driver's license with a heavy equipment certificate. I was assigned the job of loading the overweight, over-height equipment to be trucked to various construction sites. If the earthmovers were too big for a trailer, I would drive them with pilot cars to be delivered to the California Aqueduct project in the San Joaquin Valley. I also tested experimental equipment being readied for production. After passing the Alameda Fire Department test, I had to choose between being foreman of used equipment or the fire department. I took a cut in pay but made the right choice.
My first home after joining the AFD was at 911 Lilac Street on BFI. Three years later in 1972, with the help of Harry and his moving van, the family moved to 3019 Marina Drive that had previously belonged to the Randolph.
Larry, Pete, Bob and Gary, Moe and Bob, and another half-dozen guys that should be remembered, moved the whole house in two hours and we were breaking bread by 11:00 a.m. Only in the fire department would teamwork and friendship join in such a way. We lived there on the Alameda Oakland Estuary for six years. I had spent my teenage years waterskiing and boating along the channel and now we got our dream home for $42,000. I spent my days off rebuilding our pier, and later the neighbors' piers, for extra money.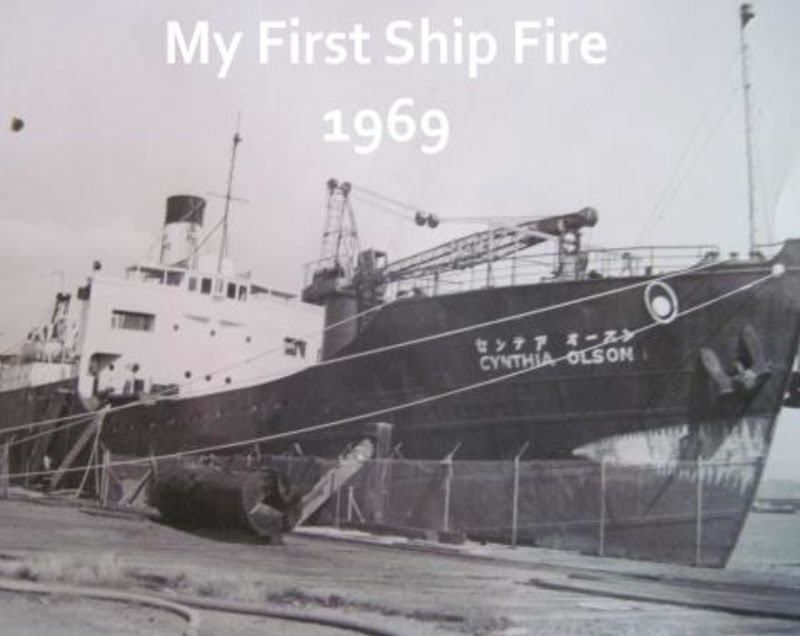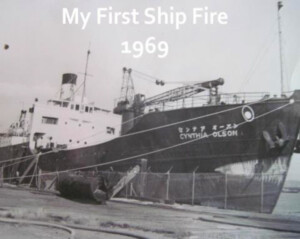 I learned the waterfront like the back of my hand. It served me and the fire department well in later years teaching fireboat handling and waterfront familiarization. Living on the channel, most of the fire crews found themselves pulling up in the boat for a visit whenever they were out training. My kids and the neighbors loved to see the guys arrive to inspect my work and consume a Coke. At times my good friend, Dave, and his family would paddle into the backyard on their kayak for a visit. Dave always did his job well. I'm sure by now he's logged 100,000 miles on his bicycle between Hanson and Main, Marina and Beach, killed a million tennis balls, and strung a thousand rackets. Not to mention the number one service for Alameda Fire Department, a pictorial record of our history. Thanks, Dave!
David LeMoine is retired from the Alameda Fire Department and now lives in Eagle, ID. These stories are excerpted from his book, I Could Have Died a Thousand Deaths, published by Big Boots Publishing of Redding, CA.