Remember Rick Lewis's great pictures of ten amazing birds in Alameda? Well, on December 18, many people will be in Alameda trying to count all the birds as part of the Oakland Christmas Bird Count (CBC). Rick and I will be among them, and you can join us.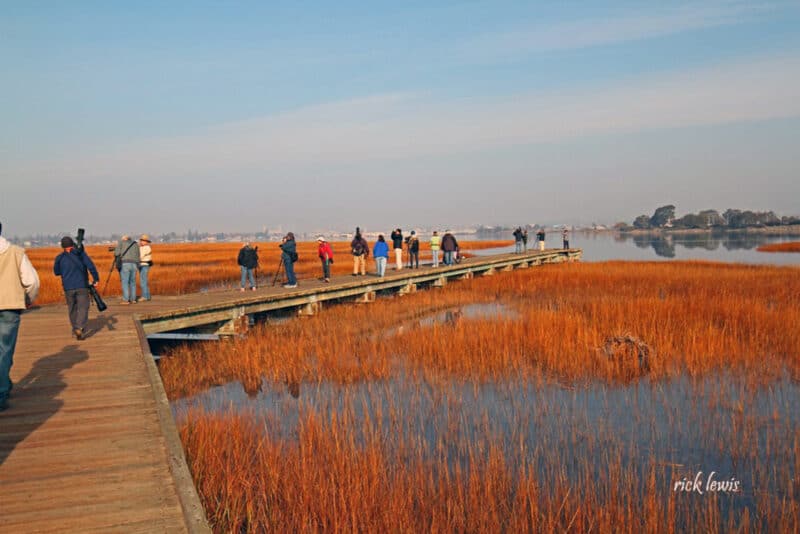 Teams fan out to spot feathered friends
I've signed up to count wherever Doug Henderson, the Alameda team leader, assigns me. Last year, I was part of a group that walked slowly along the Alameda shore from the Bay Farm Island bridge and along the beach to the southern edge of Crab Cove. Then we broke into two groups to count birds in the lagoons from the Willow and Grand Street bridges. In my first CBC, I walked along the Bay Farm Island shoreline from Veterans Park to the ferry terminal. While I looked for all birds, my special assignment was to count the American Coots, an almost-impossible task because many coots swam slowly beside us as we walked, the already-counted coots mixing with as-yet-uncounted ones.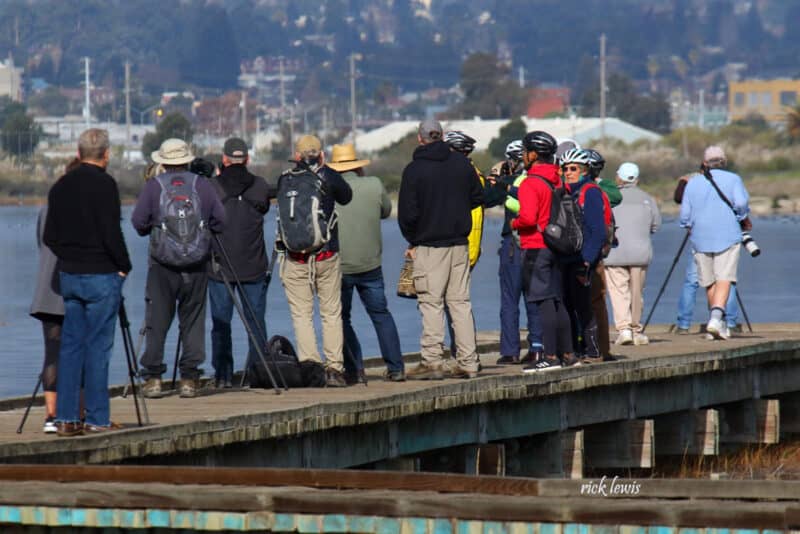 As a new birder and a relatively recent East Coast transplant still learning to recognize birds found here in the East Bay, I learned how to keep a running total by species throughout the morning. In 2022, for the second year, we'll keep our records on eBird, a cellphone app. The team leader will review each list for any errors and then submit them to the Oakland CBC Compilers, Dawn Lemoine from Alameda and Viviana Wolinsky from Oakland.
One of my friends counts by herself along the estuary from Marina Village to the Aeolian Yacht Club with asides to Jeanne Sweeney and Lincoln Parks, while other friends count at Crab Cove and from the Bay Farm ferry terminal to the airport. Rusty Scalf from Berkeley heads the Bay Farm Island count team. The Oakland count circle, with its 15-mile radius, covers several habitats so the final tally usually includes 170 different bird species. The circle extends from Treasure Island northeast to the San Pablo Reservoir in Contra Costa County and south to Saint Mary's College in Moraga and the Oakland International Airport. Golden Gate Audubon Society organizes the Oakland count, along with counts in San Francisco and Richmond.

Important data for conservation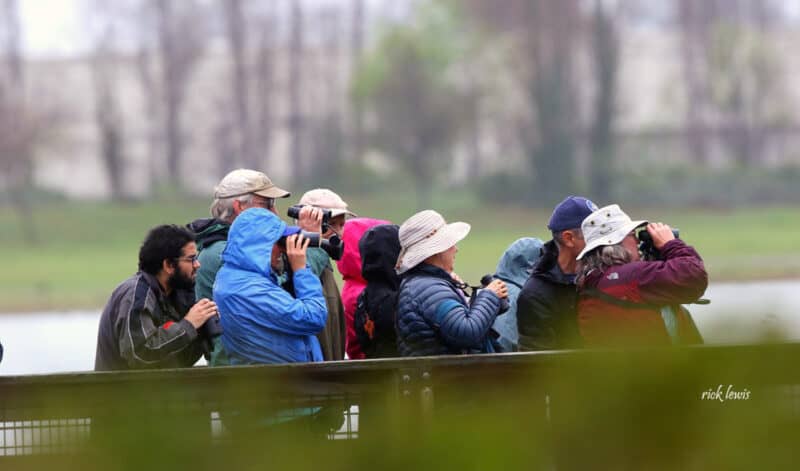 While we birders enjoy searching for birds, the counts do have a purpose other than just for fun. Because each CBC count occurs consistently over years, the information provides a record of changes, or no changes, over time. For example, a quick review of CBC results shows variable numbers of a particular colorful duck, surf scoter, in the East Bay waters from winter to winter, but an overall decline in numbers. In other instances, the count information shows birds moving into new areas, perhaps in response to a changing climate. An on-land example is the decline in the number of burrowing owls seen in Alameda and Bay Farm Island in recent winters, compared to past decades. We are hopeful that this year's count will again find acorn woodpeckers in Alameda; last year they were seen for the first time in many years.
CBC information highlights the importance of Alameda's marshes and mudflats for wintering shorebirds as well as for birds that stop here to rest and build strength to continue their migration. Policy makers can use count records to help make decisions about what habitats to protect or what bird species might need special conservation plans.
Join this year's Christmas Bird Count
You can sign up to join us on December 18 for the Oakland Christmas Bird Count by going to Christmas Bird Counts – Golden Gate Audubon Society, but act quickly because the enrollment ends on December 4. If going out to count birds is not an option, you can participate by counting birds at your bird feeder or in your yard, by signing up for the Yard Watcher part of the Oakland Christmas Bird Count. Even if you're not counting, you can look for us, and chat briefly about what we're doing, at any of the many counting spots around our island city.
The Oakland count, in its 81st year, is part of a long tradition of counting birds. In the 19th century, wealthy men competed to shoot the most birds in one day during the Christmas holidays. Recognizing the senselessness of such wanton killing, a few men formed 25 teams to count the largest number of bird species in one day. Rules developed over the years—each team would count all the birds seen in a circle with a 15-mile radius.

The CBC tradition has now spread throughout the western hemisphere, from Alaska and Canada to several South American countries. Golden Gate Audubon Society now sponsors three counts in the San Francisco Bay, the Oakland, San Francisco, and Richmond counts, on different days. You can read more about the history of Christmas bird counts at Christmas Bird Count | Audubon. The website also has a map that shows all the count circles in the western hemisphere.
Marjorie Powell moved to Alameda from the East Coast in 2014 and first joined the Oakland Christmas Bird Count in 2019. A member of Golden Gate Audubon Society, she serves on its Alameda Conservation Committee, the Friends of the Alameda Wildlife Reserve, and tries to go birding frequently.