Eddie Muller is widely acknowledged as the "Czar of Noir," serving for more than 20 years as a global evangelist for the black and white film genre that celebrates cynical heroes, untrustworthy dames, and people doing the wrong thing. He is host of Turner Classic Movies' weekly Noir Alley, producer of national Noir City film festivals, a prolific writer, and founder of the nonprofit Film Noir Foundation, which rescues and restores classic films from America and abroad.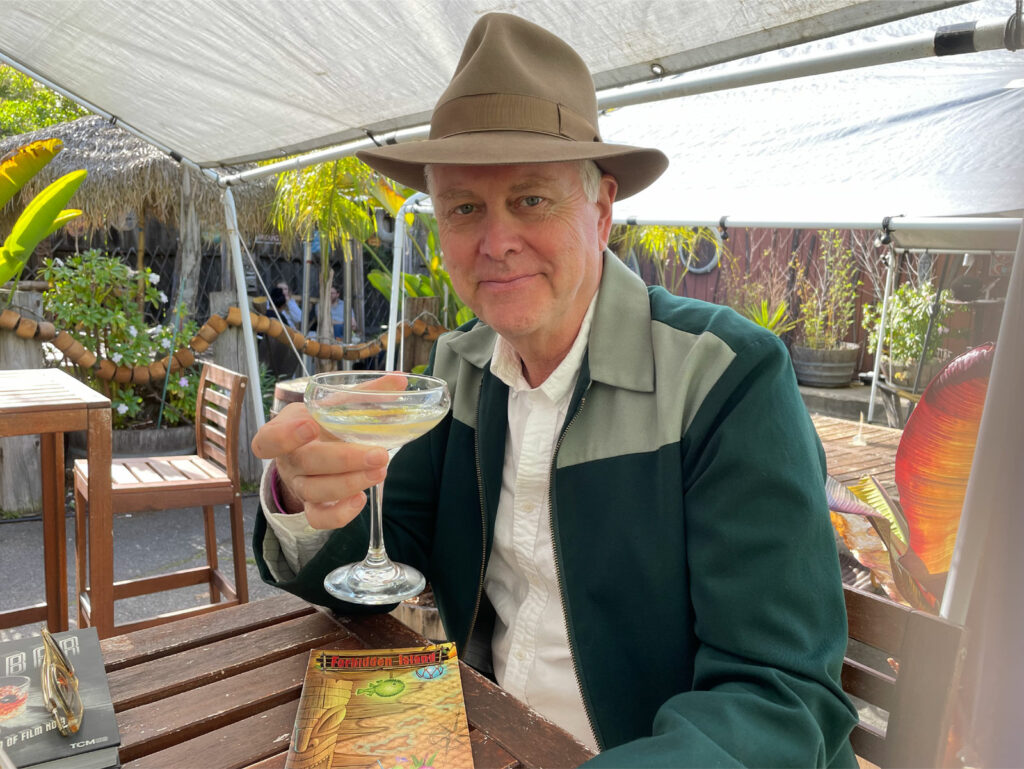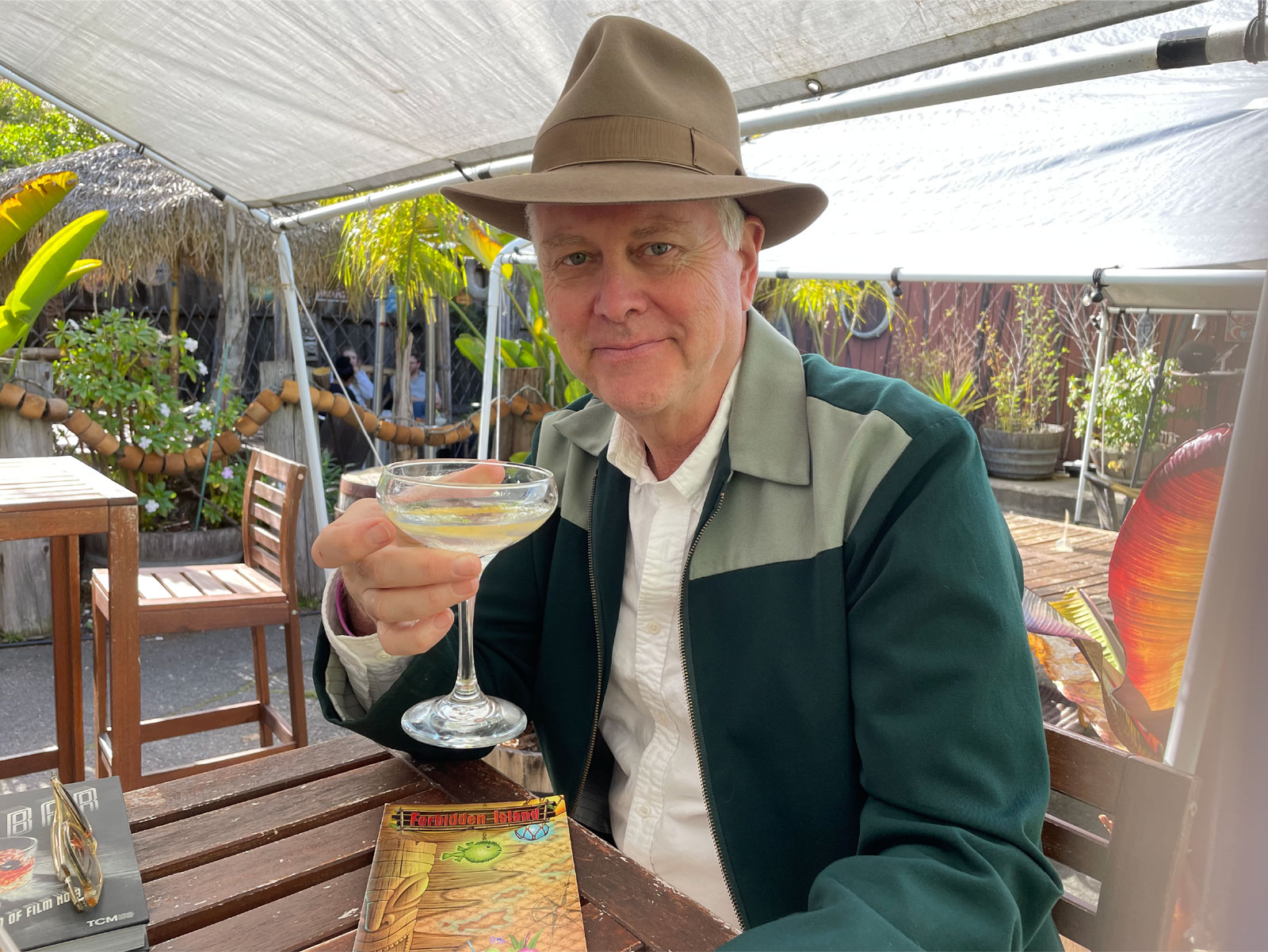 Although his bio places him in the Bay Area or San Francisco, where he was born, he has actually lived in Alameda for 32 years. While his work has him visiting the dark side of gritty cities on a regular basis, he chooses to live in Alameda for some very un-noir reasons.
It's a small-town sanctuary, with great neighbors," he said. "I know everybody on the block and have watched their kids grow up, go off to college, and start families of their own."
Eddie Muller's latest book
His newest book, Eddie Muller's Noir Bar: Cocktails Inspired by the World of Film Noir, was just published last week, and I interviewed him that very day at a most appropriate spot: the Forbidden Island Tiki Lounge, where he ordered a martini, which is featured in the book alongside the film Sweet Smell of Success.
The book is a feast for the eyes, and no doubt for the palate as well. Photos are luscious period piece black and white images, with subtle notes of color. Noir Bar "pairs classic cocktails and modern noir-inspired libations with behind-the-scenes anecdotes and insights on film favorites." It is these insights, coming from a renowned expert, that will give film lovers a buzz. There are 50 cocktail recipes in the book that are linked to films; ten of these curated creations were designed by Muller himself, expressly for the book.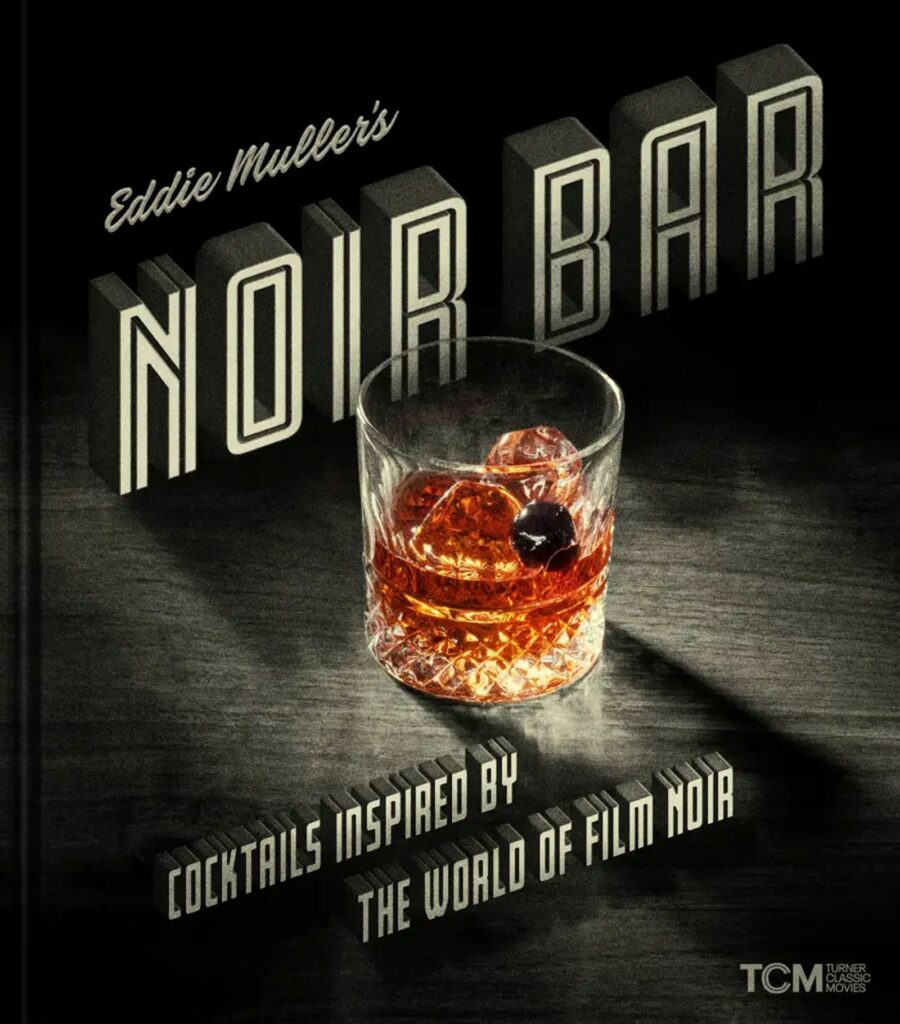 If you're familiar with Muller's Noir Alley set where he records his film intros and outros, his new book's subject is not surprising. From the beginning, he insisted on having a functioning bar. At his own home, he has created a cocktail/tiki lounge in what used to be a garage for a Model T, where he likes to entertain friends.
"The book actually grew out of COVID," Muller said. He started shooting cocktail videos out of his home, tying them to that week's Noir Alley film. Coincidentally, his editor at the same time suggested that a cocktail theme would be great for his next book project. While Running Press is the book's publisher, Turner Classic Movies is a partner as well, promoting it on air, having their logo on the cover, and selling ancillary products. Muller's Noir Alley popularity is undisputed—his is the only show on TCM that's aired twice. He marvels at the fact that fans tell him it has become destination TV, and that they set aside the time to watch instead of using their DVRs.
The movie posters, photos, memorabilia and film-influenced noir-era props used to such great advantage in the books are all Muller's. "Nothing's too hard to get on eBay," he said, where he was able to procure a vintage Jaguar key chain, sheet music for songs in both Blue Gardenia and Road House, a "wanted" poster for Hitch-hiker, a tarot deck for Nightmare Alley; and Norma Desmond's cigarette holder from Sunset Boulevard.
In the book, Muller briefly describes the plot of each film, and then shares insights and anecdotes about each. And of course, how the signature cocktail ties in. There are a couple of local angles that are fun to learn about. A famous scene in Alias Nick Beal with Ray Milland is set in a ramshackle saloon that is based on Heinold's First and Last Chance Saloon in Oakland, where Jack London was a regular. In the book, Muller also publicly toasts San Francisco's infamous Aub Zam Zam bar, which offered "the best martinis in town." The creation of the Mai Tai (Hell's Half Acre) is credited to Oakland's Vic Bergeron, aka Trader Vic.
Muller's favorite—and most unique—cocktail in the book would be the Sailor Beware (The Lady From Shanghai). His own creation, he explains that the ingredients reflect the personalities of the film characters played by Orson Welles (Irish whiskey), Rita Hayworth (green chartreuse and ginger liqueur), and the sinister Everett Sloan (absinthe rinse). "It works," he said. But he warns, "It's very strong," adding that "the triumph is to take the things that you wouldn't imagine and integrate them into something unique."
What are Muller's go-to watering holes in Alameda?
"My two favorite words are bar and grill," he said, noting that he loves eating at the bar, preferably in any restaurant where the owner presides. He cites The Fireside, Forbidden Island, and East End, which he describes as "old school, and the most noir."
In the book's credits, Muller acknowledges the critical role played by Kathleen, his wife of more than 35 years, "who handles the grueling task of taste-testing with eagerness, aplomb, and stamina."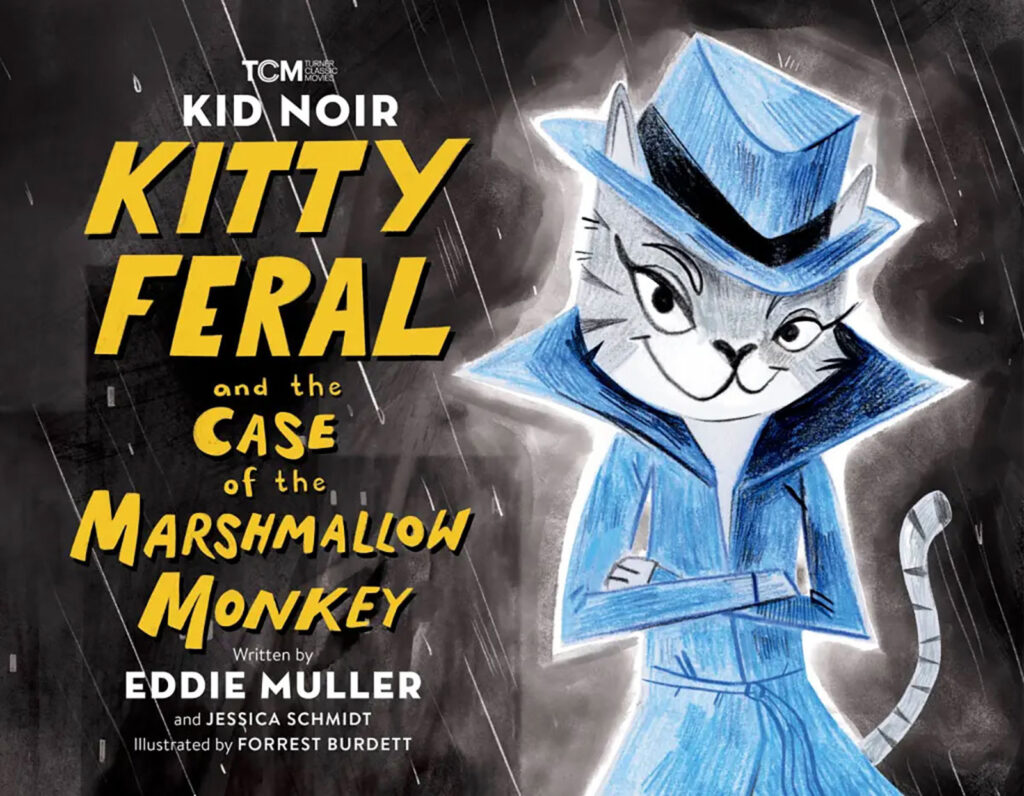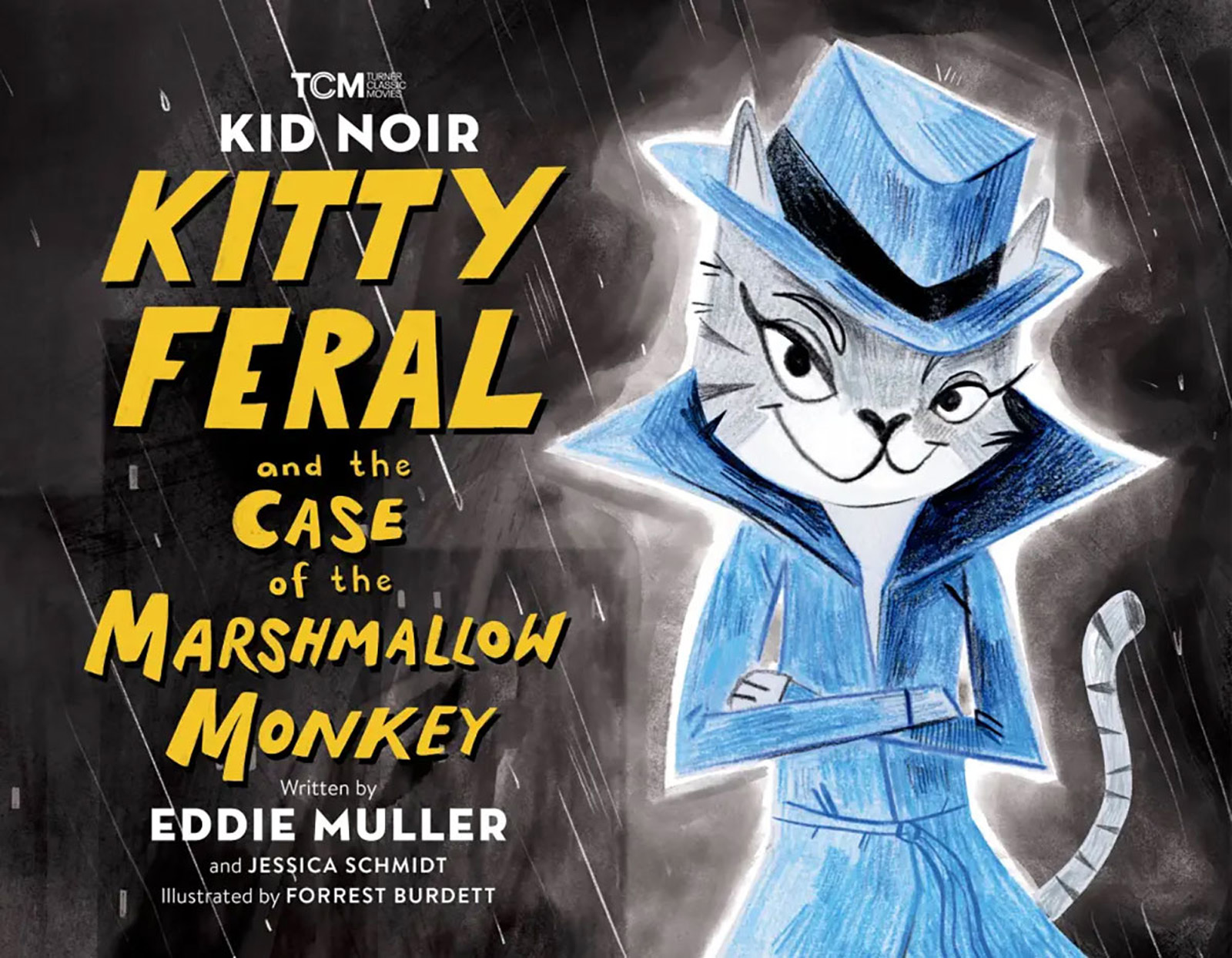 And as for what's next for Muller? Well, a lot.
Advance copies of his and partner Jessica Schmidt's new kids' picture book, Kitty Feral and the Case of the Marshmallow Monkey, just arrived, and will be published in September. It features a hardboiled cat detective and a cast of underworld animals including mutts, raccoons, and birds. Of course the illustrations are black and white. Muller laughs when he recalls the line he told to TCM that sold them on the concept of a noir book for 4-year-olds: "Film noir is the gateway drug to classic cinema."
Muller also recently announced that he is going off of social media, choosing to return exclusively to books, music, art, and film. If his many fans wish to contact him, he advises them to "feel free to write a letter" to his Alameda P.O. Box. "What a concept!" he adds.
He continues to serve on the Doris Day Animal Foundation, a national nonprofit that supports organizations that directly care for and protect animals.
And here's an Alameda Post scoop: Muller's new book, Dark City Dames, has just been given the green light for publication.
C.J. Hirschfield served for 17 years as Executive Director of Children's Fairyland, where she was charged with the overall operation of the nation's first storybook theme park. Prior to that, she was an executive in the cable television industry. She now contributes regularly to KQED's Perspectives series, The Oaklandside, and eatdrinkfilms.com. She holds a degree in Film and Broadcasting from Stanford University. Her writing is collected at AlamedaPost.com/c_j_hirschfield/.