Popular summer street faire returns after three year hiatus

Alameda's largest outdoor summer street festival is back! The long awaited 36th anniversary of the Downtown Alameda Art & Wine Faire has something for everyone—more than 200 art and craft vendors, festival foods, craft beer and wine, music performances on three stages, and interactive kids' areas with games and carnival rides. The festival will be up and running July 29-30, 10 a.m. to 6 p.m., and is free to attend.
"We are delighted to announce the return of a local tradition—the wildly popular Art & Wine Faire," said Downtown Alameda Business Association Director Kathy Weber. "After a three-year pause, we are eager to reintroduce an event that has been bringing visitors and residents together to enjoy our vibrant downtown district since 1983. The streets and sidewalks are filled with must-have art, one-of-a-kind treasures, and tasty treats. …We welcome guests from all over the Bay Area to our island community and show them our favorite places in downtown."
New 'Authentically, Alameda' stage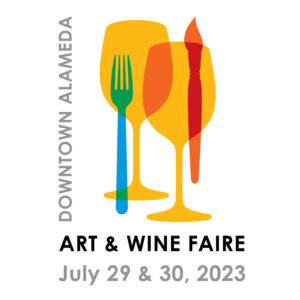 With the iconic Alameda Theatre sign as the beautiful backdrop, the expanded "Authentically, Alameda" area on Central Avenue between Park and Oak Streets is sponsored by Xfinity. The area features a third music stage, sponsored by Berkshire Hathaway Homeservices/Drysdale Properties. Programmed by Alameda musician Jim Parodi, the stage highlights Alameda's professional and amateur talent. In addition to spotlighting downtown businesses, Alameda artisans, purveyors, and community groups will abound. Don't miss the Dog Fashion Show on Sunday morning. Plus, the enlarged outdoor dining area is the perfect place to relax and enjoy all the food and drink that the festival has to offer.
Art & Wine Faire highlights
Art & Crafts Vendors: Browse and shop at more than 200 eye-popping arts and craft booths offering ceramics, metal art, paintings, photography, wood crafts, toys, handbags, clothing, jewelry, and more.
Live Entertainment: Continuous live musical entertainment features classic rock, bluegrass, funk, jazz, and soul. Notable entertainers include some of the most popular tribute bands in the Bay Area: Petty Theft (Tom Petty and the Heartbreakers), Swampers (Creedence Clearwater Revival), Long Train Running (Doobie Brothers), and Aja Vu (Steely Dan and Chicago). A variety of bands will offer both original and cover tunes, including the Spazmatics ('80's New Wave), the Bobby Young Project (blues, classic rock, and funk), Savannah Bluegrass, and singer/songwriters, Zack Fennie and Drew Harrison. The Main Stage is sponsored by Alameda Municipal Power.
Festival Food: Chow down on fan favorite Lockeford Sausages along with an ice cold lemonade, local wine, or craft beer. Other favorites include paella, fresh kettle corn, gyros, mini-donuts, gourmet chicken wings, mango sticks, curly fries, teriyaki chicken skewers, Dole Whip, and more.
Craft Beer & Local Premium Wine: For the 21+ crowd, there will be four beverage booths serving local craft beers from Alameda Island Brewing Company and premium handcrafted wines from Alameda's Wachira Wines, Urban Legend Winery, Dashe Cellars and nearby Drawbridge Cellars. Special cheers to our beer glass sponsor, Launch. Commemorative glasses are $7 for beer and $10 for wine.
Fun Kids Area: Park Street is the spot if your kids like to bounce, flip, and twirl. There will be bungee jumpers, face painting, puppet shows, along with children's art activities by Alameda's Messy Makers art studio.
Our own local businesses: More than 400 businesses are located in the island's walkable downtown district. Festival-goers can enjoy a stroll through the historic downtown where our shops and restaurants will offer event specials throughout the weekend.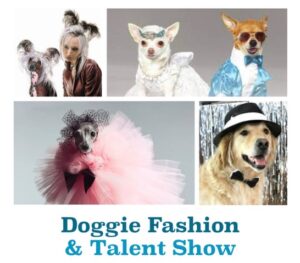 Dog Fashion and Talent Show: Alameda Dogs Strut the Catwalk – Doggie Fashion and Talent Show! On Sunday, register at 9:30 a.m. At 10 a.m., compete in three categories: Best Outfit, Best Trick, and Owner/Dog lookalike on the Authentically Alameda local stage located at Central & Oak. Enter one contest or all three! Lots of "pawsome" prizes. Friendly, well-socialized dogs only, please.
See you at the Art & Wine Faire!
It's easy to get to the Downtown Alameda Art & Wine Faire. AC Transit provides bus routes across the island that stop right at the festivities, with bus transfers available from Fruitvale BART. Free secure bike parking is also available.
For more information, visit the official event page.