There's still one
film

left! Catch the final showing of A Light Through Coloured Glass on March 4.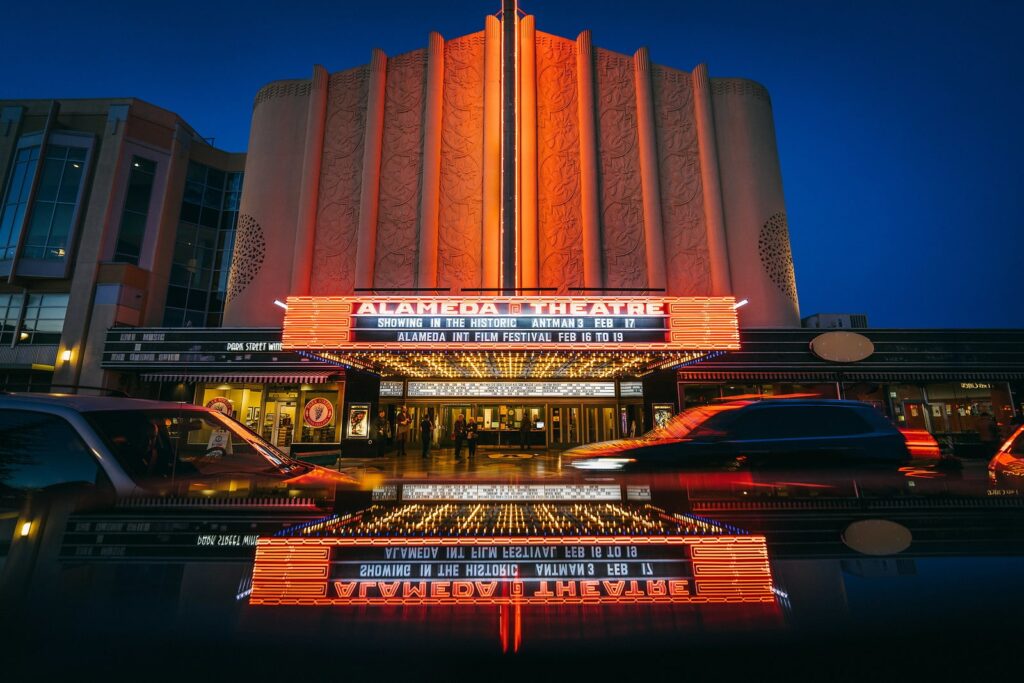 Close to a thousand enthusiastic cinephiles attended the Alameda International Film Festival (AIFF) over four days and nights this past weekend, February 16-19, 2023. This year's festival, presented by Anchor Alameda Association for Art & Film and Radium with the Alameda Theatre & Cineplex, featured 45 feature and short films from around the globe. The organizers characterized the event as an unprecedented and thrilling cinematic ride.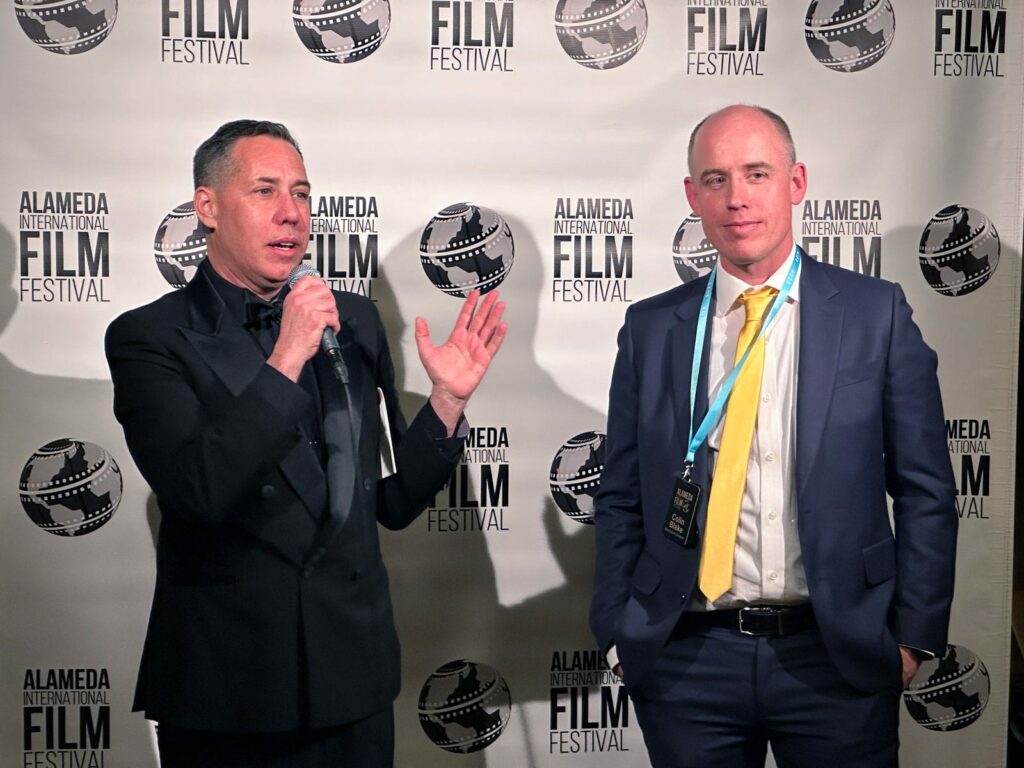 The festivities launched Thursday evening with a cocktail party at the Eagles Hall, where the programming was introduced by Alameda Mayor Marilyn Ezzy Ashcraft, Radium Presents founder Christopher Siewald, and AIFF founders and organizers Colin Blake and Mark Farrell. Throughout the festival, dozens of actors and filmmakers were in attendance for screenings, panels, and parties, including an interview with actor Steve Zahn and director Rick Gomez from An Uncandid Portrait, mimosas and miniature golf with festival VIPs and filmmakers, and a late-night horror program.
Several of the screenings during the festival were near capacity or sold out, including those for An Uncandid Portrait, Klondike, The Other Fellow, and Jack Has a Plan. According to Farrell, "This is super rare for a festival of our size… I think Alameda has an appetite for indie film. Several of the filmmakers commented during their acceptance speeches that Alameda is now becoming a place to see independent film."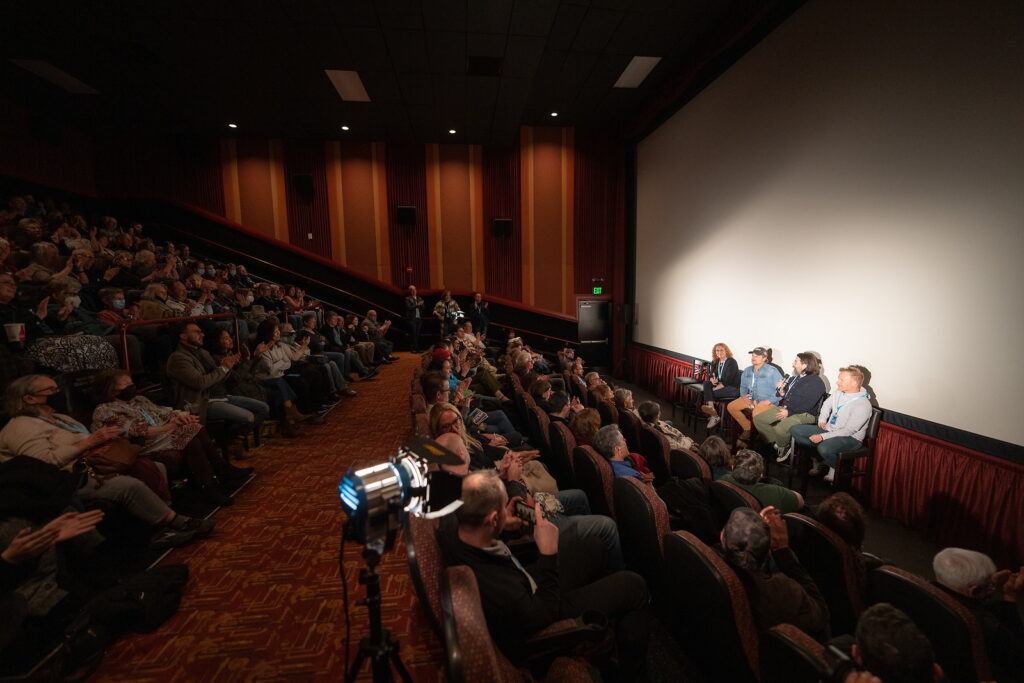 AIFF was expanded and renamed in 2016 after five years as a smaller shorts-only festival. The festival took a break in 2019, but returned in force in 2022. The festival's objective is to gather short and feature films from all over the world, and to spotlight the people who make them.
Every year, at the end of programming, festival organizers honor selected participants with awards. The AIFF stated, "Fantastic art deserves recognition. The festival producers… consult a jury of film lovers as well as film professionals in arriving at the final programming and awards. We know the hard work it takes to create films and are proud to be able to award over $5,000 worth of prizes this year."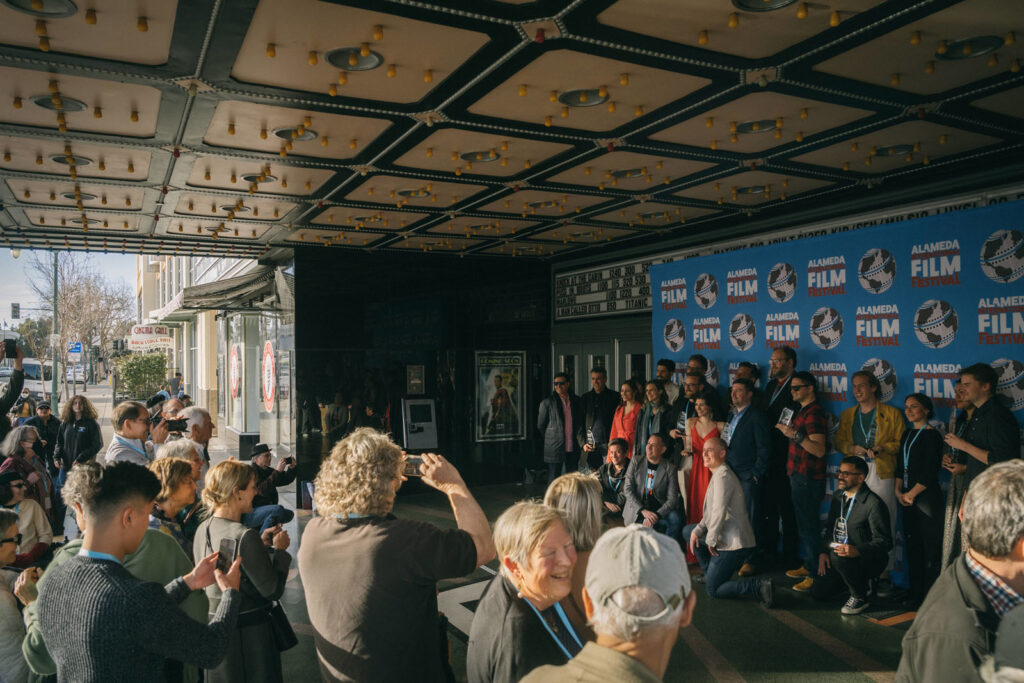 This year's award ceremony didn't quite go according to plan, however. The event was scheduled for 4 p.m. on Sunday, which coincided with the massive power outage that affected all of Alameda east of Grand Street—including the Alameda Theatre. Undaunted, the organizers moved the ceremony outside and presented awards under the theatre's marquee. These were the winners:
Grand Jury Prize – Maryna El Gorbach for Klondike
Jury Prize (Feature) – Mike Clarke for A Light Through Coloured Glass
Phil Tippett Animation Award – Jack Nop for Absolution for Parsin
Richard Beggs Sound Design Award – Melody Gun for We All Die Alone
Best Foreign Feature – Luis Diogo for Just Let Me Go
Best Documentary Feature – Bradley Berman for Jack Has a Plan
Emerging Artist Award – Jessica Schlagel for Mom
Best Director – Shannon Lucio for Intended Mother
Jury Prize (Short) – Jonathan Hammond for We All Die Alone
Best Actor (Feature) – Kyle Brooks for A Light Through Coloured Glass
Best Actress (Feature) – Sophia Leanne Kelly for A Light Through Coloured Glass
Best Cinematography – Christopher Clark for Dreaming of a Better Place
Best Screenplay (Short) – Christopher Matias Aguila for Hotter Up Close
Best Foreign Short – Ihsen Kammoun for Road to El Kef
Best Documentary Short – Cameron Thuman for Dreaming of a Better Place
Best Comedy Short – Leland Montegomery for Hotter Up Close
Best Animated Short – Juan Pablo Zaramella for Passenger
Best Student Short – Pollyanna Popermajer for Lamb
Unfortunately, due to the power outage, the video that was intended to be played during the award ceremony could not be viewed. You may watch the video in its entirety below.
One of the award-winning films in the festival, A Light Through Coloured Glass, made quite an impression on those who saw the first showing. Unfortunately, the second showing on Sunday was canceled by the power outage. The organizers have arranged to screen the film again on Saturday, March 4, at 12:15 p.m. at the Alameda Theatre. Previously purchased tickets for the canceled screening and VIP/Festival passes will be honored. Anyone else who wishes to attend may purchase tickets online for the March 4 screening.
Adam Gillitt is the Publisher of the Alameda Post. Reach him at [email protected]. His writing is collected at AlamedaPost.com/Adam-Gillitt.