A charming tradition for nearly 84 years, folks in Alameda know that the holidays don't really kick off until Christmas Tree Lane (CTL) is underway. In anticipation of the magic, we spoke to several residents of the 3200 block of Thompson Avenue to get their thoughts on their neighborhood's annual extravaganza. Here's what they want you to know.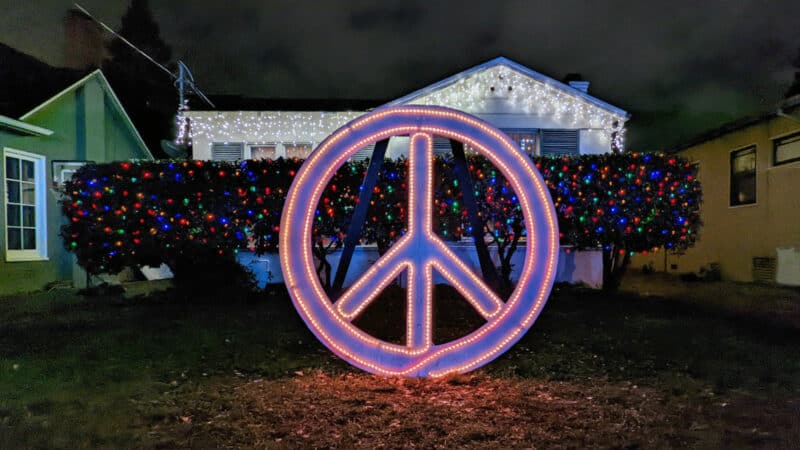 1. Santa Claus is (probably) coming to town. It has long been a tradition for volunteers—a rotating cast of neighborhood men—to play the big guy every evening in the median. Normally he sits in a sleigh, listens to wishes, and has a posse of elves handing out miniature candy canes. But in the past couple of years, the tradition was pandemic-paused. This year, the neighborhood is still deciding how to bring the tradition back safely. As of this writing, Santa is expected to make some appearances. If you want to catch him, you're encouraged to first check Christmas Tree Lane's Facebook page.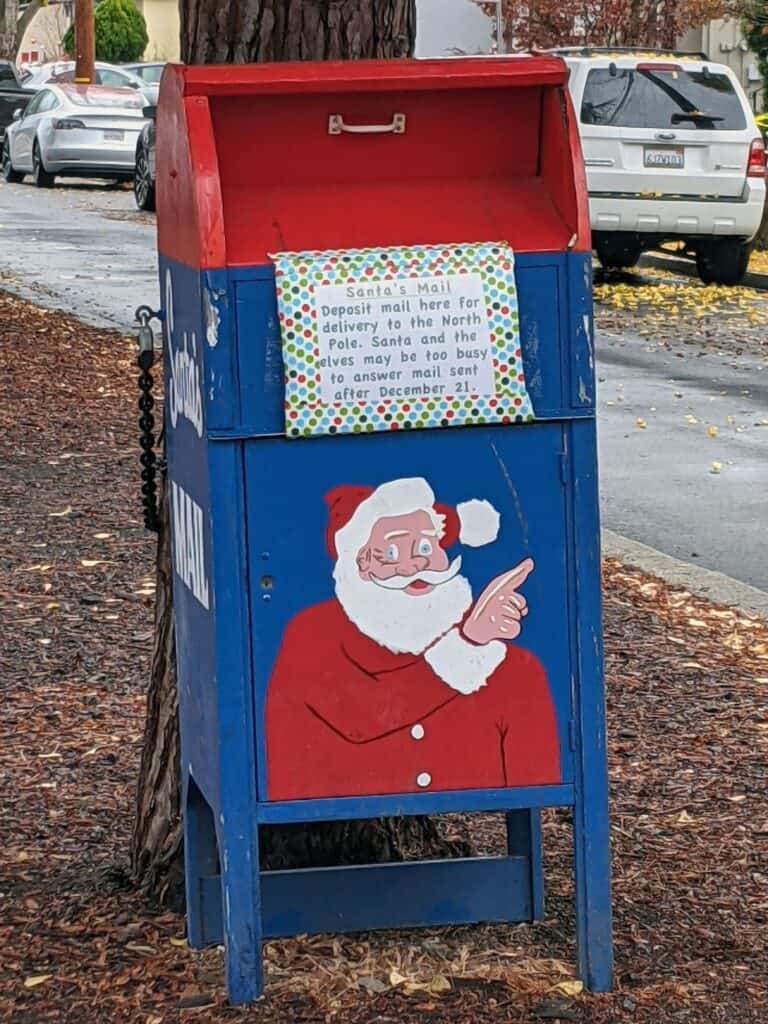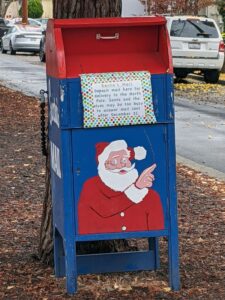 2. Kids can leave their letter to Santa, and they'll get a response. Santa Claus may or may not be coming to town but he is checking the blue-and-red mailbox in the median for important letters from children. Letters dropped off before December 21 with a legible return address will be snail-mailed a response. The "elves" at Mastick Senior Center will see to that.
Emma Finley and her husband Joel moved to CTL six years ago.Their family's lighted holiday display depicts cute critters playing a San Francisco Giants vs. Oakland A's baseball game. Emma shared that she regrets not acting on an apt celebrity sighting a few years ago: "We were strolling the Lane and ran into Marcus Semien, the former star shortstop for the A's, who was visiting with his family. We chickened out and I'm still kicking myself for not asking him to pose with our own miniature A's shortstop."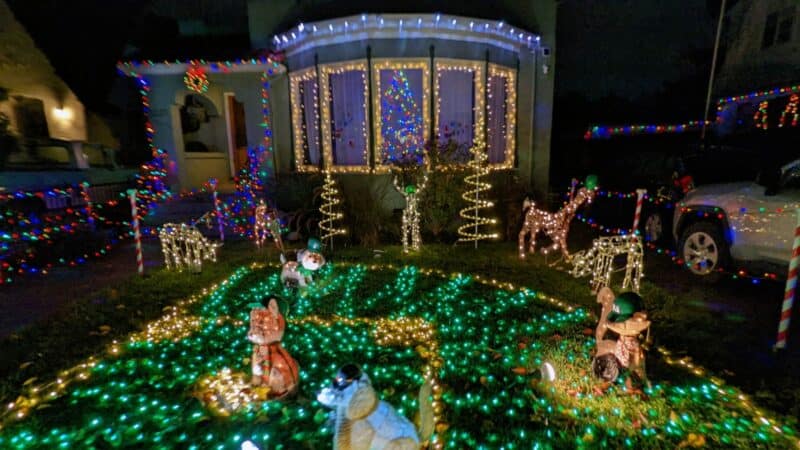 3. It's not just about Christmas. Despite its name, CTL is an inclusive event meant for everyone. All seasonal light displays are welcome. So you'll also see Hanukkah and general winter-themed displays. Families on CTL are invited to bring their own brand of creativity.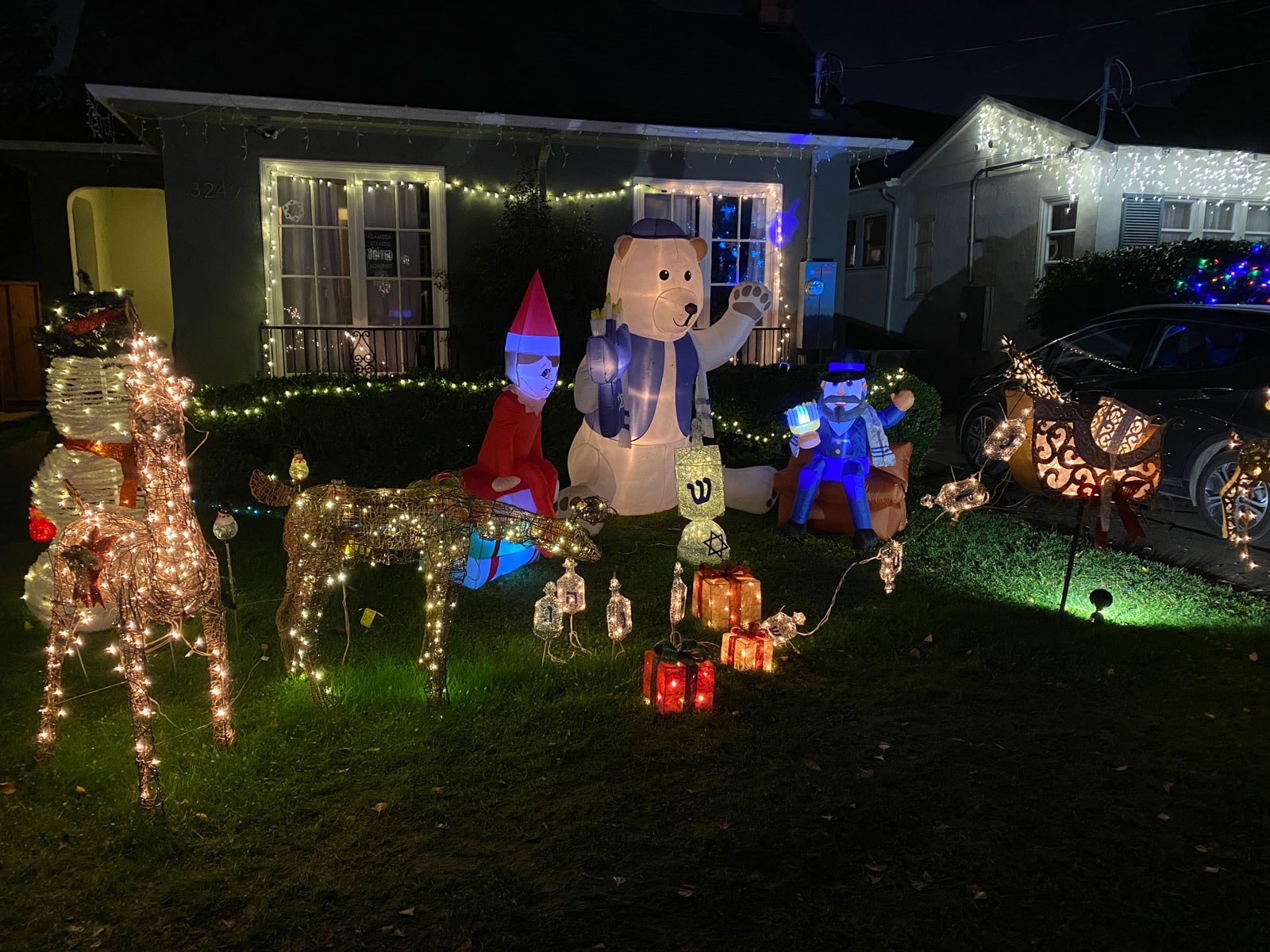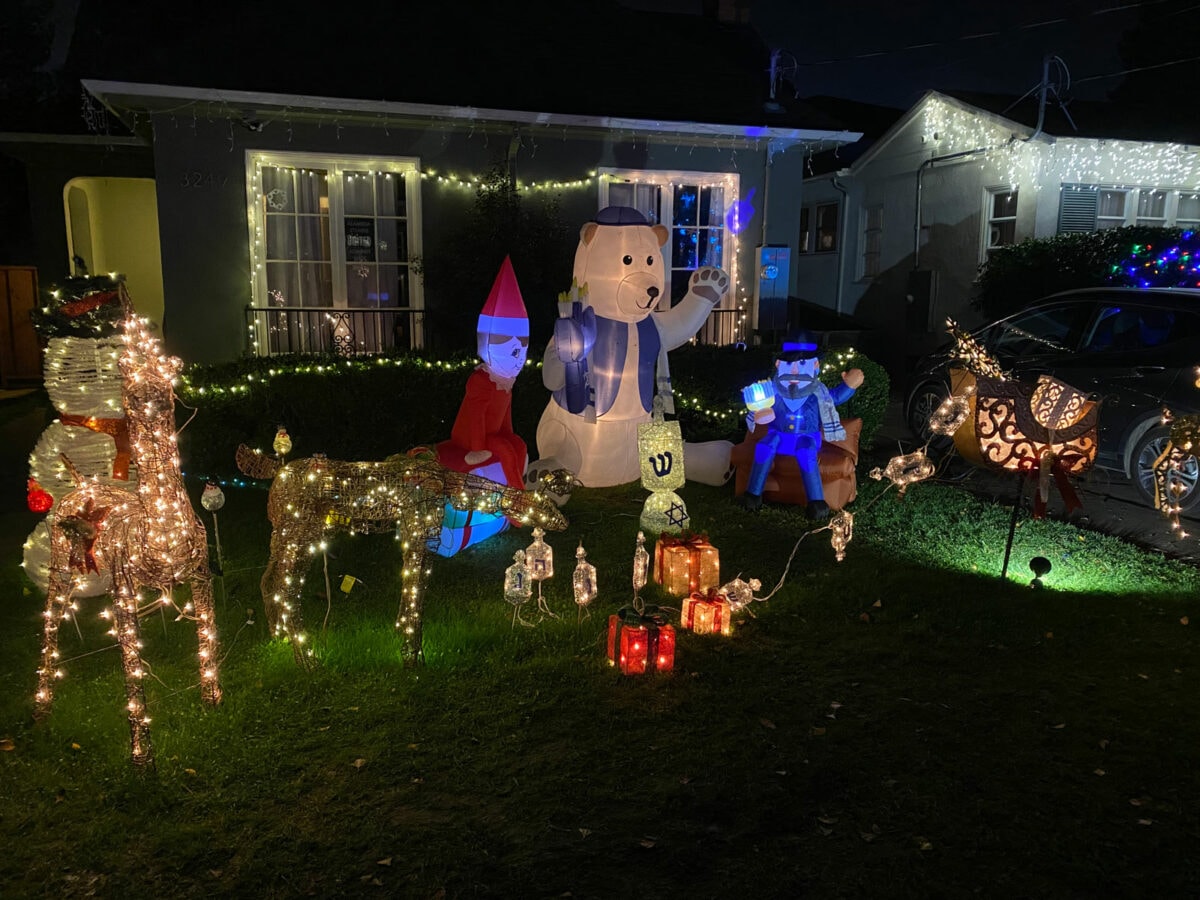 Sheri Hosteter and her husband Jerome Baggett lived in Albuquerque before moving to Alameda in 2008 and brought a New Mexico Christmastime tradition with them: luminarias. Their simple display has since grown to include more lights and three lighted deer, representing each of the members of their family, including their now-teenage son, Patrick.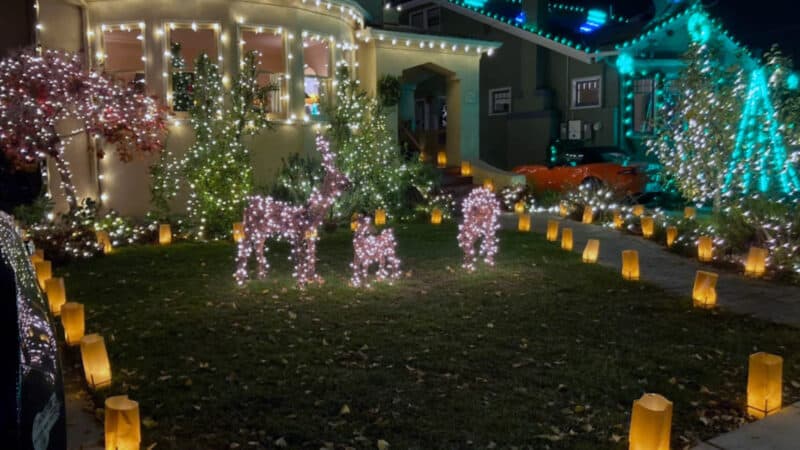 4. Electricity and other costs are not covered by the city. A long-running myth that residents would like to dispel is that the City of Alameda pays for their personal electricity bills. It doesn't. But Alameda Municipal Power (AMP) has a history of being "a very generous supporter for at least 40 or 50 years, maybe longer," says Steve Geahry, whose neighbors unanimously describe as the Lane's "unofficial mayor." AMP has long sponsored the effort to hang the lights in the center divider, and more recently replaced them with LED bulbs. An informational document about CTL that was shared with Alameda Post states that AMP covers "approximately half the cost for the center lighting."
There are other expenses the homeowners cover together, like an umbrella insurance policy for the street, renting a "cherry picker" to hang the lights in the median's tall trees, and the cost of postage and candy canes.
Solar panels are the "greatest gift" that their home's previous owners left, shares Emma Finley. "It's no coincidence that so many of us have installed solar and bought up all the LEDs we can find," she said.
5. Pedestrians preferred. Sure, you could hop in your car and join the slow 20-minute parade around the median but residents say they prefer when people park on a neighboring block and stroll. This also prevents vehicles from accidentally blocking driveways. If you must drive, there is less traffic entering Thompson Avenue through Fernside Boulevard.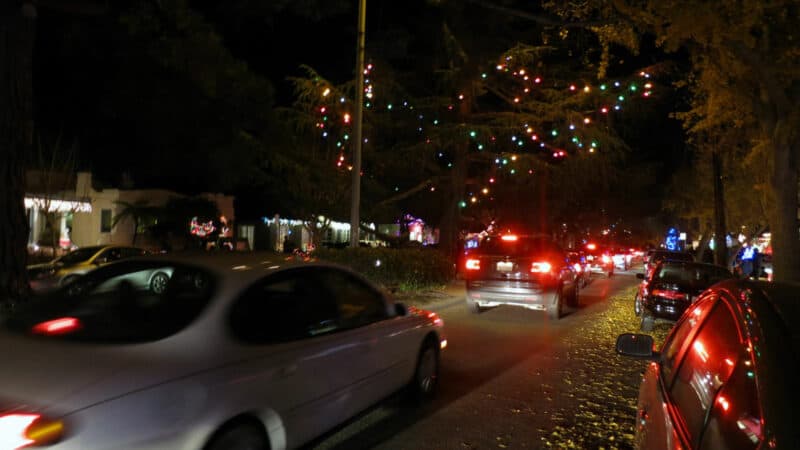 Three years ago, Leah Onori moved to the block with her family. With two young children, she expressed a desire for a couple of additional safety measures: "making the street one way for December during peak times" and "lighted pedestrian crossings."
Drivers, please go slow.
6. They're proud to keep the tradition alive. Sixteen years before the world had color television, families on Thompson Avenue were decking the halls. CTL started in 1938 and save for a few years during World War II, it's been going strong ever since.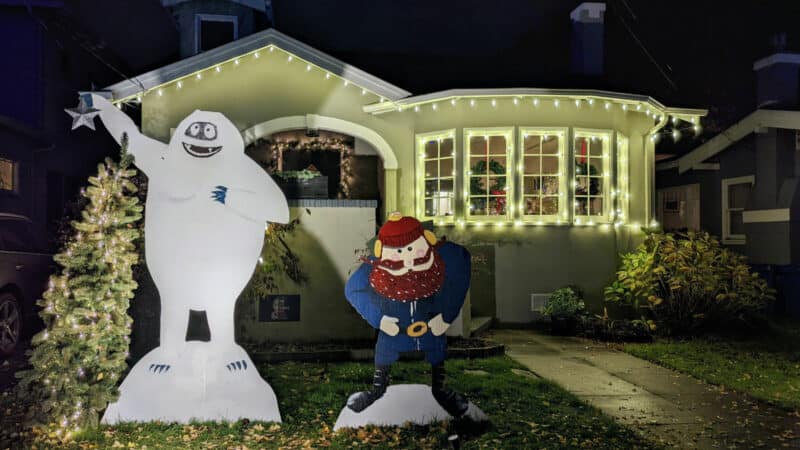 Longtime resident Amy Fenstermaker grew up on Thompson Avenue. With her husband Bill, she now owns the home that has been in her family since 1939. Amy remembers a time when decorations were a "strand of lights and a plywood cutout of Santa." Their own display, made by Bill years ago, is simple but evokes old school nostalgia. It depicts Bumble the Abominable Snow Monster and Yukon Cornelius from the Rankin/Bass stop-motion classic, Rudolph the Red-Nosed Reindeer.
7. There are many upsides, and a few downsides, to living here. With all of the goodwill living on this popular street brings, there are some bummers. On top of the increased traffic, residents say unwanted trash is sometimes dropped on their property. Their hope is that visitors will be more responsible about taking their trash home with them. They also hope people will use the restroom before coming over, especially if they have children, because there are no facilities available. And one more thing: A resident who wished to remain anonymous shared that they can hear passersby "critiquing" their displays, which dampens their spirits a little.
8. There's nothing forcing residents to participate. It's a real labor of love. Residents agreed the top misconception about life on the Lane is that there is a homeowner association, covenant, or something else in writing that requires them to decorate. There isn't. But there is peer pressure. Amy Fenstermaker wrote, "You would look like a Scrooge if you didn't!" Geahry, who runs the neighborhood email group, noted, "There's always an inside joke between some neighbors about who's gonna be the last one to get their lights up." When he bought his house, he reports that CTL was "definitely in the disclosures."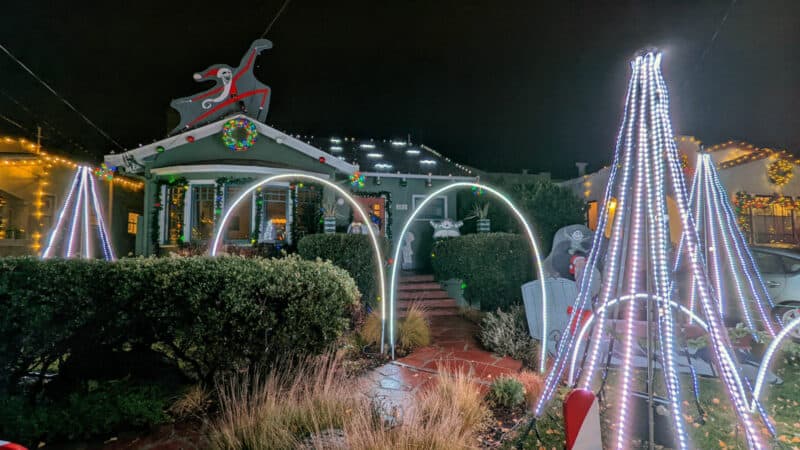 Geahry's home displays an impressive synchronized light and music show themed to Nightmare Before Christmas, calling it "my love letter to that movie."
9. The neighbors have a special bond. By sharing an experience like this, it's no surprise that neighbors describe a strong sense of community on Thompson Avenue. Sheri Hosteter said, "There's connection all year long but you really feel it at the potluck that kicks off the season." Families in the block's 55 homes are invited to the potluck which takes place in a local community center.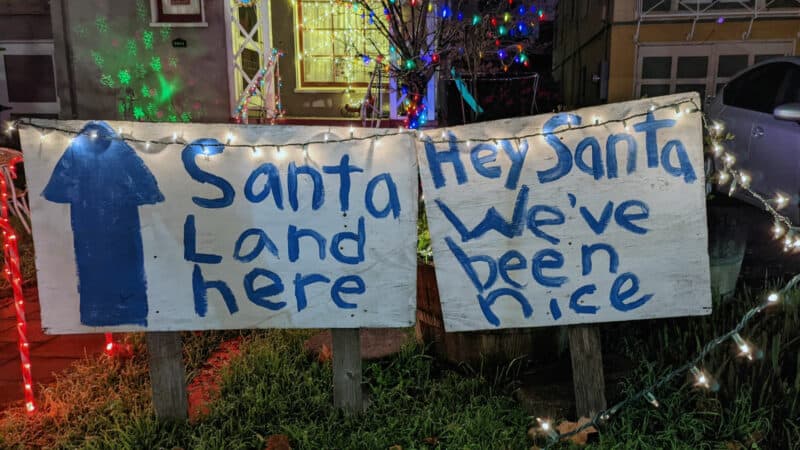 10. Children who live on the Lane have a special relationship with it. Growing up on CTL has some perks, according to parents. December means having friends from other places over for pizza parties, sleepovers, and Scout meetings.
One child, born in December, thought for many years that everyone was simply celebrating their birthday all month long. Another child, when they were young, thought they were a celebrity. With visitors snapping photos of their every move, who can blame them?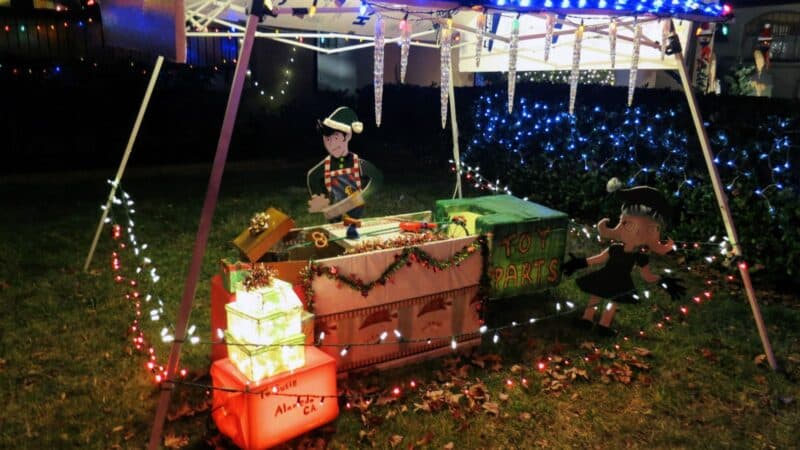 Emma Finley told us, "Our 7-year-old has spent hours trying to figure out how the ingenious wrap-o-matic machine works in one neighbor's North Pole scene. And our 4-year-old waits by the window every day of December until 5 p.m., when the lights start twinkling on and we can finally walk around the block and look at everyone's decorations for the umpteenth time that month."
Young children view living on CTL one way, but feelings change as they get older. Liam and Luke, Fentersmaker's now-grown boys, "loved decorating each year and walking the block. It became more 'annoying' as they became teenagers and had to wait in the gridlock to get home from soccer practice."
Christmas Tree Lane is for kids of all ages, including those young at heart. Geahry affirms, "I look forward to December every month. It's a quiet street for 11 months of the year, and then for one month, it's like living on Main Street in Disneyland."
The first weekend of December is generally accepted as the start of CTL, with festivities running throughout the entire month from 5 to 10 p.m. nightly. Performances from local entertainers, such as the Tap Dancing Christmas Trees and the Lincoln Middle School Band, are in the works. For the most current information, check the Facebook page.
Rusty Blazenhoff is a recovering East Coaster who still finds delight in what our great island has to offer. Contact her at [email protected]. Her writing is collected at AlamedaPost.com/Rusty-Blazenhoff/.