Let It Rock! The Mt Olympus of American Rock Bands, 1965-1995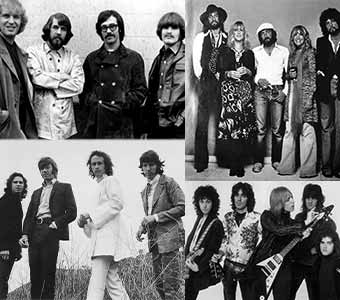 A New Music History Course with Pete Elman – LIVE
The rich history of rock and roll is full of brilliant songs and singers, but the essence of rock and roll has always been the rock and roll band—that small ensemble made up of young musicians who caught lightning in a bottle together, taking their blues, R&B, rockabilly, early rock, country, folk and even jazz influences and combining them to create music that is timeless and inspiring.
During this 8-week series with musician Pete Elman, students take a deep dive into the music and stories of six of the most iconic, artistic, and successful American rock and roll bands – bands that defined the genre. Each session features a background lecture about each band, music videos, film clips, and audio recordings with lyric analysis. Pete Elman also performs select material live in class, demonstrating specific melodic themes, chord progressions, and arrangement and production aspects of highlighted recordings.
A band is like a family; there is friendship, rivalries, tragedy, triumph and intense love. So, get ready for a wild ride and Let it Rock!