Alameda Island-Wide Yacht Club Open House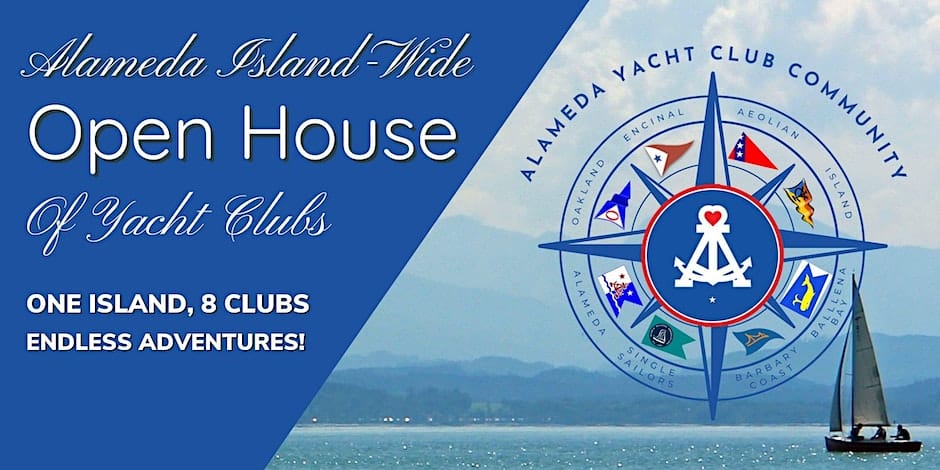 Join us for the Alameda Island-Wide Yacht Club Open House in Alameda, CA! This exciting event is your chance to explore the vibrant boating community of Alameda and discover the perfect club for you. Whether you're a seasoned sailor, interested in boating, looking to engage in the social aspects of this community or want to enjoy the diverse amenities offered by the different clubs, this open house extravaganza offers you the chance to explore your options. Visit us by boat, car, bike or on foot.
Guests are encouraged to participate in the Island Passport Adventure, where you get a special passport to have stamped at each club you visit. Guests who visit all clubs will be entered into a drawing to win one of eight fabulous prizes.
Secure your tickets by RSVPing no later than Sept 9th.
Hourly Schedule
Alameda Island-Wide Open House of Yacht Clubs
9:00 AM

-

12:00 PM

Aeolian Yacht Club

Stop in for coffee, juice, muffins and donuts. Tour of our delightful, historic property with stunning views of our harbor and calm kayak friendly San Leandro Bay beyond. Located at 980 Fernside Blvd, Alameda, CA
12:00 PM

-

4:00 PM

Alameda Yacht Club

Stop by and experience the casual, relaxed atmosphere of AYC as you enjoy complimentary hamburgers and hot dogs! Located at 1535 Clement Ave, Alameda, CA
1:00 PM

-

4:00 PM

Barbary Coast Boat Club

Visit Barbary Coast Boat Club at the Encinal Yacht Club to learn more about Northern California's premier LGBT boating club! Located at 1251 Pacific Marina, Alameda, CA
12:00 PM

-

5:00 PM

Ballena Bay Yacht Club

Come see us on the west side of Alameda Island where you have direct SF Bay access. Enjoy a Ballena Bay Breeze punch, food and music as you tour what's possible for you in beautiful Ballena Bay! Located at 1150 Ballena Blvd # 151, Alameda CA
1:00 PM

-

4:00 PM

Encinal Yacht Club

Join us at Encinal Yacht Club for an afternoon of tropical drink specials and lawn games. Tours of the club will be available throughout the day. Located at 1251 Pacific Marina, Alameda, CA
12:00 PM

-

5:00 PM

Island Yacht Club

Join the most friendly sailing, boating, & social club on the Alameda Estuary for an afternoon social, the Island Yacht Club way. Located at 1815 Clement Ave, Alameda, CA
11:00 AM

-

5:00 PM

Oakland Yacht Club

Enjoy taste of the island life featuring steel drum music, club and docks tours, food and tropical drink specials. Located at 1101 Pacific Marina, Alameda, CA
11:00 AM

-

5:00 PM

Single Sailors Association

Visit Single Sailors at the Oakland Yacht Club to learn more about becoming "Crew for Skippers/Boats for Crew". Located at 1101 Pacific Marina, Alameda, CA