2022 Business Excellence Awards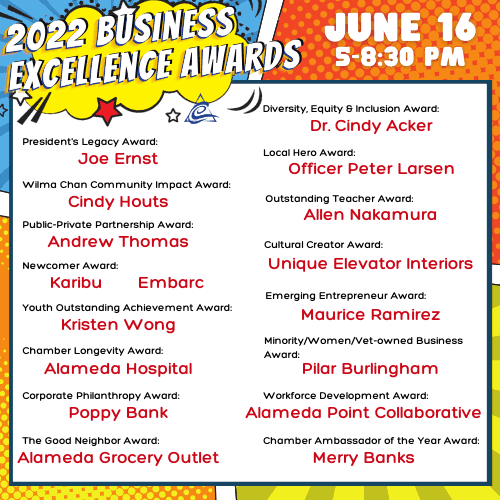 ***Attendees should check in at 4:30 -5:00 PM***
One of our special Signature Events, the Business Excellence Awards calls attention to and honors the people who make Alameda the community that it is. From innovative business leaders to nonprofits helping behind the scenes, this event spotlights those who do so much for our Island.
Our local businesses are essential, and this is a night to honor those who have persevered and prospered this past year.
We want to help celebrate the award winners and thank the people of Alameda for ensuring we thrive together.
Won't you join us in a night of celebration for well deserved recognition in these categories:
President's Legacy Award
For significant long-term impact on Alameda
The Wilma Chan Community Impact Award 
For the individual/business that has given a significant voice to disenfranchised or traditionally underserved populations such as the homeless, uninsured, working families, or seniors and whose work has improved the quality of life for those in Alameda and beyond
Public Private Partnership Award
For a hardworking individual who has gone beyond the scope of their job to ensure the best outcomes for all
Newcomer Award
For a member/business who has resided, worked, or operated in our community less than three years but who has given back in a meaningful way in the short time they have been here
Youth Outstanding Achievement Award
For an outstanding young person (under 25) who has made significant contribution to the community
Chamber Longevity Award
For an outstanding chamber member celebrating a membership of at least 25 years
Local Hero Award
Awarded to a first responder or front-line worker who has exemplified heroism
Outstanding Teacher Award
Given to an educator who has made a remarkable impact in and outside of the classroom
Corporate Philanthropy Award
Given to a company that exemplifies a philanthropic spirit and mission
The Good Neighbor Award
For extraordinary contributions to bringing our community together
Diversity, Equity, & Inclusion Award
For an individual or company that champions inclusion in progressive or remarkable ways.
Culture Creator Award 
Given to an employer who sees beyond job descriptions to promote a preeminent culture in the workplace
Emerging Entrepreneur Award 
For an up-and-coming entrepreneur between 18-40
Minority/Women/Vet-Owned Business Award
Awarded to a minority, female, or veteran business owner who succeeded in their own business while helping others succeed as well
Workforce Development Award
Given to a business committed to creating world-class career opportunities in the East Bay/Alameda area through demonstrated commitment to strengthening the industry talent pipeline through programs/initiatives. This may include programs for upskilling workers, creating access points to career pathways, or recruitment through education and outreach.
What's included in your ticket?
An onboarding Champagne Toast!
Live DJ
Hors d'Oeuvres
All refreshments, wine, beer ( Spirit drinks not included)
Grazing stations dinner and deserts
$2,000 in chips to play all evening; we will have three winners with the most chips at the end of the event
The Business Excellence Awards is an evening where the Island City gets to recognize and thank its community heroes and award winners for helping to make Alameda the special Place it is! Our local businesses are essential, and this is a night to honor those who have persevered and prospered this past year.