A fuel efficient commuter that offers something extra for techies.
After suffering through months of astronomical gas prices, many consumers are rethinking their daily drivers. But with new car prices at an all-time high and dealer inventories at an all-time low, many car buyers are considering a late model used car. With this in mind, this week I'm evaluating a pre-owned 2017 Toyota Prius Prime Advanced plug-in hybrid.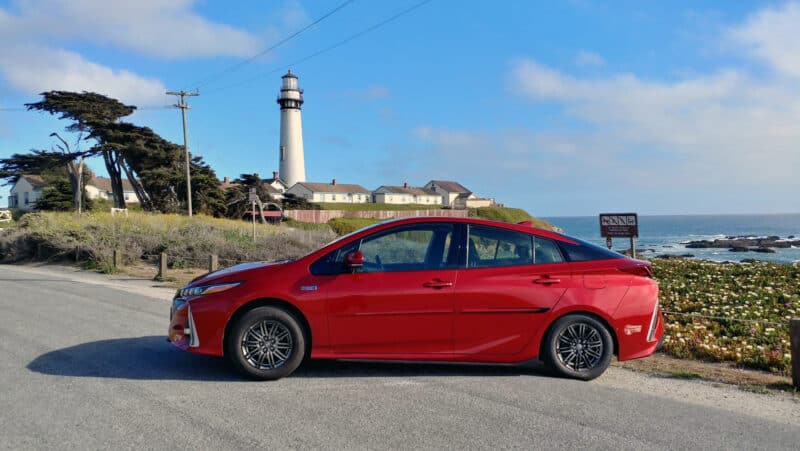 First impression
The Prius family resemblance is unmistakable. I suspect most observers won't be able to discern the difference between this fourth generation Prius introduced in 2014 and the previous generation it replaced. It looks just like the previous car in most every respect, from the overall size, proportions, body contours and even the identical humped roof line. Yet, this fourth generation Prius has a character all its own. The body contours are deeper and more expressive and the front and rear fascias are bold, featuring prominent futuristic looking headlights that dominate the front clip.
The plug-in Prius Prime differentiates itself visually with unique front and rear fascias. The headlights and taillights are also sharper and look high-tech.
My test car was painted a very attractive burgundy color that Toyota calls hypersonic red. The paint was similar to a candy apple red with a deep shine and luster. The interior had cream-colored upholstery and the dash and door panels were presented in a contrasting slate gray. The color combination gave the car an upscale appearance.
Behind the wheel
When I approached the Prime I was expecting an econo-box, but I quickly recognized this car was equipped with a host of interactive options and tech features. The Advanced trim is the fully loaded version of the Prime and it includes features such as adaptive cruise control, blind-spot monitoring, rear cross-traffic alert, auto-dimming mirror, auto-dimming high beams, heads-up display (HUD), rain sense wipers, and the most astonishing feature of all — semi-autonomous parking.
I was surprised by the roominess of the Prime. The front seats have adequate leg and knee room along with plenty of shoulder room, rivaling several other mid-size offerings. It's equipped with a telescoping steering column, but it didn't extend as far out as I would have liked.  The front seats also didn't slide rearward quite as far as they should have — leaving this 6-foot-3 reviewer unable to stretch my legs out straight — but it was tolerable.
An odd quirk of the Prius Prime is the unusual placement of the instrument panel (IP) that isn't in front of you like on most cars, but instead resides on a pod in the center of the dashboard. I found it awkward having your instruments off to the side and far away from your eyes. If you wear glasses, you may find it hard to focus on the IP. A saving grace of the oddly placed IP is the Heads Up Display (HUD) that projects essential info onto the windshield in front of you. The HUD makes the distant IP more tolerable. Unfortunately, the HUD is only available on the Prime plug-in model and only with the loaded Advanced package. The center stack display is large and handsome, but information is a bit sparse. The display is canted forward at the top making it very comfortable to view in all but direct sunlight, when it becomes mostly unreadable.
The shift lever is an awkward-feeling little joystick. It didn't make a lot of sense to me even after living with it for a while. A push button is used to put the car in park, which begs the question: Why didn't Toyota use buttons for all of the modes?
Under the hood
The Prime Advanced is a plug-in hybrid, which means it has both an electric motor and a gasoline Internal Combustion Engine (ICE), and supports Level-2 charging for electric-only motoring. There are several drive modes that allow you to choose your method of propulsion—electric only, ICE only, or one of a few "automatic" modes which combine the two. For best drivability, the car really needs to be left in an automatic mode where the ICE and electric motors operate together seamlessly.
The gasoline engine is coupled to an automatic Continuously Variable Transmission (CVT), making the driving experience completely different from a torque converter automatic. There are no perceptible gear changes. In other cars equipped with a CVT, this takes some getting used to and feels a bit awkward, but in the Prius Prime it makes the car feel like it's in electric mode even when it's in ICE mode, which is a good thing.
A characteristic of CVTs is a constant engine RPM which in the Prius results in a somewhat noticeable drone noise.  Around town, the drone is easy to ignore but on long drives it can get a little annoying.
On the road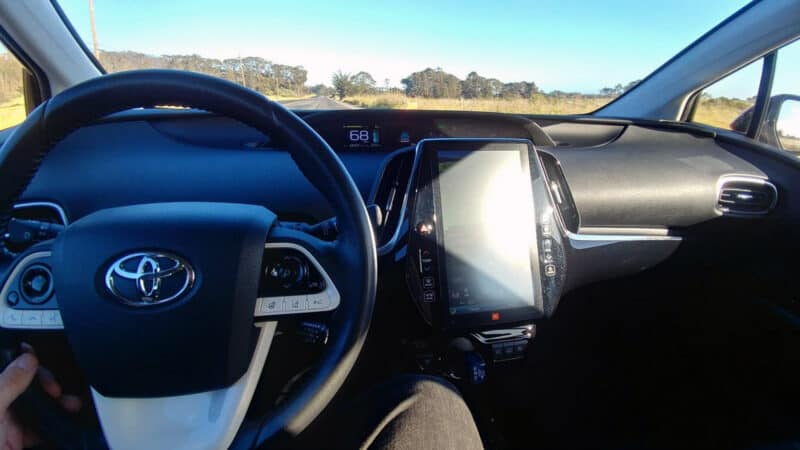 The Prime Advanced feels well-planted. It has a comfortable ride, adequate power, and secure handling, but the softly sprung suspension is a bit bouncy at times. A shortcoming is the steering feel, of which there is none. It makes driving the Prime a bit like playing a video game where your controller lacks any feedback, but for commuting duty this actually may be a plus.
I drove the Pacific Coast Highway from Half Moon Bay to Santa Cruz. Even in "Econ" mode—which gives priority to the electric motor—and with a fully charged battery, I frequently heard the gasoline engine droning in the background.
One of the modes I found intriguing is the "charge mode," which runs the internal combustion engine exclusively while simultaneously charging your electric propulsion battery. I'm not sure why you would want to do this as it results in a substantial (17 mpg) fuel economy penalty, but I appreciated having that level of control over the state of charge. I should note that "charge mode" is amazingly efficient, restoring 20 miles of electric-only range after only 12 miles of ICE-only driving.
It takes a while to figure out what's happening in the various modes. The car seemingly has a mind of its own. I found it somewhat of a mystery why the ICE sometimes unexpectedly engaged and why other times it didn't. If you're not the obsessive type that has to know what's happening at all times it's easy to forget about the mechanicals, let the car do its thing and enjoy the ride.
The Prius Prime Advanced is equipped with adaptive cruise control that works well. It helps to alleviate driver fatigue by automatically maintaining a safe distance from traffic ahead. The adaptive cruise control is "full mode," so that if traffic stops in front of you the cruise control will bring the car to a complete stop. When traffic clears, you need only touch the accelerator pedal or click "resume" on the cruise control stock to go back to your preset speed.
My only complaint is that the adaptive cruise control tends to brake a bit aggressively and sometimes mistakenly brakes for traffic in an adjacent lane.
Nighttime driving is enhanced by the Prime's excellent headlights. The high beams are particularly effective. They project a high-intensity shaped pattern of white light onto the road ahead. I didn't care much for the automatic dimming high beams though. They're supposed to dim the high beams for oncoming traffic but I found the feature constantly flashing the high beams on and off as though operated by an over-caffeinated squirrel monkey.
Fuel economy
According to Toyota, the Prime's propulsion battery is good for up to 35 miles of electric-only driving after a full charge on a level-2 charger. In my test car I was able to travel 25 miles on electric power alone before I depleted the battery and the ICE joined the party. I might have traveled further in electric-only mode had I driven a little more slowly.
After spending some time with the Prius Prime, I can better appreciate how Prius drivers can get caught up in the quest to get good gas mileage. The graphics display on the instrument panel encourages driving efficiency and probably is one of the reasons why it always seems to be a Prius in front of you holding up traffic by driving too slowly. I observed about 51 mpg during my test. The EPA estimated fuel economy is an average 54 mpg with regular gas and 133 MPGe (gas + electric).
An alternative to a full Battery Electric Vehicle
Toyota has long been a leader in hybrid technology and arguably their hybrids are the best in the business. If anybody's going to buck the Battery Electric Vehicle (BEV) trend in favor of hybrids it would be Toyota, and why not? There's a compelling business case for hybrids—anyone who drives a long commute likely won't or can't budget several hours a week waiting to charge at a public charge station. Additionally, driving a commute while bound by a BEV's limited range can sometimes be an anxiety-inducing experience. The Prius Prime Advanced strikes a balance between ICE and BEV technologies and does so without compromise.
The 2017 Prius Prime Advanced had an MSRP of $33,965. The Prime is a rare example of a good automotive investment. After six years the Prime Advanced has lost only about $4,000 of value. Expect a low mileage example to sell for about $30,000.
Thanks to David Schwartz for letting me borrow this car to evaluate for this article.
John Berg is the Automotive Editor of the Alameda Post. Contact him via [email protected].